Rheem Runs Right into PCA Main Event Winner Circle
By
January 18th, 2019 | Last updated on January 18th, 2019
Home
»
Poker News
»
Rheem Runs Right into PCA Main Event Winner Circle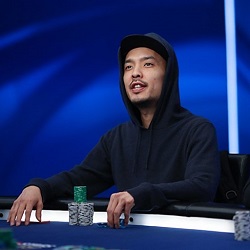 The biggest poker tournament story during the first weeks of 2019 was the PSPC, the PokerStars Players No Limit Championship. Much speculation about its potential to set records ended when the tournament did exceed all expectations and make poker history. And in the end, a Platinum Pass winner named Ramon Colillas from Spain freerolled his way through the PSPC to claim its inaugural title and a massive $5.1 million first-place prize.
The PSPC, however, was a part of the larger PokerStars Caribbean Adventure, a series of more than 40 live tournaments than ran through January 16. There were high rollers, mixed games, satellites, and everything in between, all highlighted by the $10K buy-in Main Event.
The Main Event kicked off on January 11 and wrapped its final table with a familiar face as its champion. David "Chino" Rheem is known for coming from a poker tournament hiatus and crushing his opponents, and that is exactly what he did at the PCA. In the end, he ran over the final table, remained focused, and walked away with the top prize.
Congratulations to Chino Rheem.#PCA2019 Main Event champion, winning $1,567,100! ?? pic.twitter.com/dn8OtFohcn

— PokerStars LIVE (@PokerStarsLIVE) January 17, 2019
How It Started
The Main Event got underway with two starting days. The first brought 356 players to the tables, and 27 of them reentered. Play ended that night with 136 players bagging their chips, and Alexander Kharkov had the most with 350K. The second flight brought in 486 entries, but that number was whittled down to 194 players by the end of the night, and Rainer Kempe was the night's chip leader with 214K, though Chino Rheem was among the top stacks.
Play remained open until the start of Day 2, leaving time for more than a dozen new players. The final numbers for the tournament were then announced as:
PCA Main Event

Entries:  865 (including 94 reentries)

Countries representing:  56

Prize pool:  $8,390,500

Places paid:  127

Minimum payout:  $17,620

Winner prize:  $1,567,100
As Day 2 played on, the money bubble burst with the elimination of Luc Greenwood, and others went on to cash as the field thinned quickly. Only 79 players remained when play stopped, and Pierre Calamusa was the leader with 1,145,000 chips.
Day 3 started with players like Randy Lew, Andre Akkari, and Maria Ho exiting the field, as well as former chipleader Calamusa. After Filipe Oliveira busted in 21st place for $52,440, play stopped. And of the 20 players left, Tommy Nguyen held the lead with 2,705,000 chips.
The goal of Day 4 was to set the final table, and they did just that. Action started with players exiting quickly, with Raj Vohra as the first to exit, followed by players like Joao Simao, Matt Berkey, and Tommy Nguyen. Ami Barer busted in 12th place, followed by Christoph Vogelsang in 11th and Jeff Hakim in tenth. The unofficial final table played forward, and Simon Deadman exited in ninth place for $116,460 and Marc-Andre Ladouceur in eighth for $146,840. Platinum Pass winner Mihai Manole then busted in seventh place for $208,920.
The final table was set with Rheem in the chip lead and Scott Wellenbach in second place, the latter of whom qualified for the tournament for $500 on PokerStars and noted that he would be donating the bulk of his winnings in the tournament to charities. Brian Altman was third in chips, followed by Vicent Bosca, Daniel Strelitz, and Pavel Veksler.
How can you not love this guy? Scott Wellenbach explains why he will be giving all of his winnings away. Watch that and then check our live #PCA updates as Wellenbach continues to compete for $1.5 million.

Updates: https://t.co/kuymOUG1Mf pic.twitter.com/S3WA9YFPkT

— PokerStarsBlog (@PokerStarsBlog) January 16, 2019
Final Table Dominated by One
Rheem started the action strong, and Veksler chipped up nicely. As Rheem climbed above 9 million, Bosca struggled. After nearly two hours of play, Strelitz doubled through Wellenbach to stay alive, but Altman wasn't so lucky against Rheem, who sent Altman out in sixth place. Veksler put Rheem to the test but the latter didn't play along, but Bosca did double through Rheem. As play crept on, Rheem climbed above the 12 million-chip mark, while Wellenbach moved into second place. Rheem then soared to more than 14 million chips by ousting Bosca in fifth place.
Wellenbech doubled through Rheem in a big pot, but Rheem continued to take from the others. And when Veksler moved all-in with A-Q, Rheem called with pocket sixes and sent Veksler home in fourth place. As Rheem then approached 19 million chips, Wellenbach lost ground before moving all-in with K-Q. Rheem called with A-T, and though Wellenbach caught a pair on the flop, Rheem finished a straight on the river to send Wellenbach out in third.
Heads-up play started right away with Rheem staying aggressive and chipping up further. As Rheem sat with more than 22 million chips, Strelitz barely had 3 million left and moved all-in with A-2 suited. Rheem called quickly with pocket fives, which only found another pair on the board and left Strelitz with a second-place finish.
David "Chino" Rheem knocks out all five final-table opponents to win 2019 #PCA and $1.5 million.
Full recap: https://t.co/e2svrLmUnR

— PokerStarsBlog (@PokerStarsBlog) January 17, 2019
Rheem added yet another tournament title to his impressive list of victories over the past dozen years, putting his live tournament earnings above $10.5 million.
1st place:  David "Chino" Rheem (US) $1,567,100
2nd place:  Daniel Strelitz (US) $951,480
3rd place:  Scott Wellenbach (Canada) $671,240
4th place:  Pavel Veksler (Ukraine) $503,440
5th place:  Vicent Bosca (Spain) $396,880
6th place:  Brian Altman (US) $297,020
*Photo by Carlos Monti @ Rational Intellectual Holdings Ltd.
Related Articles