PokerStars, WPT, Unibet, and Arnett Celebrate Women in Poker
By
March 9th, 2019 | Last updated on March 9th, 2019
Home
»
Poker News
»
PokerStars, WPT, Unibet, and Arnett Celebrate Women in Poker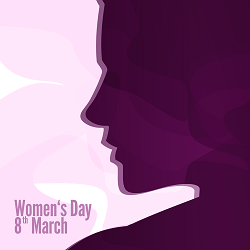 Yesterday was International Women's Day, a day to celebrate women. Each year, it is a day to remember the obstacles and hardships that women have faced throughout history, to celebrate the accomplishments of women around the world, and to celebrate women on a global level as well as in one's own inner circles.
More countries are celebrating International Women's Day each year. Beyond that, March has traditionally been Women's History Month, but some have incorporated that into a broader International Women's Month to honor women throughout the entire month.
In years past, few in the poker industry have taken time to observe International Women's Day, with a few exceptions like PokerStars and Unibet. With so few women in decision-making and power positions in poker companies, especially in the poker media, it should be no surprise.
The companies that do make a special effort to recognize International Women's Day deserve to be noted for their attention to the day and for their overall work to make poker a more welcoming and equitable place, both at the poker tables and in the boardrooms.
PokerStars: Raising the Stakes
The best thing about the PokerStars presentation for International Women's Day was the amount of effort that went into preparing for it. The company planned in advance, conducted interviews, and put together a short film for the occasion.
"Raising the Stakes – The Women of Poker" focuses on women in the game, several of whom have won major tournaments and made history. The film asks a series of questions to the featured women, and while those questions are not new, the answers were compiled in a unique way. And responses included their backgrounds of higher education and sports, competitive and analytical nature, and how poker became an integral part of their lives.
–How did you get into poker?

–What is your experience as a woman in poker?

–Have you experienced gender imbalance in society?

–How do we make a change?

–What advice do you have or women coming into poker?
Responses included the women's backgrounds of higher education and sports, competitive and analytical abilities and insights, and how poker became an integral part of their lives.
As one would expect, the film features some of the most accomplished and well-known women in poker:  Maria Ho, Liv Boeree, Celina Lin, and Fatima Moreira de Melo. All but Ho also serve as members of Team PokerStars Pro. PokerStars Ambassador and Chess Grandmaster Jennifer Shahade is also in the film, as are Stars Group executives Rebecca McAdam (Associate Director of Group Public Relations), Francine Watson (Associate Director of Branded Content), Sue Hammett (Head of Corporate Giving), and Lauren Pickett (Head of People Partnering).
The Stars Group employees also focus on gender equality in the workplace and challenges facing women in the gambling world. Even so, it's important to note that most other gaming companies are likely not as advanced in gender equality or focused on making it a priority as PokerStars.
This film is a unique and important look at women in various aspects of poker.
Unibet Freerolls
Unibet it no stranger to recognizing women and playing a role in trying to open poker to more women.
Last year, Unibet offered a #QueenRules promotion with the queen outranking the king in regular play. And a special customized deck of playing cards was featured, one that continues to be sold around the world to raise funds and awareness for HeForShe, an initiative of the United Nations to focus on gender equality through solidarity. The deck is even featured on the official International Women's Day website.
We are proud to support #InternationalWomensDay

This is #QUEENRULES ? pic.twitter.com/bVauZKy8RQ

— Unibet Poker (@UnibetPoker) March 6, 2018
This year, Unibet offered a promotion to encourage more women to try online poker for free. Tournaments are running from March 8-10 on Unibet with no-cost entries, and other events with €1 buy-ins are offering €3,000 in prize money added to the prize pools. The tournaments are for women only.
World Poker Tour Women
Anyone who has been to a World Poker Tour event in recent years has seen the increasing number of women in executive roles. The number of women in poker tournaments may not be growing at the same rate, but the WPT has done more in recent years to improve that situation.
The rebranding of the Royal Flush Girls to the Royal Flush Crew was one of many actions taken to change the perception of women in the game and the industry. The most noticed move by the company, however, was its hosting of the first Women's Poker Summit last year, at which women were invited to participate in an interactive summit. Men were also invited, but women were at the center of discussions about the low numbers of women in live poker and how to change that going forward.
To celebrate International Women's Day this year, the WPT released a video entitled "Seat Open." The video features a range of women from WPT executives like Ging Masinda and Angelica Hael to recreational and professional players, all of whom boast of different life experiences that compliment their passion for poker. And all of them welcome more women to the table.
The World Poker Tour celebrates our game's amazing women everyday, especially on #InternationalWomensDay. #SeatOpen pic.twitter.com/WZibEoAUrT

— World Poker Tour (@WPT) March 8, 2019
Kristy Arnett on Pants and Poker
She started out in poker more than a decade ago as an on-camera interviewer and host, but Kristy Arnett has catapulted her career into a poker pro, life coach, podcaster, and all-around entertaining vlogger.
This week, Arnett played a special "Ladies Night" episode of Live at the Bike, a $1K buy-in $5/$5 poker game live streamed on YouTube and Twitch. And her observations from the event, mostly from the comments on the streams, were enough to prompt a special International Women's Day video.
Arnett also talks a lot about wearing pants – or not – but the focus of the video was women in poker.
Related Articles