PokerStars Sets WCOOP 2020 to Start August 30
By
August 19th, 2020 | Last updated on August 19th, 2020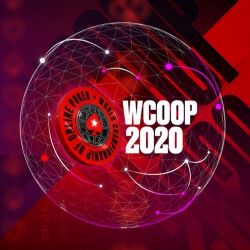 In a year when online poker tournaments are thriving, PokerStars certainly isn't missing out on the action. And it just so happens that it's almost WCOOP time, which fits right into the plan.
PokerStars just wrapped its inaugural Stadium Series at the beginning of August. Though the overall numbers were solid, PokerStars had to handle a significant number of overlays over the four weeks of tournaments. However, it was competing against the World Series of Poker and its WSOP 2020 Online on GGPoker and the World Poker Tour's WPT World Online Championships on PartyPoker.
There is a LOT of online poker happening right now.
Its signature series is likely to draw more attention, though. The World Championship of Online Poker, better known as WCOOP, is an annual festival that dates back to 2002. During the poker boom, it was the penultimate online poker series. And it remains so for many players today.
PokerStars is preparing its WCOOP to kick off on August 30 and run through September 23, complete with 75 tournaments and more than $80 million in prize pool guarantees.
WCOOP 2020 Details
PokerStars' Severin Rasset said, "WCOOP is a prestigious staple in the poker calendar, and this year, we are excited to bring players our biggest WCOOP ever, as well as adding extra excitement and value into the mix."
With that, the 2020 iteration of WCOOP will offer 75 events, but with three buy-in levels for each, that brings the total of tournaments to 225. Across those tournaments, the guarantees total nearly $82 million for their prize pools — $81,637,000 to be exact.
This bests last year's WCOOP, which offered 192 tournaments and $75 million in guarantees.
The three buy-in levels for each event will offer low, medium, and high, with those ranging from $2.20 on the low end to $25,000 at the top of the high end.
(Fun fact from PokerStars: If a player paid for one entry into every single tournament, it would cost him or her $210,729.20.)
One of the features of the WCOOP series that PokerStars' competitors lack is the game variations. The 2020 WCOOP will offer 17 variants, as follows:
–No Limit Hold'em:  50 events (150 tournaments)

–Pot Limit Omaha:  5 events (15 tournaments)

–8-Game Mix:  2 events (6 tournaments)

–Pot Limit Omaha-8:  2 events (6 tournaments)

–HORSE:  2 events (6 tournaments)

–One event (3 tournaments) each of 5-Card NL Draw, 5-Card PLO, 6+ Hold'em, 2-7 NL Single Draw, 2-7 Triple Draw, Badugi, Limit Hold'em, Limit Omaha-8, NL Omaha-8, Mixed NLHE/PLO, Razz, and Stud Hi-Lo.
Included in the NLHE events will be 66 PKOs with progressive knockout formats and three TKOs with total knockout formats in which the only prizes are the bounties.
Series Highlights
Interestingly, there are no tournaments scheduled for Fridays during this year's series. PokerStars notes that players, especially those competing for leaderboard points, need a day off.
The Main Event is the one that players most want to win. The 2020 WCOOP will offer three levels of that Main Event this year, with a PLO Main Event to run alongside the NLHE one. They will all play out on September 20.
–Event 72-Low: $55 buy-in NLHE 8-Max Freezeout Main Event ($1.25M GTD)

–Event 72-Medium:  $530 NLHE 8-Max Freezeout Main Event ($2M GTD)

–Event 72-High:  $5,200 NLHE 8-Max Freezeout Main Event ($10M GTD)

–Event 73-Low:  $109 PLO 6-Max Main Event ($300K GTD)

–Event 73-Medium:  $1,050 PLO 6-Max Main Event ($750K GTD)

–Event 73-High:  $10,300 PLO 6-Max Main Event ($1.25M GTD)
There are other highlights as well, including the high-end version of Event 25 on September 6. That will be the $25K buy-in NLHE 8-Max Super High Roller Sunday Slam with $2.5 million guaranteed.
The phased tournament returns as well, three versions of it playing out from August 17 (already started!) through September 21.
–Event 1-Low:  $2.20 NLHE ($250K GTD)

–Event 1-Medium:  $22 NLHE ($1M GTD)

–Event 1-High:  $215 NLHE ($2M GTD)
Technically, it is the first event on the schedule with phases already underway, but Phase 2 doesn't take place until September 21, as the last event. Every player competing in an initial starting phase – or flight – must survive that day with chips in order to reach Phase 2, which then plays out to the end.
The full schedule is available here.
Many Ways to Qualify
As usual, players will be able to win their seats into WCOOP events for as little as $1. There are even four-step qualifiers that start at $1 to win seats into the $5,200 Main Event; these qualifiers are in the WCOOP Fast Track and will run every day through September 20.
And players can get in on WCOOP-focused Spin & Gos for as little as $4 for Main Event tickets, as well as other tournament tickets and cash prizes.
There will be WCOOP ticket giveaways via the PokerStars School.
This week @StarsSchool brings you its top 5 online poker tournament tips from Lex Veldhuis, Nick Walsh, Sam Grafton, Griffin Benger, and Benjamin Spragg.

That, and a lot more, here: https://t.co/NeMoQUeKiz pic.twitter.com/InAb6M8ZFR

— PokerStarsBlog (@PokerStarsBlog) August 18, 2020
PokerStars is also introducing the new WCOOP Sweepstakes. This begins on August 30 and runs through September 20, and players gain entry by playing a WCOOP event. Every entry earns a ticket to the sweepstakes, which will award $1.5 million in WCOOP tickets. The site will award at least three $5,200 Main Event tickets every day.
Playing for Points and the Slam
There will be leaderboards for WCOOP 2020, obviously. PokerStars will announce the details for four leaderboards in the coming days: one for the low buy-ins, another for medium, one for high, and then one overall leaderboard.
Suffice it to say, there will be monetary prizes for the leaderboard winners.
In addition, PokerStars is introducing 2021 Slam Packages this year. Players who win any of the 15 Sunday Slam tournaments on the WCOOP 2020 schedule will win that prize package, which includes free entries to the 2021 WCOOP Main Event, SCOOP Main Event, and Stadium Series Main Event. (Players refer to that trio of events as the Slam.
Some of online poker's most recognisable players have never won a #WCOOP title. Who are these underachievers? And can they do it this time? https://t.co/KPD4fTVUID pic.twitter.com/N1sNA4F2TT

— PokerStarsBlog (@PokerStarsBlog) August 19, 2020
Related Articles