PokerStars Stadium Series Ends without Much Fanfare
By
August 9th, 2020 | Last updated on August 9th, 2020
Home
»
Poker News
»
PokerStars Stadium Series Ends without Much Fanfare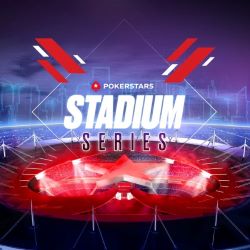 At one time, a PokerStars series like the World Championship of Online Poker would capture the attention of poker players around the world. With few poker sites that could compete in size or scope, PokerStars could set the bar high and catapult over it every time.
Oh, how times have changed. This year brought surprise after surprise – a pandemic?! – and forced many poker players online. The World Poker Tour took its action online with PartyPoker. And the World Series of Poker put the better portion of its summer series online with GGPoker. PokerStars wanted some of that action and established its new and creative Stadium Series.
Players did show up. Tens of thousands – perhaps hundreds of thousands – unique players took to the PokerStars tables for the new series. While there is no indication as to how many unique players took part in the series, there were close to 700,000 total entries in the tournaments.
And the Stadium Series awarded more than $54 million. Sounds great, right! It would be if at least $1.4 million of that wasn't in overlays. It was still a good deal for players but costly for PokerStars.
Weeks of Heats and Finals
The new PokerStars series offered 102 tournaments in total, ranging from a $5.50 buy-in during the first week to the $5,200 finale at the end. It ran from July 5 through August 2 and offered $50 million in guarantees.
Introducing Stadium Series, a brand new competition coming to PokerStars this summer, with $50 million guaranteed and $2m of added value. Here's how to take part: https://t.co/NXw83AFrpG pic.twitter.com/raVoxytNGH

— PokerStarsBlog (@PokerStarsBlog) June 22, 2020
Leading up to the series and throughout the four weeks of weekly heats and Sunday finals, PokerStars awarded approximately $2 million worth of tickets and tournament seats.
Each weekly heat offered three levels of buy-ins, such as $5.50 low, $55 medium, and $530 high. And the Sunday Finals would reflect the same buy-ins but offer big guarantees, such as $150K for the $5.50, $500K for the $55, and $1M for the $530.
At the end of the fourth week, there would be a $55 buy-in final with $1 million guaranteed and a $530 final with $2 million promised. And the Grand Final was a $5,200 buy-in with $5 million guaranteed for the prize pool.
Stadium Series Final Numbers
PokerStars sent information this week with total numbers from the series, though more totals and details came through the PokerStars News article about it. The final tallies were:
–106 events (85 reentries, 21 freezeouts)

–706,672 total entries (158,169 of them were reentries)

–$55,2424,474.50 paid in prize money, including overlays

–698,964 total entries

–17 wins for Brazil, 12 for Russia, 8 for UK, 7 for Austria and Canada
Speaking of overlays, Pokerfuse tracked the tournaments and calculated $1.4 million in Stadium Series overlays…and that was only as of July 23. However, when the entire series was over, Pokerfuse came up with different numbers, considering the rake.
–$3.5 million rake – $2.2 million in overlays = $1.3 million in top-line profit
PokerStars also did give away $2 million in tickets, though, so that technically erases that profit.
Stadium Series. 4 weeks. $51.8m gtd. $55.5m paid out..

+ $3.5m million rake
– $2.2m million in overlays (biggest in history?)
= Top line profit (rake minus overlay) $1.3 million
– $2 million giveaway in tickets

~last week was the strongest, with two-thirds of events covering~ https://t.co/DFRa9lamQd

— Nick Jones (@pokerprojones) August 3, 2020
As for the smaller Stadium Series dedicated to ring-fenced markets, the numbers are not as detailed but show solid participation overall.
–France, Spain, and Portugal:  228,799 entries, €6,573,639 in total prize money (€5M GTD)

–Italy:  127,252 entries, €3,953,228 in total prize money (€3M GTD)
Final Stadium Series Winners
All of the Grand Final tournaments were freezeouts with 8-max tables. PokerNews detailed those events and results.
The low version required a $55 buy-in or ticket and attracted 21,207 players. The $1,060,350 prize pool squeaked by the $1 million guarantee. In the end, a three-way deal led to "Cheessseburger" of the Netherlands winning the top prize of $96,029. Others at the final table represented Belarus, Hungary, Brazil, and Finland.
The medium edition was a $530 buy-in affair brought in 4,234 players for a $2,117,000 prize pool, surpassing the $2 million guarantee. That event also ended in a three-way deal with Ciao "pessagno" Pessagno of Brazil taking first place for $266,066. Players at the final table claimed Romania, Estonia, Canada, and the UK as their home countries.
And finally, the Grand Final of the Grand Finals, the tournament considered the Main Event. It was a $5,200 buy-in freezeout and took in 971 players. The prize pool of $4,855,000 didn't meet the $5 million guarantee, so PokerStars kicked in the rest to set that prize pool at $5 million even.
The Main Event ended with the final three competitors making a deal for the prize money but leaving something to play for, along with the title. The final results were:
1st place:  Fernando "fviana" Viana (Brazil) $721,235

2nd place:  Vlada "Vlada2108" Stojanovic (Serbia) $553,932

3rd place:  Maxime "Daghemuneguu" Chilaud (France) $570,220

4th place:  "serggorelyi7" (Russia) $310,287

5th place:  Sergei "Futti18" Koliakov (Russia) $224,249

6th place:  "MarinkaHT" (Russia) $162,068

7th place:  "LeslieGroves" (Russia) $117,128

8th place:  "isscreamo" (Belarus) $67,992
Lastly, Niklas "Lena900" Astedt won the $10K buy-in Wrap-Up tournament for $230,434.70.
#StadiumSeries Top Five Moments 👇
Featuring @ALOHAD4NCE @EasyWithAces + more. 🍿 pic.twitter.com/0AIOcXsIzx

— PokerStars (@PokerStars) August 6, 2020
Related Articles