PokerStars Introduces Swap Hold'em Cash Games
By
March 18th, 2020 | Last updated on March 18th, 2020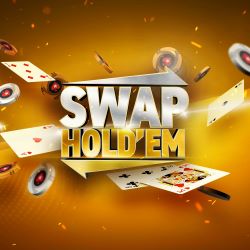 It has been a while since PokerStars introduced a new game, a new variant of online poker. The development team put quite a few new ones out into the online poker sphere in 2018 and through the first half of 2019, but they slowed down a bit in the latter part of last year.
The latest offering is Swap Hold'em. It is a version of Texas Hold'em, available currently on the PokerStars UK client and on the free-play PokerStars.net. The new game will make its way to the dot-com market, as well as EU and others, in the coming months.
For whatever reason, PokerStars had been planning this rollout for more than six months.
They've been sat on this for more than six months. Obviously just waiting for the perfect time.https://t.co/4rmbOKogTv

— Nick Jones (@pokerprojones) March 17, 2020
We noted back in November 2019 that Swap Hold'em was due for a release "soon."
The game is one of PokerStars' limited-time cash game variants, not to be offered in tournament form and not to become a permanent part of the lineup. It is likely to last at least a few months, though, depending upon player feedback.
What is Swap Hold'em?
The ability to swap hole cards is something that many players have longed to do. In Swap Hold'em, they can do so…with some important caveats.
In basic terms, players can swap one or both of their hole cards once per hand. And they can do so before the flop or after it. There is no need to swap any cards, but if a player does it, they will be able to see the cards they discarded by hovering over their own swap icon next to their avatar.
There is no charge to swap one or both hole cards once per hand.
Players can see if their opponents have swapped one or both cards, as there is an icon near each player's avatar containing that information.
It's early days (minutes?) in Swap Hold'em GTO strat but I'm guessing this is horrible. @OfficialOPPoker pic.twitter.com/55hBcA8D53

— Nick Jones (@pokerprojones) March 17, 2020
It is possible to simply fold out of a hand, but a player must swap cards before doing so. It gives them one last chance to make a playable hand before folding.
The only requirement to play Swap Hold'em is to play a minimum number of hands before being able to sit out or leave without incurring a time penalty. The goal of this rule is to keep players from taking advantage of other players or playing too many tables. As this is a limited-time game, everyone should have a chance to compete.
Related Articles