PokerStars Sets Up Unique Stadium Series for July
By
June 25th, 2020 | Last updated on June 25th, 2020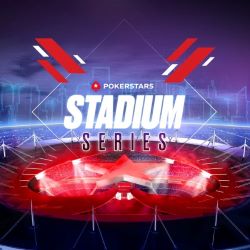 The absence of live poker tournaments – on the usual major scale – called out for online poker replacements. Players would not be spending June and July in Las Vegas and then August traveling and winding down from that summer of intense poker. Online poker sites stepped up with some massive online poker series that would keep players busy.
Online poker also allows players to quarantine. Poker players can certainly handle a stay-at-home directive, a plus in the time of the coronavirus pandemic, if also provided a plethora of tournament options and big guarantees.
In early May, the World Poker Tour and its online partner PartyPoker announced the WPT World Online Championships set to begin on July 1. Nearly one month later, the World Series of Poker and its partners GGPoker and US-based WSOP.com revealed the WSOP 2020 Online with 85 bracelet events beginning on July 1.
Meanwhile, PokerStars ran its Summer Series this month, which ended this week with little fanfare. But perhaps the site was focusing its efforts on its next summer announcement, the Stadium Series with $50 million in guarantees across 102 events and $2 million in free tickets.
Fresh Idea for Stadium Series
PokerStars could have announced a standard series to compete with the WPT and WSOP, something akin to WCOOP and SCOOP. The site could have tried to compete with the $100 million in guarantees and offer complicated 500-tournament schedules.
Instead, PokerStars created the new Stadium Series.
Introducing Stadium Series, a brand new competition coming to PokerStars this summer, with $50 million guaranteed and $2m of added value. Here's how to take part: https://t.co/NXw83AFrpG pic.twitter.com/raVoxytNGH

— PokerStarsBlog (@PokerStarsBlog) June 22, 2020
Some of it is standard, in that it will offer 102 events and different buy-in levels to appeal to a range of players with different bankrolls. The Stadium Series will guarantee $50 million.
The unique features, however, begin with a series schedule that increases in buy-ins and guarantees as it moves forward. There will be daily heats and weekly finals, all leading up to a Grand Final. Commentators will lead broadcasts of tournament action, some of which will offer viewers the chance to see hole cards on a delay.
Oh, and PokerStars will be awarding $2 million worth of tickets and tournament seats.
The series is set to run from Sunday, July 5, through Sunday, August 2 with $50 million in guarantees and 102 tournaments. But the excitement is in the details.
Weekly Heats and Sunday Finals
The new Stadium Series offers events that serve as individual tournaments but can also be viewed as weekly heats into Sunday finals. And the buy-ins and guarantees increase weekly through to the Grand Final on the last weekend, which will be a $5,200 buy-in Grand Final with $5 million guaranteed.
PokerStars provided this example of the progression of action:
Weekly heat event winners will go on to the Sunday finals, though players can also buy-in directly to those finals. And PokerStars will be adding Sunday tickets to the top finishing positions in low-tiered and medium-tiered events each week. And each player who reach the final table of a weekly final will receive a ticket to the $5,200 version of the Grand Final.
Then there is the Grand Final on August 2:
–$55 NLHE with $1M GTD

–$530 NLHE with $2M GTD

–$5,200 NLHE with $5M GTD
Players will be able to begin winning tickets to the weekly heats via the regular non-series daily tournaments in the days leading up to the start of the Stadium Series. There will be $500K worth of those tickets awarded.
Additionally, there is a Fast Track for players wanting to compete in the Grand Final via daily freeroll tournaments, which will award 170 seats to the Main Event.
Twitch fans will also be able to win tickets by watching players streaming on the official PokerStars Twitch page. The daily Twitch drops will add up to approximately $10K worth of tickets each day in the run-up to the series.
Catch the Action Online
Joe Stapleton and James Hartigan will host Twitch broadcasts from July 13 through the end of the Stadium Series to cover the later stages of the tournaments each day.
Exciting series coming this summer. I will be doing some commentary with @Stapes and @J_Hartigan if they let me in the booth. https://t.co/L5gDiKSZtR

— Chris Moneymaker (@CMONEYMAKER) June 22, 2020
The new highlight of those Twitch streams will be the ability for viewers to see hole cards. Obviously, the livestream will run on a short delay to do so, but fans will be able to watch online poker as they do live events on delays.
PokerStars Managing Director Severin Rasset noted the desire to give players something different and unique, something in which more players can participate. "It's a unique summer, and we know many of our players like ourselves miss poker. So, we wanted to bring the entertainment and flair of a live event with our cards-up coverage and really put our players at the heart of all the action."
Qualifiers began running this week via the Fast Track promotion, High Stakes Poker Challenge, specialized Spin & Gos, and via Twitch streamer giveaways.
What About Ring-Fenced Jurisdictions?
The Stadium Series for Italy will award a total of €3 million in guarantees. The option for players in the combined area of France, Spain, and Portugal will share in the €5 million guarantees.
There is no word yet as to the possibility that the New Jersey and/or Pennsylvania PokerStars sites will run a version of the series in July or August.
Related Articles