PokerStars Takes EPT Online for November 8-18 Series
By
October 27th, 2020 | Last updated on October 27th, 2020
Home
»
Poker News
»
PokerStars Takes EPT Online for November 8-18 Series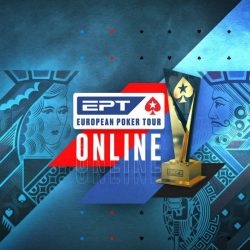 The European Poker Tour fell into the same coronavirus pandemic hole as every other poker tour. The closures of casinos around the world – not to mention travel options – forced poker tournament operators to cancel nearly everything since March 2020.
The EPT did manage to get in one tour stop earlier in October, though. PokerStars' EPT Sochi took place at Casino Sochi from October 2-11, though they removed all prize pool guarantees. Even though few players traveled very far to compete, the locals came out in force. Overall turnout, considering the pandemic and numerous health protocols necessary to carry out the series, was good.
However, the numbers of positive Covid-19 cases have been increasing in recent weeks, even to dangerous levels in some countries in Europe. That put the future of the EPT in question for the indefinite future. The entire world is on perpetual hold until a trustworthy vaccine emerges.
PokerStars announced that it is taking the EPT online for the first time. Next month's series will offer 20 tournaments and $20 million in guarantees.
Series Specifics
The inaugural EPT Online is set for November 8-18. The 20 EPT-branded tournaments will offer buy-ins that start at $215 and peak at $25K. There will be $20 million guaranteed across the prize pools.
Those looking for something a little more affordable can get involved in the Mini EPT Online. The series will mimic the larger one, but the buy-ins will be 1/100th of those higher buy-ins. The guarantee for the mini-series is $150K in total.
The EPT is going online next month 🎉

🗓️ 20 tournaments. $20M Gtd
👛 Buy-in from $215 to $25K
🏆 Real EPT Trophies
📺 Cards up coverage
🎟️ Win free tickets

PLUS… an entire replica schedule of EPT events at 1/100th the original buy-in 🤔

Details here: https://t.co/lywIAxKSLb pic.twitter.com/8kQ3rmH1M8

— PokerStarsBlog (@PokerStarsBlog) October 26, 2020
Some of the highlights of the primary series will be high roller tournaments in 8-Game and 6+ Hold'em, a $1,100 EPT Arena Championship, and the $5,200 EPT Main Event.
There will be some variations for different countries. For example, players in Italy, France, Spain, and Portugal will also see a €250 EPT Cup added to the action on November 22 with a €200K guarantee. Players should check their respective PokerStars sites for additions or restrictions per various government regulations.
Broadcasting Live
EPT followers have likely missed the voices of James Hartigan and Joe Stapleton as they comment on the action as it happens. The EPT is famous for its online commentary of live EPT final tables. Fear not, as the duo will return for the EPT Online.
Hartigan and Stapleton will be covering the action on the PokerStars Twitch channel. They will kick off their live coverage on November 11 for the $10K High Roller final table, followed by the $1K Arena Championship final on November 12 and $25K Super High Roller on November 13. After the weekend, the duo will return for the last three days of the $5K EPT Main Event. They will provide coverage from Monday, November 16 through Wednesday, November 18.
And as always, viewers will be able to see the hole cards.
Cheap Seats
When people buy "cheap seats" to a sporting event, they typically require the purchaser to sit far away from the action or without an ideal view. In online poker, however, cheap seats are ones that poker players earn through satellite tournaments and qualifiers. It takes a little extra time to earn those seats, but players can compete in high-stakes action for a fraction of the buy-ins.
PokerStars is hosting satellites around the clock already, as players take their shots at those cheap seats. There will be freerolls in the form of daily freebuy feeder tournaments, so some players will earn their entries for no money at all.
But the biggest promotion surrounding the EPT Online is the $3 Million Ticket Machine Promo. Daily satellites in this category will range from $11 to $1,050. And all players competing in regularly-scheduled PokerStars tournaments from today through November 15 will automatically earn an entry for a daily prize draw of tournament tickets.
Stay tuned for more information about those opportunities.
Twenty Events, Twenty Trophies
As with all EPT events, winners of tournaments will receive EPT trophies. They will be able to play for those – along with prize money, obviously – via the following schedule:
Sunday, November 8

–Event 1:  $1,050 NLHE 8-Max Arena Championship ($1.5M GTD)

–Event 2:  $10,300 PLO 6-Max High Roller ($500K GTD)

–Event 3:  $5,200 NLHE 8-Max High Roller ($500K GTD)

Monday, November 9

–Event 4:  $530 NLHE ($350K GTD)

–Event 5:  $1,050 NLHE 8-Max Win the Button ($200K GTD)

Tuesday, November 10

–Event 6:  $10,300 NLHE 8-Max High Roller ($1M GTD)

–Event 7:  $2,100 NLHE 8-Max ($500K GTD)

Wednesday, November 11

–Event 8:  $2,100 NLHE 8-Max ($500K GTD)

–Event 9:  $5,200 8-Game Mix High Roller ($250K GTD)

Thursday, November 12

–Event 10:  $25K NLHE 8-Max Super High Roller ($2M GTD)

–Event 11:  $1,050 NLHE 8-Max Deep Stacks ($500K GTD)

Friday, November 13

–Event 12:  $1,050 NLHE 6-Max ($500K GTD)

–Event 13:  $10,300 NLHE 6+ Hold'em 6-Max High Roller ($400K GTD)

Saturday, November 14

–Event 14:  $215 NLHE EPT Online Cup ($500K GTD)

–Event 15:  $10,300 NLHE 6-Max Turbo High Roller ($500K GTD)

Sunday, November 15

–Event 16:  $5,200 NLHE 8-Max Main Event ($5M GTD)

–Event 17:  $2,100 PLO 6-Max ($500K GTD)

–Event 18:  $1,050 NLHE 8-Max Turbo ($500K GTD)

Monday, November 16

–Event 19:  $530 NLHE 8-Max ($500K GTD)

Tuesday, November 17

–Event 20:  $1,050 NLHE Last Chance ($500K GTD)
The Mini EPT Online schedule varies slightly by date and guarantee. PokerStars lists the full schedule in its blog post about the series.
Related Articles