PokerStars 2020 EPT Online Exceeds Expectations
By
November 25th, 2020 | Last updated on November 29th, 2020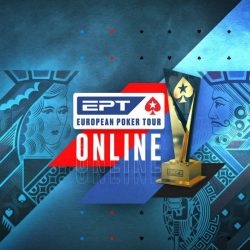 PokerStars has been in a similar position as many other hosts of live poker tours. The European Poker Tour was just one of its series that PokerStars had to put on hold in 2020 without any idea of when it may be safe to restart.
The good thing for PokerStars is that it has its very own platform on which to run the tournaments online.
Last month, the leading global online poker site announced that it would offer the first-ever EPT Online in November. There were 20 tournaments, a cumulative series guarantee of $20 million, and official EPT trophies to send to every winner.
Players responded positively.
Overall Numbers
PokerStars delivered some final numbers from the EPT Online and the Mini EPT Online, the version that offered buy-ins of 1/10 the price.
–Prize money awarded: $21,226,100 ($20M GTD)

–Prize money awarded in Mini EPT: $5,534,706 ($3.3M GTD)

–Total entries: 13,222

–Total entries in Mini EPT: 278,874

–Players winning multiple events: 1 (Bert "girafganger7" Stevens won 2 events)
The EPT Online gave away over $21 million in prizes. Running alongside it (and somewhat in the shadows) was a smaller series with the same tourneys for a fraction of the buy-in.

What went down in the EPT Online Mini? Read all about it here:https://t.co/KMNHEut3Bm pic.twitter.com/OkE7zlb6Q3

— PokerStarsBlog (@PokerStarsBlog) November 20, 2020
Main Event Champions
The EPT Online Main Event in the regular series brought in a strong crowd for the $5,200 buy-in tournament, so strong that the prize pool far exceeded the $5 million guarantee. The 8-max tournament ran from November 15-18 with these totals and results.
–Total entries: 1,304

–Total prize pool: $6.52 million
As usual with an EPT final table, the Main Event found names like apestyles, MissOracle, and Tim0thee in the virtual seats. It was the latter who made it to heads-up against WhatIfGod from Sweden. Despite Tim0thee's experience and skills, WhatIfGod emerged victorious after starting two-handed play with nearly even stacks.
1st place:  WhatIfGod (Sweden) $1,019,081.90

2nd place:  Timothy "Tim0thee" Adams (Canada) $728,632.82

3rd place:  David "MissOracle" Yan (New Zealand) $520,965.60

4th place:  tikidiii (Finland) $372,484.99

5th place:  Viacheslav "VdV1990" Buldygin (Russia) $266,323.09

6th place:  Enio "Bozzano JNR" Bozzano (Brazil) $190,418.55

7th place:  Andreas "daskalos20" Christoforou (Netherlands) $136,147.38

8th place:  Jon "apestyles" Van Fleet (Canada) $97,344.25

9th place:  vip25459 (Kazakhstan) $78,796.80
From 1,304 just nine remain with a shot at the #EPTOnline Main Event title and $1M first prize. @apestyles, @Tim0theeAdams, @BozzanoPoker & @oraclevamoo headline a stacked final table:

Today at #EPTOnline: https://t.co/LxARI39Hdp
Live stream: https://t.co/7JpfFs5paX pic.twitter.com/7JIC2QDORD

— PokerStarsBlog (@PokerStarsBlog) November 18, 2020
As for the Mini EPT Main Event with its $55 buy-in, it was a smash hit. It also surpassed its guarantee of $500K, leaving it in the virtual dust.
–Total entries: 18,412

–Total prize pool: $920,600
In the end, a player from Russia named edyvpakistan won the title and $79,139 in prize money.
Newest EPT Champions
From the main series, the tournament fields and final tables were exciting. And it all led to these results:
Event 1:  $1,050 NLHE 8-Max Arena Championship ($1.5M GTD)
Total entries: 2,426
Total prize pool: $2,426,000
Winner: DON JOHAN (Norway) $356,768.52
Event 2:  $10,300 PLO 6-Max High Roller ($500K GTD)
Total entries: 70
Total prize pool: $700,000
Winner: Ka Kwan "kaju85" Lau (Andorra) $188,937.72
Event 3:  $5,200 NLHE 8-Max High Roller ($500K GTD)
Total entries: 131
Total prize pool: $655,000
Winner: David "MonkeyBausss" Laka (Georgia) $143,566.75
Event 4:  $530 NLHE ($350K GTD)
Total entries: 1,139
Total prize pool: $569,500
Winner: Tatiana "Mysters_Y" Barausova (Russia) $74,950.93
Event 5:  $1,050 NLHE 8-Max Win the Button ($200K GTD)
Total entries: 238
Total prize pool: $238,000
Winner: Claas "Ssick_OnE" Segebrecht (Austria) $45,764.53
Event 6:  $10,300 NLHE 8-Max High Roller ($1M GTD)
Total entries: 109
Total prize pool: $1,090,000
Winner: Mikita "fish2013" Badziakouski (Belarus) $222,453.76
Event 7:  $2,100 NLHE 8-Max ($500K GTD)
Total entries: 334
Total prize pool: $668,000
Winner: Daniel "SmilleThHero" Smiljkovic (Austria) $114,489.72
Event 8:  $2,100 NLHE 8-Max ($500K GTD)
Total entries: 244
Total prize pool: $500,000
Winner: Bert "girafganger7" Stevens (UK) $87,983.55
Event 9:  $5,200 8-Game Mix High Roller ($250K GTD)
Total entries: 51
Total prize pool: $255,000
Winner: RaulGonzalez (Germany) $100,050
Event 10:  $25K NLHE 8-Max Super High Roller ($2M GTD)
Total entries: 81
Total prize pool: $2 million
Winner: Eelis "EEE27" Parssinen (Finland) $539,819.40
Event 11:  $1,050 NLHE 8-Max Deep Stacks ($500K GTD)
Total entries: 637
Total prize pool: $637,000
Winner: Daan "DanOss" Mulders (Netherlands) $111,184.24
Event 12:  $1,050 NLHE 6-Max ($500K GTD)
Total entries: 733
Total prize pool: $733,000
Winner: Fabian "!$eveeeeeeen!" Gumz (Austria) $107,342.60
Event 13:  $10,300 NLHE 6+ Hold'em 6-Max High Roller ($400K GTD)
Total entries: 41
Total prize pool: $410,000
Winner: Sam "Str8$$$Homey" Greenwood (Canada) $177,598.65
Event 14:  $215 NLHE EPT Online Cup ($500K GTD)
Total entries: 2,833
Total prize pool: $566,600
Winner: Dominik "Bounatirou" Nitsche (UK) $82,093.08
Event 15:  $10,300 NLHE 6-Max Turbo High Roller ($500K GTD)
Total entries: 69
Total prize pool: $690,000
Winner: Bert "girafganger7" Stevens (UK) $186,237.73
Event 16:  $5,200 NLHE 8-Max Main Event ($5M GTD)
Total entries: 1,304
Total prize pool: $6,520,000
Winner: WhatIfGod (Sweden) $1,019,081.90
Event 17:  $2,100 PLO 6-Max ($500K GTD)
Total entries: 286
Total prize pool: $572,000
Winner: Jens "Jeans89" Kyllonen (Finland) $109,181.43
Event 18:  $1,050 NLHE 8-Max Turbo ($500K GTD)
Total entries: 818
Total prize pool: $818,000
Winner: Pedro "PaDiLhA SP" Padilha (Brazil) $82,093.08
Event 19:  $530 NLHE 8-Max ($500K GTD)
Total entries: 1,000
Total prize pool: $500,000
Winner: Dani "danipesis" Palau (Mexico) $71,852.02
Event 20:  $1,050 NLHE Last Chance ($500K GTD)
Total entries: 678
Total prize pool: $572,000
Winner: Damian "pampa27" Salas (Argentina) $117,474.63
Related Articles