Poker Pro Ronnie Bardah First to Leave Survivor
By
September 27th, 2019 | Last updated on September 27th, 2019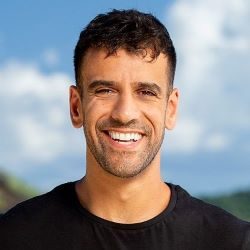 Little more than two weeks ago, Survivor revealed its cast of reality TV show players who competed on its most recent season of the show. Poker pro Ronnie Bardah was one of them.
The poker community had another representative in the reality TV world, one who could display the positive characteristics of a good poker player. He could show how poker skills translate into real life. He was going to use his poker prowess to win a game in which the wilderness is the poker room and opponents must be eliminated one by one, much like in a poker tournament.
And he was going to try to win the winner-take-all prize of $1 million.
Bardah was going to do that on the show's 39th season called Survivor: Island of the Idols.
Until he was eliminated…in the very first episode.
Season 39 Premise
Eighteen competitors are dropped on an island in Fiji without so much as the clothes on their backs. They are expected to use wilderness skills to build shelter, start a fire, etc. They will also compete in numerous physical and mental challenges that push them to their limits.
Two former Survivor winners were added to the mix to offer a boot camp of sorts, to help the players learn what it takes to survive and win. Sandra Diaz was one of them, and poker fan Rob Mariano was the other.
The show was filmed by CBS in late March and early April of this year.
It premiered on television on September 25.
Appearance and Disappearance of Bardah
Bardah was one of the 18 players on the island competing for the $1 million.
This 36-year-old professional poker player is hoping the odds are in his favor to win #Survivor. How do you think Ronnie will do? pic.twitter.com/K12ANo2UnI

— SURVIVOR (@survivorcbs) September 23, 2019
He was in the Lairo, one of the two tribes of players. Elaine was a fellow tribe member, one with whom he had an early conversation about partnering to save each other through the game. But they immediately turned on each other.
Meanwhile, the women of the tribe banded together, and all but one voted to send Bardah home.
That was the final result, and Bardah was voted off the island on the first episode.
Experience Matters
During his exit interview, Bardah commented that the experience was priceless. But he was more than a little disappointed.
"It's pretty embarrassing to be voted out first," Bardah admitted. "It's a pretty big disappointment to the poker world and to myself. But hey, I made some mistakes, and in the game of poker, you've gotta learn from your mistakes."
He noted that the money would've been nice, but it was the experience that mattered most.
Most analyses of the show noted that Bardah played too hard too early. Even Survivor host Jeff Probst said, "You can't win the game on day one, but you can definitely lose the game."
Ironically, this is the same thing that many people say to new poker players in a tournament, one like the WSOP Main Event. A player can't win on the first day, but he or she can lose the game on day one. That is something that Bardah didn't transfer from his bag of poker skills to the reality TV game.
Bardah's Own Words
After the show aired, Bardah sat for an interview with Entertainment Weekly.
He noted that poker makes a person accustomed to losing, as players mostly lose more than they win. However, he said that poker continues to give more chances. "You can get knocked out, and you could wake up the next morning and play again." But with Survivor, there was only one chance.
For someone who always has so much to say, it's hard for me to express how I feel. The expectations I had for myself and what you had for me, sorry I let you down. I feel so privileged to have played the great game of @survivorcbs Thank you for all your support.

— Ronnie Bardah (@RonnieBardah) September 26, 2019
Bardah said that he didn't make the connections and relationships that he needed within the first few days, and he made no excuses for that.
Looking back on the show, Bardah was a little disappointed that CBS didn't air more moments in which Bardah had fun with his tribe. "We were chatting it up one night, the first night we were out there. I was beatboxing, and everyone was rapping, and we also just cracked a lot of jokes. I mean, there were a lot of good times, a lot of funny moments. But they never showed me really smiling at all. I looked pretty menacing and pretty mean, to be honest."
As for viewing himself on television and seeing himself in a different light, Bardah did notice that he looked "a little disingenuous" when trying to make a pact with Elaine. He realized that he came off in a bad light to most of the tribe. He knew that his strength was knowing how he was perceived, and he did pick up on some of that and knew he had to mend some relationships with tribe members, but he didn't have the time to do that before the first vote.
Bardah did admit that he got sick several weeks before the show, and he took antibiotics that "wiped me out." He said he was in a lot of pain. "It was a threshold 10, and I wasn't able to be my genuine self," he admitted. "I wasn't completely myself out there. The timing was just off."
But in the end, Bardah said he doesn't live with regrets. "I own it and that's all it is."
To my fam, friends, the poker world, Brockton/Boston and everyone out there who showed much love. appreciate you so damn much. Thanks @mattvanwagenen @JeffProbst and everyone else at CBS for believing me and giving me a chance. Can't wait to watch the rest of this amazing season

— Ronnie Bardah (@RonnieBardah) September 26, 2019
Related Articles