Poker Pro Ronnie Bardah to Appear on Survivor
By
September 11th, 2019 | Last updated on September 11th, 2019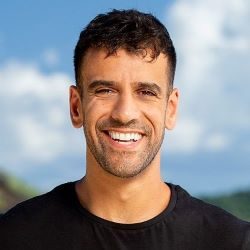 Poker players love a challenge. They enjoy taking calculated risks, using the advantage of poker skills to gain an edge over their competition.
It has been no surprise to see professional poker players put their skills to the test away from the green felt. Some engage in prop bets, and others try out for reality television shows. There have been different pros on a variety of shows, but the ones that include physical challenges seem to be the ones most popular among poker players.
The latest to take the plunge on such a television show is Ronnie Bardah.
This week, the official cast members of Season 39 of Survivor were announced. Bardah was included. He is one of 20 new players to compete on Survivor: Island of the Idols with a $1 million first-place prize up for grabs.
The show was filmed from late March to early April 2019, and it will premiere on CBS in the United States in late September.
Yes!, the rumors are indeed true. I'm happy to announce that I will be on season 39 of @survivorcbs Island of the Idols! Premiering on Sept 25th! Let the games begin 🙌🏽 pic.twitter.com/BJFfZk0R0f

— Ronnie Bardah (@RonnieBardah) September 9, 2019
Bardah and Poker
Born in Brockton, Massachusetts, Bardah got his start in poker playing the cash games at Foxwoods Casino in Connecticut. He worked his way from low limits to $30/$60 limit hold'em and earned a living as a cash game poker player.
Bardah began to test the poker tournament waters in 2004 and cashed in an event at the World Poker Finals at Foxwoods. As he played more often, he began to improve his scores.
His first tournament victory came at the 2007 Empire State Hold'em Championships in New York, where he won $21,300 for taking down a $500 buy-in NLHE event. He began to final table bigger events, like the World Series of Poker Circuit and Foxwoods Poker Classic.
One of Bardah's biggest accomplishments came at the WSOP and in the Main Event. In 2010, he finished in 24th place of 7,319 players in the $10K buy-in Main Event for $317,161. The next year, he min-cashed the event for $27,103, and in 2012, he min-cashed again for $21,707.
Meanwhile, however, he won his first WSOP bracelet in 2012 in the $2,500 LHE 6-Handed event for $182,088. And in 2013, he finished third in the $5K LHE event for nearly $95K.
That year – 2013 – Bardah also cashed again in the WSOP Main Event, that time in 124th place for $50,752. And when he cashed for the fifth year in a row in 2014, he set an all-time record for the most consecutive cashes in the Main Event.
Since then, he has traveled the world to play poker and accumulated more than $1.3 million in live tournament earnings. This does not include cash game winnings and online poker winnings through the years of his poker career thus far.
Bardah Beyond Poker
Poker has been a steady part of Bardah's life for well over a decade, but he was not always in the best of health. After his deep 2010 WSOP Main Event run, he spent time in the hospital.
The hospital led to testing and speculation but never a diagnosis. His symptoms were similar to those of the flu at the beginning, but he also had facial numbness, heart palpitations, and anxiety. He said at the time that he felt like he was dying for a year and a half. Yet and still, no doctors could provide answers.
Bardah then began to change his lifestyle, from working out to eating healthier foods. He also took a several-month trip to Thailand, where he relaxed and studies Muay Thai seriously.
Upon his return to the US, he was able to focus better on his career as a poker pro and continue his new healthy lifestyle.
Now living in Las Vegas, Bardah still exercises, kickboxes, plays poker, and beatboxes.
Why Survivor?
Bardah's photo is now up on the CBS website as a part of the cast of the reality TV show.
Welcome to #Survivor: Island Of The Idols!@JeffProbst's got somethin' for ya… an awesome rundown of what's ahead for Season 39. pic.twitter.com/GxlMcrtJHi

— SURVIVOR (@survivorcbs) September 9, 2019
One of the questions in his bio was about his motivation for being on the show, which provides quite a significant physical and mental challenge.
"To challenge myself like I never have before," Bardah said. "I spent my life adapting to ever-changing environments. I grew up in a rough inner-city neighborhood and rose above and have bene successful in one of the most competitive, cutthroat businesses on earth. Poker is such a great challenge and competition, and I want to always challenge myself to do better and better. There is no greater challenge in life than Survivor. I must conquer it."
Bardah described himself as resilient, analytical, and savvy.
As to how he planned to survive on the show, he cited his travels to 30 countries and love for physical challenges. "I have a very strong social game," he added, "and thanks to my poker skills, I will be able to read people well and will blindside the "blindsiders."
Our second #Survivor: #IslandoftheIdols cast assessment looks at Ronnie Bardah; a dynamic poker player known for record-breaking consistency at the World Series of Poker. Will he bring that level of patience to the game? https://t.co/dpzBmLVSZp

— Surviving Tribal (@SurvivingTribal) September 10, 2019
Related Articles