Heavy-Hearted Poker Community Pays Tribute to Mike Sexton
By
September 7th, 2020 | Last updated on September 7th, 2020
Home
»
Poker News
»
Heavy-Hearted Poker Community Pays Tribute to Mike Sexton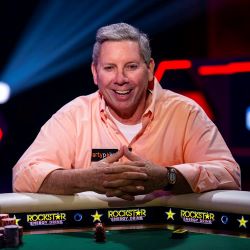 One of his very closest friends broke the news on Sunday evening, September 6. Linda Johnson wrote:
"Mike Sexton passed away peacefully about an hour ago surrounded by family members. Please keep his memory and his family in your thoughts. Mike really appreciated your comments and messages to him. He was so beloved by the poker community.

"I had the honor to be his friend and travel the world with him for 30+ years. I loved my dear friend and will miss him. RIP Mike Sexton."
An Expected and Dreaded Message
The poker community knew it was coming. Even those wishing Mike well and using their "one time" requests that he recover knew that it was not realistic to expect it.
Cancer is evil.
On September 1, Linda posted a message after one of Mike's friends posted – without Mike's permission – that Mike was battling an illness. She wrote:
"Mike Sexton is poker's greatest ambassador. He authorized this tweet. He has only wanted to deliver positive messages so he kept his health problems private. Mike has been battling prostate cancer that has recently spread to other organs. He began in-home hospice a month ago."
In-home hospice care is typically a last step for people with terminal illnesses. It is a way for a person to remain at home and be as comfortable as possible in his or her last days, weeks, or months. Knowing that the cancer had spread, along with his month-long hospice care, told most people that he was dying.
A painful time ensued for the poker community that loved, respected, and admired Mike. But in authorizing Linda's message, Mike gave us something precious. He gave us the time to tell him how we felt about him.
The poker community did that by the thousands. The messages poured in via social media. Some reached out during a four-hour podcast hosted by Mike Matusow.
Mike, his pre-teen son, his friends and close family watched the tribute show live. And for days, Linda read what had to be thousands of messages to Mike. People from around the world wished him well, shared memories, and thanked Mike for everything he did for them, for the poker community, and for the game of poker in broader terms.
Linda noted, in so many words, that Mike was very weak, that he would not personally respond to text messages, emails, or phone calls. Linda took on that huge responsibility and did as much as possible to facilitate contact and messaging to and from Mike.
In what she likely knew were his last days, Linda spent that time with her longtime friend telling him (and his family) how much everyone loved Mike.
We, as a community, owe Linda for her generosity. I, for one, am thankful for her and her generous spirit, and the recent updates. And I am grateful to Mike for the chance to say thank you and goodbye.
A Lengthy Obituary
Mike Sexton died on September 6, 2020. He was 72 years old and surrounded by his son Ty, family and friends at his home in Las Vegas, Nevada. He had been diagnosed with prostate cancer that spread to other organs and led to his untimely death.
We all take bad beats at WSOP, but having your child smile, hug you, & say "Happy Father's Day" makes those beats seem non-existent. #happy

— Mike Sexton (@Mike_partypoker) June 17, 2012
Born on September 22, 1947, Mike grew up as a competitive kid. In his first book, Shuffle Up and Deal, published in 2005 with the World Poker Tour, he wrote:
"When we were kids, my buddies and I bet on everything – bowling, golf, even Wiffle Ball – so I grew up gambling. I'm not saying that's a good thing, it just happens to be my background. Danny Robison, the guy who many people consider to be the best seven-card stud player in the world, taught me how to play poker when I was in the seventh grade. Playing cards for money came natural to me since Danny, who was two years older, taught me at such a young age. Although he kept me broke until he left for college, my 'training' with Danny paid off for me."
Mike's competitive nature extended to other sports, as he was a noted gymnast who attended Ohio State on a full athletic scholarship in gymnastics. He started as a business major but earned a degree in public recreation.
Of course, during those university years, he played more poker and bridge. It was poker, however, that became profitable, and it led him to eventually become a professional poker player around 1977.
Prior to that, however, Mike joined the United States Army and trained as a paratrooper with the 82nd Airborne Division in the early 1970s. He never served overseas, but he learned discipline and respect for the military during his training and service. He also took up ballroom dancing during his time in the service. He carried that love of dancing through the rest of his years.
Mike did go on to play poker professionally, moving to Nevada in the mid-1980s but spending a great deal of time there before doing so.
His poker tournament career started strong with some WSOP final tables in Omaha and Stud, and his first major tournament win was at the Super Stars of Poker in Tahoe in 1988, where he took down a Razz title. The following year, Mike won a WSOP bracelet in the Seven-Card Stud Split event.
The wins accumulated through the years, from the Queens Poker Classic to the L.A. Poker Classic, from the World Poker Finals at Foxwoods to the Euro Finals of Poker in Paris and the Crown Australian Poker Championships in Melbourne.
One of Mike's many ideas in poker was the Tournament of Champions, one that pitted the top players against each other. He hosted several editions of the TOC, beginning in 1999. The World Series of Poker then hosted a version of that TOC in 2006, and Mike took it down himself for $1 million.
From the time that Steve Lipscomb first conceived of the World Poker Tour, Mike was on board as a consultant and supporter alongside friend and fellow poker pro Linda Johnson. Once the WPT took shape, Mike took a spot at the commentators' booth with actor and longtime casual poker player Vince Van Pattern.
Mike started signing off from the show with his now-famous phrase:
"May all your cards be live and your pots be monsters!"
Through more than a decade of WPT seasons, though, Mike wasn't allowed to play those events due to a potential perceived conflict of interest. But when he was able to play in 2010, he played quite a few. And in 2016, he made the final table of the WPT Montreal at Playground Poker, ultimately winning it for his first WPT title and C$425,980.
Mike's official total of live tournament earnings is $6,708,146, the largest contribution coming from his ninth-place finish in the $1M buy-in Big One for One Drop at the 2012 WSOP worth $1,109,333.
A gigantic loss for poker.

I was honored to play a part in awarding @Mike_partypoker with the 2015 Lifetime Achievement Award.

On behalf of all of us @gpi @TheHendonMob, our deepest condolences to Mike's family.

"May all your cards be live and may all your pots be monsters." pic.twitter.com/0ENyicuYq1

— Eric Danis (@EricDanisPoker) September 7, 2020
In addition to his work at the tables, Mike worked with PartyPoker when it first launched in 2001. He is widely credited with being instrumental in creating the company that it is today. He told Card Player:
"I was at PartyPoker from the start, before there was even a name or a single virtual card was dealt. I experienced the crazy times of the poker boom when we became the number one site in the world, I remember people sleeping on the office floor when we were all working 24-7 to get the software launched…"
And in 2017, after 15 years with the WPT, Mike made an emotional decision and left the commentators' desk to take a position as PartyPoker Chairman. He took on roles as a company ambassador as well as a consultant tasked with improving the site via software and customer service developments, all helping to move PartyPoker into its dominating position in today's online poker and live poker tour world.
Through the years, Mike also wrote many columns and articles for publications like Card Player Magazine, and in addition to the aforementioned Shuffle Up and Deal book, he wrote his autobiography (of sorts) called Life's a Gamble, published in 2016.
For his many contributions to the game, he won honors.
In 2006, Card Player recognized Mike as the game's top ambassador at its Player of the Year Awards Gala.
In 2009, The Poker Hall of Fame inducted him at a World Series of Poker ceremony.
In 2016, the Global Poker Index presented Mike with the GPI American Poker Awards Lifetime Achievement Award.
In 2017, the WPT gave mike the WPT Honors Award "in celebration and appreciation of exceptional contributions made to the World Poker Tour and the poker community as a whole."
This summer, the WPT renamed its WPT Champions Cup to honor Mike again. It became the Mike Sexton WPT Champions Cup. Mike called it "truly the highest peak in my 40 years in poker."
Those who followed Mike's career closely knew that one of his favorite parts of poker and his successes in it was the ability to donate to charities. When he won that 2006 WSOP TOC for $1M, he immediately donated half of it — $500K – to five charities. He gave $100K each to the Special Olympics, Paralyzed Veterans of America, Wounded Warrior Project, Children Incorporated, and Buoniconti Fund.
Mike also co-founded PokerGives.org with Linda, Jan Fisher, and Lisa Tenner. It was a nonprofit organization dedicated to connecting generous poker players to various charities that assisted veterans, youth groups, sports programs, families, and the homeless. The group also hosted auctions, special poker tournaments, and other fundraisers for nearly a decade.
He organized numerous tournaments – some public and some private – to raise funds for charities through the years. And he played in nearly every charity tournament in the US, each one an opportunity to support a worthy cause.
All proceeds from the "Mike Sexton Charity Tourn" at Hollywood Casino (Columbus) Nov 28 will benefit Ohio State Men's Gymnastics program.

— Mike Sexton (@Mike_partypoker) November 25, 2014
A Personal Goodbye
I knew Mike didn't have much time left. After Linda's message on social media, I reached out to people close to Mike, and they told me more about his battle with cancer. One friend also told me how close to death he really was.
At that point, I had the opportunity to thank him. I did send messages via Twitter that I hoped Linda read to him.
As a journalist, I should have also taken that opportunity to pre-write an obituary piece. Knowing that his death was imminent, I could have written the piece over the weekend. I would've been one of the first to publish something on the night of Mike's death.
But I couldn't do it. It felt disrespectful.
Today, I must write this piece. I want the world to see Mike in his totality – as much as I knew about his life – and what a treasure we lost.
Moreover, I'm taking some liberties while writing this piece by referring to Mike and Linda by their first names. Formalities don't concern me much today.
I first met Mike on the old Warner Bros. lot in Los Angeles, when I started doing some part-time accounting work for the World Poker Tour in 2002. It was a brief encounter. Through the few years I spent with the WPT, he was always kind. He took the time to ask how I was doing, always remembered my name, extended a courteousness certainly not required of on-air personalities to office staff.
As I moved into freelance writing in the mid-2000s, Mike was free with his time for interviews. When I found more opportunities for longer-form articles, Mike was accommodating. He took time to answer questions on tournament breaks, meet to chat before tournaments when time was precious, or agree to an interview after a bustout, a time when most players would be telling bad beat stories.
Mike was so accommodating that he once walked with me to a small margarita bar in the Rio in Las Vegas after he busted a WSOP tournament. We sat at a little wobbly table and talked over the casino music. As he answered a question about winning his 1989 WSOP bracelet, he became emotional telling a story and embraced that feeling.
He wore his heart on his sleeve. He expressed his feelings and memories, raw and honest always.
Everyone knew Mike from his time on television. But he never took that for granted or abused it. He posed for every photo with a fan, signed every piece of memorabilia when asked. And he did it for them and for the game.
Mike was known to have won great sums of money and experienced great downswings through the years, though he never talked much about either. He treated others the same no matter which of the two ends of the spectrum he was experiencing at the moment.
He loved poker. It was one of his great passions in life.
He loved the game and its players, and he wanted the world to also see the greatness of the game and our poker community.
He loved his son most of all. Ty was his pride and joy.
Mike was a bright spot in an industry that can be tough in many ways. I am grateful for his kindness and smiles through the 18 years of which I've been a small part. More than that, I am forever grateful for the joys he brought to the poker industry for four decades.
I venture to say that Mike had more of a positive impact on poker than any other person.
Thanks, Mike.
Community Expressions of Sorrow and Gratitude
Mike's death made an impact well beyond poker.
Twitter posted an "in memoriam" trend this morning. Newsweek published an article. CNN did, too. Yahoo Entertainment, New York Post, Hollywood Reporter added to the growing list of articles. And in addition to American poker media, publications around the world mourned the loss as well.
The WPT posted a heartfelt video.
A message from WPT CEO Adam Pliska (@pliska007) and @VinceVanP_WPT on the passing of Mike Sexton. #ThankYouMike pic.twitter.com/R3Wh0ZEd2r

— World Poker Tour (@WPT) September 7, 2020
Very sad to hear about Mike's passing. He wasn't just a champ for winning poker tournaments, but because he always championed for the players. Most of all I'll miss his incredible stories, and I hate knowing how much of poker history left with him. RIP Mike https://t.co/TJshNc9dC4 pic.twitter.com/dR3AKttvUw

— TonyDunstTV (@tonydunsttv) September 7, 2020
People deal with grief in different ways and admit I haven't dealt with the illness and passing of Mike Sexton as well as I should have. There comes a time in everyone's life when more people we love pass away but this one really hurts. I loved him like a brother. #ThankYouMike pic.twitter.com/3XaYw6QKa8

— Matt Savage (@SavagePoker) September 7, 2020
Many others posted their thoughts in the past 24 hours as well. This is a sampling.
We mourn the heartbreaking loss of our chairman, founder & friend Mike Sexton. We have seen so many wonderful stories being shared. The world of poker will never be the same but his huge contribution will never be forgotten. Our condolences go to Mike's son, Ty and family ❤️ pic.twitter.com/4joTRljCqR

— partypoker (@partypoker) September 7, 2020
The last time I played with @Mike_partypoker was on Poker After Dark earlier this year.
I always enjoyed playing with Mike. He's a great raconteur & a true gentleman. Even when he takes your chips he's so gracious about it you somehow don't mind.
RIP Mike.❤️ You will be missed. pic.twitter.com/1cbws7FWX3

— Jennifer Tilly (@JenniferTilly) September 7, 2020
Suffice to say, Mike Sexton was an inspiration and a personal hero of mine. His work on the WPT influenced my career.

He was one of the greatest ambassadors poker had.

He will be missed by everyone. His family, his friends and his fans.#ThankYouMike

— James Hartigan (@J_Hartigan) September 7, 2020
The world lost a giant today. Every day, Mike Sexton put on a suit and tie to demand respect for the game we love. And his vision for poker would come to pass. He gambled hard, he burned for the underdog, he walked with honor. We should all be so lucky. RIP Mike. And thanks.

— Jesse May (@ScurrilousMay) September 7, 2020
So sad to hear @Mike_partypoker has left us.He has been joking for last 6 months about his short stack play and as the stack got shorter his need to"draw out".He didnt give up easy.Thinking today of Karen and Ty whove bravely walked every step of his nightmare journey by his side

— Padraig Parkinson (@padraigpoker) September 7, 2020
The role model for ambassadors, @Mike_partypoker was a poker visionary. I am reminded today of what Hamlet said to Horatio:

'He was a man, take him for all in all,
I shall not look upon his like again.'

RIP pic.twitter.com/XU0PBagsRY

— 🃏David K Lappin🃏 (@dklappin) September 7, 2020
The poker world is dotted with personalities of all types. At the purest end of that spectrum is a guy who commentated the poker dream across the planet, represented the entirety of our range in ultra professionalism, and was a welcoming face and voice at so many of our starts.

— Andrew Neeme (@andrewneeme) September 3, 2020
Goodbye old friend. Give Mad Marty & The Devilfish a high five when you bump into them please 🙏 pic.twitter.com/4OkMniy5X0

— Rob Yong (@rob_yong_) September 7, 2020
R.I.P. Mike Sexton, a great ambassador for poker.

— (((Josh Malina))) (@JoshMalina) September 7, 2020
How lucky was poker to have Mike Sexton to lead it to respectability at the turn of the century

He was the perfect ambassador for the game at a time when the game so badly needed it

I can't imagine where poker would be without him

— Adam Schwartz (@ASchwartzPoker) September 7, 2020
RIP @Mike_partypoker pic.twitter.com/g9Elg2FV4B

— jaredjaffee (@jaredjaffee21) September 7, 2020
It was my honor last year to meet and team up with a legend who ushered in poker's modern age. RIP Mike Sexton, you were one of a kind as a person and a personality. #FuckCancer pic.twitter.com/RwrejF9bc7

— James Holzhauer (@James_Holzhauer) September 7, 2020
As it's been said, Mike was impossible not to like and a true gentlemen. I can only echo the kind words of other's, and feel incredibly grateful to have known him. Heart warming to see the impact he had on everyone. He will be so missed, and never forgotten ❤️🙏 pic.twitter.com/99GWQxV1B3

— Kristen Bicknell (@krissyb24poker) September 7, 2020
Related Articles