Poker Community Establishes Avenues for Support
By
March 19th, 2020 | Last updated on March 19th, 2020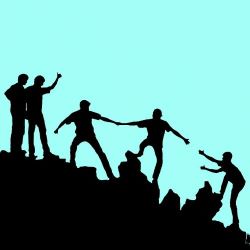 The poker community has been known to be generous and supportive when it counts.
Over the past week or two, the vast majority of live poker players, dealers, and other poker room staff have been laid off. What started with a few card rooms shutting down snowballed over the last week into every casino in the United States closing its doors to prevent large gatherings.
The COVID-19 pandemic itself hasn't spread through the poker community, as far as anyone knows, but the threat of it has been enough to severely harm the poker world. It is not even possible to calculate the vast loss of jobs at this point.
Already, though, poker players have stepped up to offer help.
Community Building on Discord
In most situations, Discord serves as a platform for video gaming communities, where poker plays a very small role. It can also be used to bring a community together.
Katie Stone did just that when she launched a new Discord channel called "Poker peeps affected by COVID19" last weekend.
Non-expiring link https://t.co/I22v38q8iA

— Katie Stone (@KatieStonePoker) March 16, 2020
More than 100 people have joined the channel. There is a general section for information and chat, as well as a section for "need help" and another for "offering help."
Some poker pros have offered free poker training courses, and others have offered to help individuals as they are able. Several have indicated that they will support people's side hustle, i.e. buy things they sell, etc. Ryan Laplante, Alex Livingston, and Matt Savage have been active in the chats with ideas. Garry Gates shared a GoFundMe for a dealer.
CORONAVIRUS STIMULUS PACKAGE

Do you have a side hustle you plan on helping you make ends meet during these difficult times? I am your new customer.

Make art? I'll buy it. Started a podcast? I'll join your patreon. Streaming on twitch? I'll sub

Post it here for exposure!

— Cy Watson (@cyluswatson) March 13, 2020
Participants have shared information about free food and/or food pantries offering wide distributions.
Some have requested help as well.
Two Plus Two Community
Katie Stone also started a thread on March 14 in the Two Plus Two forum with the same title as she used on Discord.
Someone almost immediately posted to offer free access to his ebooks. Another person posted that they have the virus and what their experience has been like. Others offered advice. The thread is ongoing.
Random but Generous Offers of Kindness
When Jamie Kerstetter mentioned that shelter dogs help with boredom and loneliness, especially in a time of quarantining, Patrick Leonard had an idea. He offered to send money to anyone who adopts a dog from a shelter this week, enough to cover food for the next two weeks.
Any of Jamie or my followers who adopts a dog this week I'll send $ for all their food for the next 2 weeks, all you gotta do is care for them and give cuddles (that means more to them than you can imagine) https://t.co/N2UUyW4Lvx

— Patrick Leonard (@padsPokerSquad) March 14, 2020
Robbie Strazynski expressed a desire to hire more freelance writers.
I want to give a hand to folks working in poker media who have suddenly found themselves without work.

This is the best way I know how.

If you can help, please do.

Thanks for your time, and for spreading the word.https://t.co/5GHuq1VqiF

— Robbie Strazynski (@cardplayerlife) March 19, 2020
There will be more in the weeks to follow. We will try to stay on top of resources and publicize them. If you know of something that needs more attention, please leave a comment or respond to our Twitter page at @legal_poker.
Related Articles