Only Days Remain in PPA Fundraising Campaign
By
March 26th, 2018 | Last updated on August 12th, 2019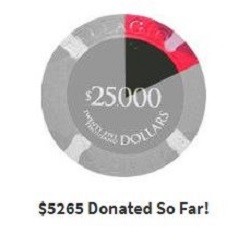 Days remain for poker community to show support for PPA
The fate of the Poker Players Alliance is nearly sealed. With only days left in its campaign to raise $25,000, nearly four-fifths of that amount is needed to complete the goal and give the organization the funds needed to continue working for the poker community in the United States.
Unless a major contributor steps in at the last minute, the PPA will not meet its goal.
PPA needs your help. In order to continue our advocacy efforts we need to raise $25k before the end of March. Will help us reach our goal? https://t.co/R4xgdekTvf pic.twitter.com/0XIalU0kV6

— Poker Alliance (@ppapoker) February 27, 2018
Many in the poker community have been fairly negative about the PPA and feel that it's not necessary. If it disappears from the landscape, "Meh." Comments range from apathetic (Does it really matter?) to the downright misinformed (States will legalize online poker after sports betting and DFS. It'll happen with or without the PPA.).
There is a chance that the recent results of its sports betting survey – one that strongly supported the PPA transforming into an advocacy group for sports betting and poker – will lead the PPA leaders to change focus. By creating a lobbying group with a broader base and one that includes the ever-popular sports betting industry, the group could survive and fight for more forms of online gambling.
When the campaign ends on March 31, tough decisions will have to be made.
The Facts From the PPA
When the organization first put out its fundraising ask, it also put forth a web page of its accomplishments. Some of its triumphs are a bit dated:
–Cultivated a database of more than 1 million poker consumers, turned them into political activists.

–Launched State Director program for local advocacy.

–Established PokerPac so poker players could support political candidates.

–Created Litigation Support Network to provide legal assistance to poker players.
Others are more cumulative:
–Testified as expert witnesses before more than 25 state and federal legislative bodies.

–Hosted dozens of charitable and "play for fun" poker events in DC and state capitals.

–Drove over 3 million constituent contacts to lawmakers through emails, calls, visits, and social media.

–Played critical roles in four states that have legalized online poker.

–Achieved legal victories establishing poker as a skill game.

–Defeated every effort to pass RAWA (Restoration of America's Wire Act) and similar efforts in Congress.

–Worked with US Department of Justice to ensure player fund remissions after Black Friday.
But Wait, There's More
It's important that the poker community understands the scope and totality of the PPA's work in the past dozen years. Many people argue that only four states have legalized online poker during that time, but there must be context for that argument. And many do not see what happens behind the scenes.
As for the four-state argument, it needs to be clear that states weren't federally clear to legalize online poker until the 2011 Department of Justice decision regarding the Wire Act. That decision made it possible, so most states did not even consider the option until after November 2011, just 6.5 years ago. In addition, many states have begun to consider online poker legalization in that time but have put the games on the back burner for other priorities. States like Illinois, Michigan, and New York took work to find legislators who were educated enough on the subject to sponsor bills and encourage fellow lawmakers to support them. The process is not an easy one but was made easier by the PPA offering information, hosting meetings, providing testimony, and lobbying for the game.
CHECK YOUR INBOX … New Yorkers, you just got an email from PPA with an easy way for you to contact your lawmakers to support #iPoker. Players like you are the leading edge of a push for legalization this year. Please take action: https://t.co/Pl2i3oL4zL pic.twitter.com/HRnLMnjqVt

— Poker Alliance (@ppapoker) March 6, 2018
Before that time – before Black Friday – the PPA had been making progress by finding several high-profile sponsors for federal legislation to legalize online poker in the United States. Recognizable members like US Representatives Barney Frank and Joe Barton made trips to the World Series of Poker and introduced bills to Congress, though work remained to garner further support. But before the proper bill found enough support, the poker industry took its biggest hit.
Black Friday took the majority of online poker away from American players in a harsh move that froze all poker accounts with PokerStars, Full Tilt, UltimateBet, and Absolute Poker. Immediately, however, the PPA went to work behind the scenes to gather information and talk to poker operators. The PPA was not only instrumental in calming the poker community, the organization went on to work with the DOJ to ensure that players of the three now-defunct sites were able to get paid. It took years – as do most federal government plans – but the DOJ eventually used the money PokerStars paid in fines to repay all of Black Friday victims through the Garden City Group claims administrator.
The PPA didn't always play offense, however. There were many times the PPA stayed in touch with legislators and sources to find out about moves from Sheldon Adelson, the casino mogul who made it a mission to ban online poker on the federal level. The PPA continuously updated the poker community on his moves, warned against bills that were in the works, and mobilized PPA followers to fight against those efforts. Despite all of Adelson's "friends" in Congress, RAWA has never passed.
On the state level, the PPA stayed informed about everything from bills to court cases involving poker and stepped in when possible. While some states did/do have PPA representatives to assist in that job, it was one predominantly handled by former PPA Executive Director John Pappas and either Bryan Spadaro or now-President Rich Muny.
Op-Ed
I urge the poker community to consider a donation.
Muny and Pappas had been working for the PPA without any pay since January. Muny continues to serve the poker community as an unpaid volunteer. Not only should they be paid for their efforts, there are other costs associated with the PPA, such as website-related expenses and travel.
Online poker is at a crossroads, especially in America. While Nevada, Delaware, New Jersey, and Pennsylvania have legalized the game, none make enough money on it to impress other states. New Jersey is the most successful, and it has seen its online poker numbers on a continuous downswing for nearly the past year while online slots and other casino games increase in popularity. Other states may look at that trend and decide not to even consider poker. And if the PPA disappears, Adelson may be able to convince a member of Congress to sneak RAWA into a bill that goes undetected until passed.
These are worst-case scenarios, but without any organization advocating for the poker community, they become real possibilities.
AGA still won't advocate for #iPoker and #iGaming. https://t.co/pnNgi4fTFj

— Poker Alliance (@ppapoker) March 17, 2018
Should the PPA decide to advocate for sports betting, poker players should only hope that poker remains a focus of the group in whatever form it may take.
Poker needs the PPA if there is any chance of internet poker thriving once again in the United States.
Related Articles