New Jersey Governor Stands Up for Internet Gambling
By
July 25th, 2017 | Last updated on April 11th, 2021
Home
»
Poker News
»
New Jersey Governor Stands Up for Internet Gambling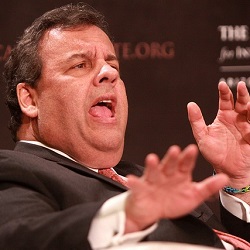 Christie: Leave our internet gambling alone!
New Jersey has many reasons to be proud of its online gambling industry. Only three years in, online poker and casino games have become a positive addition to the state's budget, not only adding significant revenue on a monthly basis but becoming a necessary cushion for struggling land-based casinos and their bottom line numbers.
The industry has been so positive that the state government took an official stand by passing a resolution to urge President Donald Trump, his administration, and both houses of Congress to refrain from any legislation that would harm the industry. In light of recent movements by anti-online gambling forces on the federal level, New Jersey stood up to defend the games, and Governor Chris Christie signed the resolution.
NJ Gov. Chris Christie urges President Trump and Congress not to ban internet gambling. https://t.co/B3ZsnwHSjU

— The Associated Press (@AP) July 21, 2017
The move by New Jersey was significant enough to make the rounds of national news and showcase the positive effects of online gambling for the one state that embraced the industry fully several years ago.
Bill Does Little but Speaks Volumes
The bill is really a resolution, a statement of importance signed by the legislators and governor of the state for maximum impact.
Assembly Joint Resolution 137 started in the Assembly in January of 2017 when it was introduced by New Jersey State Representative Vincent Mazzeo and subsequently co-sponsored by Senators James Whelan and Jennifer Beck as companion legislation. It was inspired by the testimony of then-Senator Jeff Sessions during confirmation hearings for the position of US Attorney General. Sessions stated that he would revisit the 2011 Department of Justice decision regarding the Wire Act, a ruling that gave states the right to decide internet gambling legality as they chose.
When Sessions was confirmed as the next Attorney General, it became clear that online gambling was in danger. As New Jersey would be the most severely impacted by a decision to revert to the original Wire Act interpretation, legislators came together to take action.
The wording of the two similar resolutions was then combined into one bill, which passed the House by a unanimous 75-to-0 vote on June 8 and the Senate by a vote of 36-1 on June 22.
The bill stated:
This resolution urges United States President Donald Trump, members of President Trump's administration, and Congress to oppose any measures and actions that would prohibit states to conduct Internet gaming. Recent measures in Congress, if pursued by the new Congress and supported by the President and his administration, would prohibit the transmission by wire communication of any bet or wager or of information assisting in the placement of any bet or wager, including Internet gaming.
In his confirmation hearing as nominee for United States Attorney General, Senator Jeff Sessions indicated his desire to revisit the federal Justice Department ruling that currently allows the states to authorize Internet gaming. These measures and actions would invalidate New Jersey's implementation of Internet gaming, which the State authorized in 2013 to be conducted by Atlantic City casinos in partnership with their Internet gaming affiliates and under strict regulation and control by the State's Division of Gaming Enforcement.
A federal prohibition against Internet gaming would directly and negatively impact New Jersey by dismantling the investments that the State and Atlantic City casinos have already made to implement and regulate Internet gaming, taking away the economic and employment opportunities already realized by the State and its residents, and foreclosing the future potential of Internet gaming to generate tens of millions of dollars in tax revenue, create high-tech software jobs, and foster valuable business ventures for Atlantic City casinos in this State.
Online Gambling Legislation Works
New Jersey has showcased the power of online gambling in job creation, revenue generation, and as a boost to land-based casinos. While Nevada was the first state to legalize online poker, its scope remains limited to poker only, keeping the market small. Delaware shares online poker liquidity with Nevada, but the numbers have yet to become significant for either state. New Jersey, on the other hand, capitalized on its Atlantic City reputation to make online poker and casino games a priority.
The most recent results were shown in a study conducted by iDEA (iDevelopment and Economic Association) via independent researchers Alan Meister, Ph.D. of Nathan Associates and Gene Johnson of Victor Strategies. It showed that since the launch of online gambling in New Jersey, poker and casino games have generated close to $600 million in revenue. Through the end of 2016 alone, the industry generated the equivalent of 3,374 full-time jobs, paid $218.9 million in wages to employees, and paid $124.4 million in tax revenue to state and local governments.
And the industry is growing. The $34.5 million paid in gaming taxes alone in 2016 was a 32% increase over the amount paid in 2015. Considering the industry is less than four years old, its growth has been impressive and bolstered the overall numbers for its land-based casino industry partner.
Should the federal government fulfill the wishes of casino billionaire Sheldon Adelson and outlaw online gambling, negating the ability for states to make their own decisions about it, New Jersey would lose significant revenue, jobs, and potential. The bill makes clear that such a federal decision would have a remarkably negative impact on New Jersey.
Online Gambling Prohibition Status Unknown
The most recent attempts to pass the Restoration of America's Wire Act bill or something similar through Congress comes at the hands of US Rep. Charlie Dent of Pennsylvania. The Congressman is rumored to have been trying to push a bill or amendment to ban online gambling, but as the issue is not strong enough to pass on its own, it will need to be attached to other legislation. Dent has yet to find the ideal opportunity but is reportedly continuing his efforts.
Photo credit: Gage Skidmore
Related Articles