New Illinois Governor Supportive of Gambling Expansion
By
January 14th, 2019 | Last updated on January 14th, 2019
Home
»
Poker News
»
New Illinois Governor Supportive of Gambling Expansion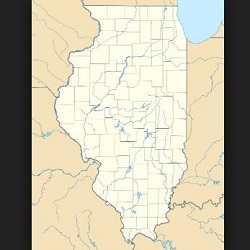 Illinois was close last year. There was a strong bill championed by State Representative Robert Rita and others, there were hearings, and there was widespread support for the sports betting part of the bill. Online poker and casino games were also included in that gambling expansion bill, along with new casinos and more video gaming terminals.
Online poker supporters looked to Illinois as a strong possibility for legalization, as possibly the next state to join New Jersey, Pennsylvania, Nevada, and Delaware in offering internet poker.
Though Rita held two important hearings in 2018 and believed he had the bill that would make it over the finish line, it didn't. The legislation died without any surprise movement late in the year.
However, most analysts have put Illinois on the lists of states most likely to pass online gambling and sports betting legislation in 2019. And the state's new governor is ready to board that train.
Pritzker is Pro-Gambling Expansion
Today, Democrat J.B. Pritzker was sworn in as the new Governor of Illinois. Lieutenant Governor Juliana Stratton became the first black person to hold that job after running for the office alongside Pritzker. And Democrats were sworn into other major state positions, including Kwame Raoul as the new Illinois Attorney General.
Today, I was sworn in as the 43rd governor of Illinois. This state has a bright future, and I am looking forward to taking on big challenges and working to improve the lives of all Illinoisans. pic.twitter.com/FjcYA0IEVC

— JB Pritzker (@JBPritzker) January 14, 2019
Prior to the ceremony, Pritzker sat for an interview with the Belleville News-Democrat, during which he specifically addressed various forms of gambling legislation. He noted that sports betting is a positive opportunity for the state, as is the expansion of casinos. Since balancing the budget is a priority for Pritzker, he admits to the desire for Illinois to benefit from additional revenue.
Regarding casinos, Pritzker acknowledged that some in the state are underperforming and revenue for existing casinos has been on a downswing for several years. But he feels that more strategically-placed casinos could bring more revenue into Illinois from neighboring states and capitalize on city centers that attract more tourists like Chicago.
While online poker and casino games weren't specifically mentioned by the interviewer or Pritzker, his overall support for broad but smart gambling expansion seems to be open to including online gambling.
JB Pritzker's first "budget likely will rely on revenues from legalizing the recreational sale of marijuana products, expanded legal gambling and sports betting" https://t.co/lzaeWmwtzj

— Aaron M. Renn ?? (@aaron_renn) November 9, 2018
Bill Sponsors Yet to Be Named
The member of the Illinois legislature most associated with online gambling in 2018 was Rita, who sponsored SB.7 and organized the aforementioned hearings to further discussions on the topic of the different aspects of gambling expansion mentioned in the comprehensive bill.
It is very likely that Rita will again be instrumental in moving the conversation, though it is not known if he will be introducing legislation or co-sponsoring the bill of a fellow member.
The onus for a sports betting bill was put heavily on State Representative Lou Lang, as he was reportedly working on a proposal for the last months of 2018. In December, he told NPR, "When I have a draft that I'm happy with, I still won't be introducing it, rather I'll be distributing it to various stakeholders for their comments and we'll try to piece together what is necessary to pass the bill."
However, last week, nearly two months after winning another term unopposed in the mid-term election, Lang announced that he was stepping down from his position in the legislature to become a lobbyist. It is not clear who will take over the sports betting drafts.
Gambling policy could take a hit with Lang's resignation. #read #sportsbetting #Illinois https://t.co/LK8NSkFFDY via @nbcchicago

— Nick Garcia (@reporternickg) January 9, 2019
Still a Strong Contender
It is only two weeks into 2019, and the legislature has only just begun for the year. It may take a few more weeks to see a bill introduced for any type of gambling expansion, but it could be longer if talks are underway behind the scenes to decide which lawmakers will spearhead the legislation.
What is known is that many lawmakers and their constituents want more casinos, online gambling, and sports betting for Illinois. It is only a matter of how to frame the issues, design proposals that will increase that support, and push for votes when the time is right.
Related Articles