Nebraska Lawmaker to Continue Push for Online Gambling
By
February 25th, 2020 | Last updated on February 25th, 2020
Home
»
Poker News
»
Nebraska Lawmaker to Continue Push for Online Gambling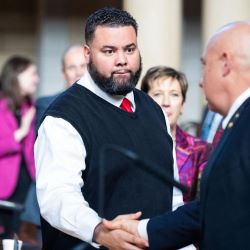 Nebraska State Senator Justin Wayne wants his state to open itself up to more gambling options. The bills he introduced into the legislature last month may not have moved past the hearing stage, but he has no intention of giving up so easily.
The legislative calendar in Nebraska runs through most of April. There is time for more discussions, time to educate other lawmakers about the benefits of legalizing more types of gambling versus allowing it to go on outside of the state's ability to regulate it.
Wayne is ready for those conversations.
Path to the First Hearing
Senator Wayne introduced several bills in mid-January. The most pertinent to poker and the possibility of online poker was LB.990, otherwise known as the Games of Skill Act.
The bill relates to gambling, more specifically to declare certain games like poker and sports betting as games of skill and exempting them from prohibitive laws in Nebraska. It also provides for the taxation of these activities to reduce school district property tax levies.
He introduced the bill on January 14 and immediately referred it to the General Affairs Committee, And within two weeks, Wayne had put the bill up for a hearing on February 10.
Did you know Nebraska is considering legalizing poker as a game of skill? And sports betting? And DFS? @JustinTWayne has a hearing set for February 11 to talk about his bill. https://t.co/XyOSS4vV1j pic.twitter.com/IeSAqaMplF

— Legal US Poker (@legal_poker) February 1, 2020
Tough Hearing
Wayne took all three of his measures to the hearing, one to legalize sports betting, another as the aforementioned bill to legalize games of skill, and a third a constitutional amendment to legalize whatever gambling the legislature approves.
According to Nebraska's NPR and PBS media outlet NET, Wayne told fellow legislators and all attendees that Nebraskans are already betting on sports and playing games like poker. Not only have they been traveling across the Missouri River to gambling in Iowa casinos, they now have a closer casino in Carter Lake at which to gamble.
"Out gambling laws are outdated," Wayne said. "The fact of the matter is they're counterproductive. Ninety percent of Nebraskans live 120 miles away from a casino. That's two hours."
Senator Justin Wayne speaks in support of sports gambling.

He says Nebraska's gambling laws are outdated. @3NewsNowOmaha

— Sydney Gray (@Sydney_GTV) February 10, 2020
The opposition showed up to question Wayne's proposals. Les Bernal, representing a national organization called Stop Predatory Gambling, accused Wayne of being swayed by gambling lobbyists representing national companies that pit states against each other. He claimed that they put the idea forward that if one state doesn't offer gambling, a neighboring state will do it.
Another person opposing sports betting chimed in. Former University of Nebraska football coach Tom Osborne claimed that sports betting plays on bettors' emotions. "So if you're a big Nebraska fan, sometimes you want to emphasize your loyalty by placing a bet," he said.
Osborne seemed to indicate that most people bet on sports out of blind loyalty, though Wayne's bills contend that sports betting is, in fact, more of a game of skill.
Tom Osborne speaks in opposition the bill. He told us this earlier -> pic.twitter.com/0GTTyf4933

— Sydney Gray (@Sydney_GTV) February 10, 2020
No Action but No Surrender
The General Affairs Committee took no action on the bills, but they remain alive.
Wayne told WLIN that new revenue streams are necessary for Nebraska, and gambling revenue is a "common sense" solution.
His proposal seeks to tax new forms of gambling at 20%, higher than that of neighboring states. Wayne noted, "Since August, Iowa has taken in $1.9 million in revenue just off taxes on sports betting by itself, and that's at a tax rate of 6%."
With a goal of keeping revenue in the state, Wayne said he will continue to push the issue.
"Nebraskans are already doing it," he said. "They're online gambling; they're placing bets online through their phone. It happens."
It is unclear if any other lawmakers are in support of the bills or are willing to sign on as cosponsors. Wayne's next step is also unclear, though he is likely working behind the scenes to find allies for movement in the legislature.
Related Articles