Nanonoko Fights Bots and Assures Players about ACR
By
March 4th, 2021 | Last updated on March 4th, 2021
Home
»
Poker News
»
Nanonoko Fights Bots and Assures Players about ACR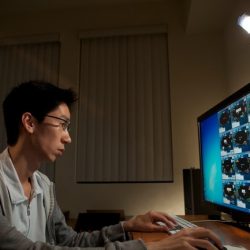 Just before 2020 ended, Americas Cardroom hired former Team PokerStars Pro Randy "nanonoko" Lew as a consultant. It was a perfect move.
Americas Cardroom grew its player base exponentially last year. When poker players around the world entered lockdown in March 2020, many of them flocked to places like Americas Cardroom and other sites on the Winning Poker Network like Black Chip Poker. They offered a respite from lockdown boredom stir-craziness.
While WPN has taken steps in the past few years to assure the poker community that safety and integrity are priorities, the network knew that it needed to do something more. It would take something (or someone) more significant to keep the players it gained.
Nanonoko became the ACR Security Consultant and Gameplay Expert. Working with the WPN team, he planned to focus on collusion, suspected fraud, and bot activity. His many years in the poker industry as a player and commentator, his integrity, as well as his thorough understanding of the inner workings of online poker, were pure assets for WPN.
I'll be helping @ACR_POKER becoming one of the best poker websites for you to play at. While as players we often think of just the software, features, and the big fields, what happens behind the scenes to keep you secure is just as important. https://t.co/oIOMsoT17r

— Randy Lew (@nanonoko) December 24, 2020
Stepping Right Up
It didn't take Lew long to find his lane.
To warm people up, he tweeted some information about online poker bots and site security.
🚫🤖🔒 Bots, cheaters, and how advanced security keeps them at bay. Read all about the current state of online poker security here: https://t.co/t1Lolnndvp #BigBlindBlogEV #ACR #Poker #BlogArticle #PokerBlog #PokerLife #PokerPlayer #TheBigBlind pic.twitter.com/X6vSTIjV6t

— Americas Cardroom (@ACR_POKER) January 13, 2021
He also addressed recent player bans due to their use of seating scripts and stalling. Warnings about violations of the WPN terms and conditions policies precede all bans, and the type of ban depends on the severity of the violation.
WPN intensified its ban on seating scripts recently, as it had seen a rise in players using them. A seating script programmer claimed to have found a way to use the program without being detected, which clearly did not work. The operator automatically detects the use of said programs, and a member of the WPN team manually reviews the case before issuing a warning. If the player commits multiple violations and ignores warnings, that person will be banned.
Stalling is tougher to identify, as it is just a style of play rather than a detectable form of technology. There is a team that watches for this type of behavior and responds to complaints of the same nature. WPN doesn't ban players for simply taking too long to act, but some do show a pattern of delaying the action in order to slow it all down. If they do this in coordination with other players or with other actions – such as regularly disconnecting from the account to activate the time bank – WPN issues a warning. This can also lead to a ban for repeated infractions.
Later in January, Lew explained other violations like ratholing, bum-hunting, and chat abuse.
I want to bring to your attention for you who play at @ACR_POKER in section 5 in the security and game integrity policy there is a section on unethical behavior such as bumhunting. ACR wants to make the playing environment inviting and friendly. Please keep this in mind grinders. pic.twitter.com/rHRNn7h8yv

— Randy Lew (@nanonoko) January 31, 2021
He created forum topics to allow the team to answer questions and for others to see those answers.
Also want to add

seat scripting: https://t.co/cyW3L3Tblg

— Randy Lew (@nanonoko) February 1, 2021
Banned Accounts and Player Refunds
Quite a while ago, WPN CEO Phil Nagy announced that he would be more transparent about banned accounts and subsequent reimbursements. This happened in big numbers in 2019 when dozens of bans appeared on the dedicated page of WPN's website.
The bans slowed in 2020, with only 17 accounts banned all year, eight of which happened in December. But the reimbursements of $392,488.39 were significant.
Three more accounts received bans in mid-January 2021. WPN confiscated the money in the Canadians' accounts and reimbursed players with the $72,751.40.
Better Communication
The only person that had been communicating with players via social media from WPN was Nagy himself. Nanonoko is now announcing updates regularly and putting more of a focus on things like software updates so players are more aware and they can ask questions.
New features in the new software update over at @ACR_POKER , all sites need run it twice IMO so great to see it added! https://t.co/spxjV8XNwf

— Randy Lew (@nanonoko) February 17, 2021
And when those updates contain security components, Lew can explain how these changes protect players and improve the quality of the site.
Our Security Consultant and Gameplay Expert, Randy Lew @nanonoko, has a huge update about our fight against bots. Watch his short video here.#Security #Integrity #Safety #Gameplay #Poker pic.twitter.com/JL70G4XSrK

— Americas Cardroom (@ACR_POKER) February 18, 2021
Related Articles