Michigan Awaits One Signature for Interstate Online Poker
By
December 22nd, 2020 | Last updated on December 23rd, 2020
Home
»
Poker News
»
Michigan Awaits One Signature for Interstate Online Poker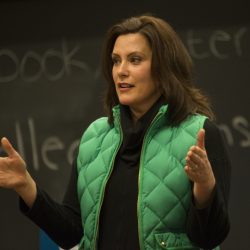 The new Michigan online gambling industry is a work in progress. While it may seem like that process has been ongoing for some time, Governor Gretchen Whitmer only signed the bill to legalize sports betting, internet casino games, and online poker last year. In fact, this December 20 was the one-year anniversary of that signing.
Compared to the very slow implementation of online gambling in Pennsylvania that took several years, Michigan is working at a solid clip.
Thanks to an expedited rules process through the proper committees – spurred on by the Michigan Gaming Control Board – online casino games are preparing to launch now. Sports betting is on the same fast path. One or more sites could go live by the end of 2020, though the first weeks of January 2021 is a more realistic window.
Online poker could be ready…if any of the operators recently granted provisional licenses wanted to launch an online poker site for players in Michigan.
However, the state legislature did just pass a bill that might give those operators more incentive to launch online poker in Michigan. And that bill now sits on Whitmer's desk, awaiting her signature.
House just passed bill that would allow the "Michigan Gaming Control Board (MGCB) to enter into agreements to facilitate multijurisdictional internet poker."

This lets people in Michigan legally take part in multi-state online poker games and tournaments https://t.co/bvkV9UFKWX

— Dave Boucher (@Dave_Boucher1) December 18, 2020
Licenses but No Online Poker?
Earlier this month, the Michigan Gaming Control Board (MGCB) issued 15 provisional licenses to internet gaming operators for the launch of everything from sports betting to online slots and table games.
Some of those operators run online poker in other states. BetMGM (Roar Digital) received a Michigan provisional license and operates online poker in New Jersey. TSG Interactive (Fox Bet), which runs PokerStars, also received a provisional license and offers online poker in New Jersey and Pennsylvania.
There is no indication, however, that they intend to launch poker when they open their online gambling sites.
Why? MGCB Deputy Director Dave Murley told us recently that he suspects companies did not want to put money or effort into online poker until they knew for certain that Michigan would be able to share liquidity. If sites would not be able to share player pools across state lines, as stated in the original Michigan Lawful Internet Gaming Act, they didn't see much point.
Interstate iPoker Bill
Michigan State Senator Curtis Hertel, one of two members of the state legislature who pushed hard for the original legalization of online poker and other games, knew this would be a problem. The original bill omitted interstate gambling of all kinds because Whitmer had concerns about online slot jackpots crossing state lines and becoming too large, too attractive.
Hertel introduced an amendment to the Lawful Internet Gaming Act on June 25. SB.991 specifically authorized multi-jurisdictional internet gaming with an eye on poker.
It sat in the Committee on Regulatory Reform for several months, though there was the little matter of a pandemic happening in the meantime. But the committee moved it forward at the end of September, and it passed the Senate on October 1 by a 36-to-one vote. It then headed for the House. After the appropriate committee actions on the way, the House voted on December 17 to approve it by a vote of 85-to-16.
Paperwork ensued, and the final product landed on Whitmer's desk today, December 22. There seems to be no opposition from the governor's office. Hertel has a long-standing positive working relationship with Whitmer and sees no impediment to her signing SB.991. He said as much to Pokerfuse, noting that he fully expects her to sign it into law.
tho "it was always expected it would pass, it is exciting to see that Michigan will be able to provide a more robust system for online poker players" < Bill sponsor, State Senator Curtis Hertel

Big news exclusive on @pokerfuse by @SpookyBugs late Fridayhttps://t.co/Fp6QZ1HVFk

— Nick Jones (@pokerprojones) December 19, 2020
Good Timing
Michigan is anxious to get its hands on as much online gambling revenue as possible.
The pandemic and the high number of positive Covid-19 cases in Michigan forced the closure of the state's land-based casinos and gambling establishments twice in 2020. The first time began in March and lasted for several months. The latest closures started in mid-November and stayed in place for more than a month.
This week, Whitmer allowed casinos to reopen their doors, though they must adhere to restrictions that limit capacity and require strict protocols.
According to the MGCB, gambling revenues in 2020 have been abysmal so far. For January through November 2020, the year-on-year revenue decrease was 54.9%.
Michigan needs online gambling revenue. It watched as states like Pennsylvania and New Jersey raked in millions of dollars when their land-based gambling establishments closed this year. It will be a much-needed boost for Michigan revenue at a time when state finances are in particularly poor shape.
BREAKING: Another tough blow to Michigan Restaurants just ahead of Christmas, as the indoor dining ban has been extended through January 15. Some of the other COVID-19 restrictions however have been lifted. Casinos, movie theaters, and high schools allowed to reopen. pic.twitter.com/EcBvEVkDxK

— Jay Towers (@JayTowers) December 18, 2020
Related Articles