Michigan iGaming Inspired by Forecast of $650M Revenue
By
August 14th, 2020 | Last updated on August 14th, 2020
Home
»
Poker News
»
Michigan iGaming Inspired by Forecast of $650M Revenue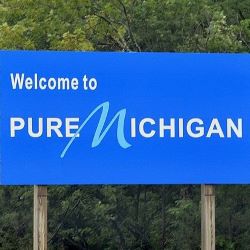 The coronavirus pandemic put a spotlight on gambling revenue in states like Michigan. When that pandemic forced governors around the United States to instruct nonessential businesses to close their doors in mid-March, gambling revenue stopped.
Meanwhile, states like New Jersey and Pennsylvania – even Delaware – collected revenue from their online forms of gambling. All three states offer online poker, online games like slots and table games, and sports betting. Nevada offers online poker only.
West Virginia and Michigan are both in the process of setting up their regulatory framework, rules, and licenses in preparation for the launch of their online poker and casino games sites.
The latest estimate regarding Michigan's online gambling revenue potential, though, might help move the process along more quickly. And in a time of economic uncertainty as 2020 has presented, a number like $650 million for the first year of iGaming revenue is quite attractive.
Significant Online Potential
Geoffrey Fisk recently wrote a piece citing a MichiganSharp.com analysis regarding the potential of the Michigan online gambling market.
Michigan passed legislation in the last days of 2019 to legalize online sports betting, casino games, and poker. There is no allowance for interstate poker or jackpot games, per the legislation as it passed, which limits the possibilities for the poker market, specifically.
Regardless, the state has tremendous potential for online gambling revenue, as most estimate Michigan's population to be approximately 10 million. Any of the 23 tribal casinos and three commercial casinos can partner with online gambling operators to offer iGaming.
While presenting the honorary American Gambling Award for 2020, @charlesgillespi asked @BrandtIden: what was the driving force which allowed him to successfully bring online gaming to Michigan?

To watch the interview in full, click on the link below. pic.twitter.com/GLPB70X8Yk

— American Gambling Awards (@GamblingAwards) May 26, 2020
Latest Projection: $650M in Year One
Michigan State Representative Brandt Iden championed legislation for years to legalize online gambling and was the force behind the 2019 bill that became law. His push for the new industry depended upon analyses that suggested the following revenue potential:
–Michigan sports betting (online and retail):  up to $500 million annually

–Michigan online casino games and poker:  $240-$270 million annually
MichiganSharp.com took those figures and combined them with data from the Senate Fiscal Agency, Michigan Department of the Treasury, and "other Michigan-based sources." It also factored in revenue from other states and similar international markets.
–Michigan sports betting (online and retail after online launches):  $400 million in first year

–Michigan total online gambling and sports betting:  $650 million in first year
Considering that Michigan will tax gross gaming revenue at 8.4% for sports betting, the state could take in close to $34 million in that first year.
Michigan will tax at a rate of 20-28% for online casino games and internet poker (the latter varying per several criteria), which makes this a tough figure to nail down.
Michigan's Sports Betting and Online Gambling To Bring $650M In First-Year Revenue, According to https://t.co/h7aHkajLko https://t.co/T4kVNc4mrR

— iGamingRadio (@iGamingRadio) August 7, 2020
Any Progress Toward Launch?
When we checked in a couple of weeks ago, the process was ongoing. And those involved were expediting each step as possible in order to issue operator licenses and allow those sites to prepare for launch.
The Michigan Gaming Control Board released its first draft of the online gambling rules in May. After significant input from interested parties and lawmakers, the MGCB submitted its updated draft of the rules in mid-July.
Several congressional committees must approve the rules – or an even more updated draft of them – and then schedule a public hearing. Input on that front could dictate yet another set of revisions, but the final draft will ultimately head to the Joint Committee on Administrative Rules for final approval.
The process should move swiftly from there, with the final rules adopted within days or weeks.
Possible Stumbling Blocks
While the MGCB seems fairly intent upon enabling online operators to launch with the fewest delays possible, there may be issues beyond the members' control.
Per PlayMichigan.com, MGCB Executive Director Richard Kalm noted in a recent meeting that the FBI must approve the fingerprinting process for online gaming licensing applicants. The FBI was one of the entities that recently required amended language in the rules, and while the MGCB did amend as requested, the FBI has yet to approve it.
Kalm said the MGCB is currently checking fingerprints through the Michigan State Police. And any expedited process in Michigan will likely not meet with the same urgency in the FBI.
An unexpected hiccup was detailed today by the Michigan Gaming Control Board about the upcoming online gambling launch in Michigan: The FBI https://t.co/hTsustHSTZ (story by @Matt_Schoch_)

— Play Michigan (@Play_Michigan) August 11, 2020
Moving Ahead Anyway
Kalm noted that the MGCB received online gaming-related applications from 11 operators in the past three months, and from 15 suppliers and eight vendors in the last month and a half. However, no names will be revealed until and unless the MGCB approves those applications.
Per recent assessments from other members of the MGCB, there is still hope that internet gaming sites could launch this year. The original aim was to do so in the fall months, but it could be further into the fourth quarter of 2020.
Related Articles