Michigan Updates iGaming Rules but Several Steps Remain
By
July 27th, 2020 | Last updated on July 27th, 2020
Home
»
Poker News
»
Michigan Updates iGaming Rules but Several Steps Remain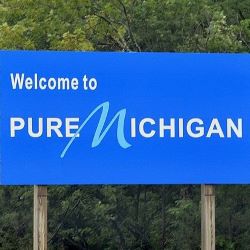 All things considered, the process of establishing an online gambling market in Michigan has been fairly expedient thus far. Using Pennsylvania as a market, a state that took about one year plus nine months to launch its first online casino site (and more than two years for an online poker site), Michigan is moving very quickly. Lawmakers and Governor Gretchen Whitmer only made the law official in December 2019.
Even so, there are quite a few steps in front of the Michigan Gaming Control Board (MGCB) before they are able to give internet gaming operators the green light to launch.
In the past month, the most encouraging news was that the MGCB began examining online gaming supplier applications. Last week, its members submitted their latest draft rule language of internet gaming rules to the Michigan Department of Licensing and Regulatory Affairs.
Expediting Each Step
The coronavirus pandemic sped up the process. With nearly every form of live gambling shut down in the United States since mid-March, Michigan was one of many states desperately missing its gambling revenue. Meanwhile, they watched as New Jersey and Pennsylvania – even Delaware – raked in millions upon millions from internet gaming.
Michigan lawmakers tried to push Governor Whitmer to approve emergency online gambling rules, but she denied the request. Her spokesperson did say, however, that Whitmer's office would cooperate to move the full process forward "as swiftly as possible."
That prompted the MGCB to complete its first draft of rules for the new industry in May and send them to state committees for approval.
One way or another, Michigan online poker will happen this year, so says @CurtisHertelJr, @Adamant4Detroit, and MGCB — all wanting igaming to begin ASAP. https://t.co/faHXKpsE09 pic.twitter.com/aBvvDBt6dj

— Legal US Poker (@legal_poker) June 26, 2020
Meanwhile, the MGCB began accepting online gaming supplier forms in mid-May. The board urged applicants to submit forms in a timely manner to expedite the processes.
At the same time, Michigan State Senator Adam Hollier led a bipartisan group of sponsors to introduce SB.969, a bill to allow casinos and their partners to offer internet gaming without a license until the state lifts the Covid-19-related social distancing requirements.
That bill, however, remains in the Senate Committee on Regulatory Reform, untouched.
Rules, Rules, Rules
MGCB indicated that the rules process could be quicker than anticipated. Last month, MGCB Deputy Director David Murley suggested that the Joint Committee on Administrative Rules could approve the rules within a few days. And he suggested that they all might be able to complete the rules and licensing processes by the end of October.
Last week, the MGCB submitted its updated draft rules. The 66-page document didn't reflect much of a change from the original with regard to online poker, as most of the rules pertain to online casino games.
The mentions of rules specific to poker include:
–Poker classified as peer-to-peer gaming, as participants compete against each other, not the house.

–Online operators must file rules for all poker tournaments and contests.

–All peer-to-peer games must be submitted by the MGCB for evaluation and approval.

–Operators may use authorized celebrities in ads and publicity for peer-to-peer games.
The draft rules for online gambling in Michigan make no mention of multi-state poker. https://t.co/3LUNva9ZeD

— OnlinePokerReport (@OPRupdate) July 24, 2020
It is difficult to decipher the steps in the MGCB rulemaking process schedule, especially with some processes being expedited. In addition, the MGCB seems to have shared an expedited timeline with Online Poker Report that shows approximately 123 days cut from the usual 373-day process. They note, however, that this is the best-case scenario and not guaranteed.
Mary Kay Bean of the MGCB also told OPR that the board could authorize internet gaming site launches "this fall." But review delays could push the launch into 2021.
What to Watch in Michigan
The original timetable from the MGCB shows that the Regulatory Affairs Officer must review and approve the latest set of draft rules and send to the Joint Committee on Administrative Rules. As already mentioned, Murley said this process could be reduced to just a few days.
After that approval, the Administrative Rules Division must schedule a public hearing, one published at least 10-60 days prior to the hearing date. That hearing could lead to revisions, after which the division must approve another draft and send to the Joint Committee for review and approval.
Several more steps follow before the rules become official and filed with the Office of the Great Seal.
Whew.
Stay tuned for updates.
Related Articles