Lesniak Urges New Jersey to Challenge DOJ Wire Act Decision
By
February 4th, 2019 | Last updated on February 6th, 2019
Home
»
Poker News
»
Lesniak Urges New Jersey to Challenge DOJ Wire Act Decision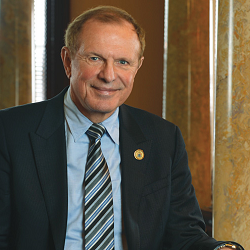 Raymond Lesniak has long been involved in politics in his home state of New Jersey. He began serving in the state's General Assembly in 1978 and switched to the New Jersey Senate in 1983, where he served through 2017.
Lesniak was the most outspoken advocate of legalizing online poker and casino games in his state, and he spent years espousing ways to expand it so New Jersey could become a player on the world stage. So, when the United States Department of Justice decided to issue an opinion that flew in the face of the industry that he worked so hard to build, he was more than a little displeased.
The DOJ's Office of Legal Counsel published its opinion regarding the Wire Act in mid-January, and it essentially overturned the 2011 decision that limited the law's inclusion of sports betting only. That meant that states could move forward with their individual bills to legalize and regulate online lotteries, poker, and internet casino games.
Four states have done so thus far. Nevada, Delaware, and New Jersey have each offered some form of online gaming for more than five years, and Pennsylvania passed its law in 2017 with a plan to launch its sites early this year. The new Wire Act interpretation puts those states' rights in jeopardy.
Sweeney Looks to Lesniak
New Jersey State Senate President Steve Sweeney knew exactly who to approach when the Wire Act decision was published last month. He requested that Lesniak prepare a response to the Department of Justice, considering the former senator's depth of knowledge of the online gambling industry.
Retired N.J. state senator Ray Lesniak (@lesniakinstitut) has been asked by current N.J. Senate President Steve Sweeney to challenge the Dept. of Justice's recent reversal on the Wire Act, which could impact all of the online gambling industry, including sports betting. pic.twitter.com/Fr6BAvUacN

— David Payne Purdum (@DavidPurdum) January 18, 2019
According to the Press of Atlantic City, Sweeney noted that the new decision could impact every aspect of New Jersey's gaming industry, which has grown since the launch of online gambling and sports betting. "We don't want to lose the hard-fought gains that are helping to revive Atlantic City and the state's gaming industry," he said.
Lesniak didn't hesitate to accept the job on a pro bono basis. "It looks like I will have to go to court again to straighten out the Justice Department's overreaching on states' rights, just as I did with sports betting," said Lesniak. "This opinion is outrageous. If Congress won't fix it, I will through the judicial process."
"This opinion is outrageous. It puts states lotteries at risk and state revenues. If Congress won't fix it, I will through the judicial process." (2/2)

— Brian Pempus (@brianpempus) January 15, 2019
Lesniak Leaks His Plan
It didn't take long for Lesniak to formally address Sweeney's request via a letter that was provided to Legal Sports Report.
The letter goes into detail about the benefits that internet gaming and sports betting have provided to the state and the losses that could occur as a result of the new Wire Act opinion. He referred to thousands of jobs in jeopardy and the danger to the horse racing industry, which is beginning to recover from a long downswing. In addition, he notes that casinos have benefited to the tune of more than $1 billion from online gambling and two casinos have reopened in the five years of internet gaming.
Lesniak writes that the new DOJ opinion is incorrect and "contrary to established rules of interpretation of legislation, that is, when language in legislation is not clear, legislative intent is used to make it clear and the legislative intent of the Wire Act was specifically regarding sporting events or contests."
Further, he writes, "The DOJ 2019 opinion which ignores the legislative intent of the Wire Act relies on an interpretation of sentence structure and use of punctuation marks, e.g. commas, in a tortured 23-page justification of its threshold argument that the statutory language is clear."
With that, Lesniak makes the following recommendations for the New Jersey legislature:
Senate President Sweeney send a letter to Deputy Attorney General Rod Rosenstein asking that he immediately reverse the 2019 opinion based on the unclear language of the Wire Act which requires an analysis of its legislative intent which is clear, that the Wire Act only applies to sporting events or contests and expressing its potential substantial negative impact on Atlantic City's casinos, the livelihood of thousands of workers and revenue to the State Treasury.
Request that DGE (Division of Gaming Enforcement) Director David Rebuck prepare for the filing of a declaratory judgment action in US District Court by gathering data from New Jersey's internet operators regarding any negative impact resulting from the DOJ 2019 opinion.
Lesniak also wants the New Jersey legislature to request that the Department of Justice issue a new opinion regarding internet sports betting to protect that industry as well.
Considering Sweeney requested such advice, it is likely that he is in the process of drafting a letter to Rosenstein as requested. And if the DGE is in the process of compiling information, it will likely be done before the 90-day hold that Rosenstein placed on the DOJ's decision is over.
Former NJ State Senator Ray Lesniak (who helped bring legal sports betting to New Jersey) says he will seek a declaratory judgement that the DOJ opinion is contrary to the clear intent of the Wire Act. Pacer docket watch is officially on.

— Daniel Wallach (@WALLACHLEGAL) January 21, 2019
Related Articles