Alexandros Kolonias Wins Poker Masters Purple Jacket
By
April 27th, 2020 | Last updated on April 27th, 2020
Home
»
Poker News
»
Alexandros Kolonias Wins Poker Masters Purple Jacket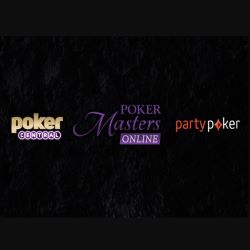 The Poker Masters is a tournament series that challenges the top high-stakes poker players to compete in a mix of poker variations. Every event has a buy-in of $10K or higher. And in the end, there is a Main Event but also an overall series leaderboard that determines the ultimate Poker Master. That player wins the coveted purple jacket.
The last iteration of the live series happened in Las Vegas – at the PokerGO Studio, of course – and Sam Soverel took down the Main Event and won the series champion title…along with the purple jacket.
When the Poker Masters was due to play out again this spring, there was a problem. The coronavirus pandemic closed all casinos and prohibited gatherings of people. Poker is inherently a gathering of people. Poker Central had just cancelled its US Poker Open because of the COVID-19 closures, and it didn't really want to do the same for the Poker Masters.
Enter PartyPoker. The online poker site with many land-based friends and partners had already stepped in to help the World Poker Tour and the Irish Poker Open, and PartyPoker also welcomed Poker Central to its online tables with open arms.
The first-ever Poker Masters Online was born.
Hot off the presses 🔥📰

Poker Masters Online Series
$15 MILLION in guarantees
April 12-26@partypoker #pokermasters https://t.co/ry5vkwdN54 pic.twitter.com/OPI9dZsLek

— Poker Central (@PokerCentral) March 19, 2020
Inaugural Poker Masters Online
The online version was going to be bigger than any of its live events had been. Poker Masters Online was set to run April 12-26 with 30 high-stakes online tournaments and more than $15 million in prize pool guarantees. In the end, the series winner would also win $50K in cash and the Poker Masters purple jacket.
Some of the variety of poker games disappeared from the series, replaced with NLHE and PLO, but players were excited for the opportunity to compete online.
When it was all said and done, there were 124 players who recorded at least one cash in the Poker Masters Online. And the series awarded a total of $35.4 million in prize money.
Poker Masters Online Results
The first event of the Poker Masters Online was a $25K buy-in No Limit Hold'em tournament with a $1 million guarantee. There were 55 entries – no report of how many unique players versus reentries – and the prize pool settled at $1,375,000. Elias Talvitie won that one.
The list of tournament winners throughout the series is as follows:
–Event 1:  $25K NLHE = Elias Talvitie wins $481,250

–Event 2:  $10K PLO 6-Max = Tobias Ziegler wins $192,249

–Event 3:  $10K NLHE = Alex Foxen wins $309,677

–Event 4:  $10K NLHE = Mike Watson wins $249,900

–Event 5:  $10K NLHE 6-Max = Andras Nemeth wins $259,692

–Event 6:  $10K PLO 6-Max = Pauli Ayras wins $303,421

–Event 7:  $10K NLHE = Alexandros Kolonias wins $269,013

–Event 8:  $10K NLHE = Joni Jouhkimainen wins $254,800

–Event 9:  $10K NLHE 6-Max = Pascal Lefrancois wins $249,988

–Event 10:  $10K NLHE = Kahle Burns wins $291,550

–Event 11:  $10K NLHE 6-Max = Michael Addamo wins $294,037

–Event 12:  $10K PLO = Bujtas Laszlo wins $272,141

–Event 13:  $10K NLHE 6-Max = Luuk Gieles wins $253,217

–Event 14:  $10K NLHE = Mustapha Kanit wins $279,300

–Event 15:  $10K NLHE = Timothy Adams wins $243,988

–Event 16:  $25K NLHE = Jason Koon wins $549,000

–Event 17:  $10K PLO 6-Max = Eelis Parssinen wins $287,781

–Event 18:  $10K NLHE = Linus Loeliger wins $325,318

–Event 19:  $25K NLHE = Pauli Ayras wins $548,625

–Event 20:  10K NLHE = Steve O'Dwyer wins $269,013

–Event 21:  $25K NLHE = Dan Smith wins $511,875

–Event 22:  $10K NLHE = Sebastian Lewin wins $240,860

–Event 23:  $25K PLO 6-Max = Pascal Lefrancois wins $527,509

–Event 24:  $10K NLHE 6-Max = Ali Imsirovic wins $277,096

–Event 25:  $25K NLHE = Samuel Vousden wins $520,000

–Event 26:  $10K NLHE 6-Max = Mark Davis wins $284,653

–Event 27:  $25K NLHE = Ali Imsirovic wins $446,250

–Event 28:  $10K NLHE 6-Max = Mustopha Kanit wins $237,732

–Event 29:  $50K NLHE = Linus Loeliger wins $1,097,250

–Event 30:  $10K NLHE 6-Max = Alexandros Kolonias wins $367,782
Linus Loeliger is the Poker Masters Main Event Champion! Alexandros Kolonias wins a second title and secures the coveted purple jacket. Here's a full round up of the last day of an incredible festival here: https://t.co/6oL2o5VJb0

Linus 📸 @tritonpoker pic.twitter.com/OHxYfHLu0q

— partypoker (@partypoker) April 27, 2020
Kolonias Wins Purple Jacket
The leaderboard throughout the series was a bit of a roller coaster for many players. Points were awarded based on cashes and wins, and it was a tight race at the top of that leaderboard as the series hit its last few events.
Artur Martirosian had eight cashes for 957 points, and Timothy Adams had 11 cashes (including one victory) to garner 861 points. Ali Imsirovic was in a close third, followed by Alexandros Kolonias. But the Event 30 win for Kolonias on the last day of action put him into the top spot, and Linus Loeliger catapulted into second place with his Event 29 win.
The final standings were:
–1st place:  Alexandros Kolonias ($11,266,296 earnings, 11 cashes, 1191 points)

–2nd place:  Artur Martirosian ($1,278,974 earnings, 9 cashes, 1048 points)

–3rd place:  Linus Loeliger ($1,511,818 earnings, 3 cashes, 1037 points)

–4th place:  Timothy Adams ($1,043,882 earnings, 11 cashes, 861 points)

–5th place:  Ali Imsirovic ($1,035,696 earnings, 9 cashes, 857 points)
The rest of the leaderboard, in order, consisted of Andras Nemeth, Pascal Lefrancois, Pauli Ayras, Alex Foxen, and Steve O'Dwyer.
Winner Kolonias of Greece took home an extra $50K for the series win and will receive the purple jacket. "It feels amazing," he said. "I really wanted to win this. It means a lot to me winning the purple jacket."
Kolonias also said he felt that he played the best poker he ever played alongside tough competition. He likened the victory to winning the WSOP Europe Main Event last year.
Purple was always my favorite color!
I want to thank everyone who supported me and all who organized the pokermasters events,@partypoker proves one more why it's the No1 pokersite. It feels amazing,It means a lot to me winning the purple jacket! @PokerCentral @PokerGO @rob_yong_ https://t.co/lUxPJ3GwsW

— Alexandros Kolonias (@AKolonias) April 27, 2020
Related Articles