Alexandros Kolonias Wins 2019 WSOP Europe Main Event
By
November 1st, 2019 | Last updated on November 1st, 2019
Home
»
Poker News
»
Alexandros Kolonias Wins 2019 WSOP Europe Main Event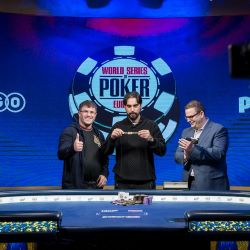 The largest-ever schedule of World Series of Poker Europe events kicked off on October 13 at King's Casino in Rozvadov, Czech Republic. This year's offerings included 15 events in total, each of them offering at least one reentry.
With the first 10 tournaments in the books, the highlight of the entire series took shape.
The WSOP Europe Main Event was a €10,350 buy-in affair that started on October 25 with two starting flights over two days. Players started with 100K chip stacks and one opportunity for a reentry. Late registration was open for five levels into Day 2, and there was a €5 million guarantee on the prize pool.
Last year, Jack Sinclair of the UK won the tournament, which garnered 534 entries, and he took home €1,122,239 for the win. This year, the numbers were even better, but there was also a reentry allowed, so it skews the numbers.
The 2019 WSOPE Main Event could have been the second-largest since its inception in 2007, but the reentry factor doesn't give that accomplishment much credence.
Even so, it was an exciting tournament that put Alexandros Kolonias of Greece in the winner's circle and €1.13 million richer.
Alexandros Kolonias becomes the seventh player from 🇬🇷Greece🇬🇷 to earn a WSOP bracelet and first-ever to collect a seven-figure score in a WSOP event.

— WSOP (@WSOP) October 31, 2019
Setting a Prize Pool
The action for the Main Event started with only 60 players at the tables, but it ended with a total of 194 players entering the tournament. Another 252 entries came in on the second starting day. Out of those 446 entries, only 279 players made it through to the second day of play.
As Day 2 got underway, quite a few reentries added to the total, eventually putting it just past last year's numbers. The final tally showed:
Total entries:  541

Total prize pool:  €5,139,500 (surpassed €5M guarantee)

Total paid players:  82

Minimum payout:  €15,089

Winner payout:  €1,133,678
When all was said and done that day, though, only 129 players remained at the tables.
Along the way, a Greek player named Alexandros Kolonias finished his Day 1A just outside the top 30 on the leaderboard, but he was fourth in chips at the end of Day 2. Paulius Vaitiekunas was the chip leader.
Day 2 of the #WSOPEurope Main Event bags with 129 players remaining, including defending champion Jack Sinclair.

Day 2 Recap: https://t.co/zNMXTVIGw0 pic.twitter.com/aSaUhWJiP6

— WSOP (@WSOP) October 27, 2019
Setting a Final Table
Day 3 of the Main Event eliminated a few dozen players on the way to the money bubble. Nicolas Sievers eventually busted on the bubble, and players like Jeff Madsen, reigning champion Jack Sinclair, Bertrand Grospellier, and Dash Dudley cashed.
Play ended with just 42 remaining, Julien Martini in the chip lead, Dario Sammartino in second, and Kolonias in the bottom quarter of the field.
Roberto Romanello was the first to exit on Day 4, and names like Maria Lampropulos and Alex Foxen followed. With 14 players left, Sammartino was the new chip leader, David Baker in second, and Anthony Zinno in third. Martini dropped to fifth, and Kolonias was the fourth smallest stack.
Day 5 saw a fast fall for Baker, who exited in 12th, and Marek Blasko busted in ninth place for €76,432 to set the official final table.
Play continued that night, however, as Kolonias ousted Jakob Madsen in eighth place and Zinno busted Martini in seventh. The final chip counts were as follows:
Anthony Zinno: 16,845,000 chips

Alexandros Kolonias: 12,150,000 chips

Anh Do: 8,725,000 chips

Dario Sammartino: 7,100,000 chips

Claas Segebrecht: 6,400,000 chips

Rifat Palevic: 2,915,000 chips
Today Super Dario Sammartino became the 4th player in history to reach the WSOP and #WSOPEurope Main Event final table in the same year.

The previous three:
– Ivan Demidov in 2008
– Antoine Saout in 2009
– James Akenhead in 2009 pic.twitter.com/6sJV1dritG

— WSOP (@WSOP) October 30, 2019
Playing for the Win
The last day of the tournament saw a quick rise for Segebrecht, but it was Kolonias who took some key pots, including one from Zinno, that put him in the lead.
Do took pocket queens into a hand against the K-2 of Palevic, and the latter departed in sixth place.
Sammartino found a key double-up against Kolonias, and Do doubled through Zinno. Do then chopped a big pot with Segebrecht, but when Sammartino doubled through Do, the latter was very short. Do doubled back through Sammartino, but Do then challenged Segebrecht with K-9 on an A-J-9 flop. But Segebrecht called with kings and eliminated Do in fifth place.
Zinno doubled through Kolonias, and Zinno then did the same through Sammartino, leaving the latter very short. Sammartino did double through Zinno once, but he then pushed all-in with A-K against the J-T of Segebrecht. It looked good until a jack on the flop, and Sammartino busted in fourth place.
At the dinner break, Sebebrecht held a solid lead with 27.15 million chips, Zinno was in the middle with 18.2 million, and Kolonias was short with 8.75 million chips.
Kolonias made his move soon after the break and doubled through Segebrecht. When Kolonias hit a huge double against Zinno, the latter was stuck with few chips. Zinno did triple, though, and then he doubled through Kolonias.
Finally, though, Zinno was short again and pushed with A-9 against the J-T of Kolonias. The board of Q=J-6-8-K ousted Zinno in third place.
Heads-up action began with Kolonias holding 31.1 million chips to the 23 million of Segebrecht. The latter stayed aggressive, even doubling through Kolonias to stay alive, but Segebrecht then tried it again with pocket threes. Kolonias woke up with A-K and found a king on the flop and a flush on the river to win the tournament.
1st place:  Alexandros Kolonias (Greece) – €1,133,678

2nd place:  Claas Segebrecht (Germany) – €700,639

3rd place:  Anthony Zinno (USA) – €485,291

4th place:  Dario Sammartino (Italy) – €341,702

5th place:  Anh Do (Czech Republic) – €244,653

6th place:  Rifat Palevic (Sweden) – €178,171

7th place:  Julien Martini (France) – €132,017

8th place:  Jakob Madsen (Denmark) – €99,555
Congratulations Alexandros Kolonias for winning the #WSOPEurope Main Event for €1,133,678 and your first WSOP bracelet.

RECAP: https://t.co/2cDkAO7Omv pic.twitter.com/pEl3WA6U1J

— WSOP (@WSOP) November 1, 2019
Related Articles