Jeppsson Wins Historic WPT Online Main Event
By
May 25th, 2020 | Last updated on May 25th, 2020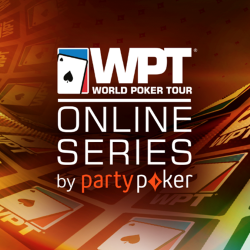 The World Poker Tour made some tough decisions in the past few months. The coronavirus pandemic forced WPT executives to cancel or postpone all of the remainder of its Season XVIII events from mid-March onward. For a poker tour that specializes in live tournaments, the shutdowns everywhere from Asia to Europe and North America were especially painful.
Fortunately, the WPT had other plans in the works already. The WPT had already been engaged in talks with PartyPoker regarding the potential for an online poker series. So, with that in mind, the entities solidified their long-simmering ideas and made it happen.
The first-ever WPT Online Series by PartyPoker took shape. Within days of the first WPT live event cancellations, the company announced the online series set for May 10-26.
Weeks later, as they had to cancel more tournaments around the globe, WPT and PartyPoker executives watched as other online tournaments garnered record fields. Players flocked to online poker sites like they hadn't in years, which prompted them to move the series up by a week. The new dates were May 3-19.
Starting with Solid Numbers
As soon as the WPT Online Series by PartyPoker began, the registration numbers began to tell a tale of success.
–$5,200 WPT Opener ($2M GTD) = 497 entries, $2,173,150 prize pool

–$530 WPT Mini Opener ($500K GTD) = 1,362 entries, $681K prize pool

–$1,575 WPT Superstack ($500K GTD) = 429 entries, $643,500 prize pool

–$5,200 WPT PLO High Roller ($500K GTD) = 101 entries, $505K prize pool

–$1,050 WPT Heads-Up ($100K GTD) = 121 entries, $121K prize pool

–$10,300 WPT High Roller ($1M GTD) = 105 entries, $1.05 million prize pool

–$2,650 WPT 6-Max ($500K GTD) = 293 entries, $732,500 prize pool

–$25,500 WPT Super High Roller ($2M GTD) = 98 entries, $2.45 million prize pool
A number of well-known poker pros took down titles during the series as well, like Leo Fernandez, Anthony Zinno, Sam Greenwood, and Charlie Carel.
The biggest #WPTOnline winner yet is Charlie Carrel 🇬🇧 in the $25,500 Super High Roller event on @partypoker!

Carrel wins $600,250 and is now near the top of the WPT Online leaderboard.

🔶https://t.co/9KoaQ3kKVa pic.twitter.com/fxmpLYiqqn

— World Poker Tour (@WPT) May 8, 2020
Those were just the results from the first week, which prompted the WPT to extend the series to May 27, add more tournaments, and increase guarantees on some of the remaining ones. Ultimately, they prolonged the series to May 31.
As the month went on, more tournaments ran to completion with big results:
–$530 WPT500 ($2M GTD) = 681 entries, $2,414,000 prize pool, Fabio Sperling (UK) won $281,125.93

–$25,500 WPT Super High Roller ($2M GTD) = 91 entries, $2,275,000 prize pool, Daniel Smith (Canada) won $555,503.38

–$55 WPT Super50 ($1M GTD) = 2,424 entries, $999,400 prize pool, Thiago Silva (Brazil) won $124,074.70
On Sunday, May 24, players were still competing in a number of big events.
Massive Main Event
The main event of the series was the WPT Online Championship on PartyPoker. It required a $3,200 buy-in and set a $5 million guarantee on the prize pool.
When the multiple starting flights tallied up the registrants and reentries, the total came to 2,130 entries. That pushed the prize pool up to $6.39 million, which was used to pay the top 312 finishers.
The #WPTOnline Championship numbers are in!

💪2,130 entries (Largest WPT ever)
🤑$6.39 million prize pool
🏆$1.048 million
🥈$741,240
🥉$477,333
💵312 paid

Day 2 is underway on @partypoker and a winner will be crowned on May 20. #TheCupAwaits

🔶https://t.co/9KoaQ3kKVa pic.twitter.com/W1JlLUPyuA

— World Poker Tour (@WPT) May 18, 2020
The four-day tournament boiled down to the final table on May 20. Eight players sat at that table, which included the aforementioned Sam Greenwood and Christian Jeppsson. Play moved forward for about 90 minutes before Pascal Teekens departed and Greenwood ended up exiting in seventh place.
Two players who dominated play throughout the final table action were Jeppsson (of Sweden) and Viktor Ustimov of Russia. When they both made it to heads-up play, the duo agreed to a split of the prize money with a few items, including a bit more than $10K on the table.
Ustimov still tried hard to win, but Jeppsson dominated. It took 40 minutes, but Jeppsson won with a turned flush over Ustimov's pocket kings.
The final results were:
1st place:  Christian Jeppsson ($923,786)

2nd place:  Viktor Ustimov ($865,542)

3rd place:  Jukka Koskela ($477,333)

4th place:  Nikolay Ponomarev ($317,583)

5th place:  Alexander Clark ($221,733)

6th place:  Pascal Hartmann ($151,443)

7th place:  Sam Greenwood ($103,838)

8th place:  Pascal Teekens ($66,776)
The winner, who actually won his entry to the tournament in a satellite for only $320, also guaranteed his name would be etched onto the WPT Champion's Cup. He will also receive a seat worth $15K to next season's Tournament of Champions.
Meet #WPTOnline Champion Christian Jeppsson (@c_jeppsson) 🇸🇪 who won $923,000 on @partypoker! @LynnGilmartin and @SavagePoker spoke with the newest member of the WPT Champions Club 🏆 pic.twitter.com/jkpPmqgr0e

— World Poker Tour (@WPT) May 22, 2020
Next up for the WPT and PartyPoker is the last of the WPT Online Series tournaments. After that, the dynamic duo will prepare for the WPT World Online Championships set to begin on July 1.
Related Articles