Holzhauer Wins Jeopardy TOC Before PartyPoker Caribbean
By
November 20th, 2019 | Last updated on November 22nd, 2019
Home
»
Poker News
»
Holzhauer Wins Jeopardy TOC Before PartyPoker Caribbean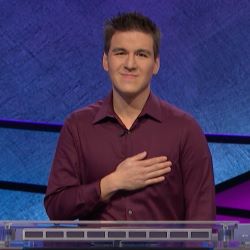 James Holzhauer has become a household name for many, not from his many World Series of Poker bracelets or his high-stakes poker play. He became popular when he performed exceptionally well on Jeopardy!, the most popular trivia show on television.
However, Holzhauer has an affinity for the game of poker. His background in the world of sports betting brought him to the attention of many in the gambling community, and he endeared himself to the poker world by playing at the WSOP this summer.
He also committed to attending the PartyPoker LIVE Caribbean Poker Party this year. And that is where he is this week, just after he won the Jeopardy! Tournament of Champions.
Quick Rise to Fame
Holzhauer hailed from Illinois and graduated from the University of Illinois with a math degree. He now lives in Las Vegas with his wife.
He has spent the past few years as a professional sports bettor. He also had experience in college playing Hearts, Spades, and poker with friends.
After competing on several game shows through the years, Holzhauer appeared on Jeopardy! In 2019 and kept winning…and winning…and winning. He ended up on 33 shows, winning more than $2.4 million, before suffering a defeat at the hands of Emma Boettcher on June 3. He was close to beating all-time money winner Ken Jennings on the show.
First Poker Appearance
By the end of his Jeopardy! run, Holzhauer was quite well-known.
Mike Sexton took note of Holzhauer's sports betting career and penchant for poker. Sexton was simply the opposite, with a poker career and penchant for sports betting. Their meeting seemed organic, especially considering they both lived in Las Vegas.
Sexton's affiliation with PartyPoker came into play, as Holzhauer agreed to play a few World Series of Poker tournaments wearing the PartyPoker sponsorship patch. The primary event of the deal was the $1K buy-in NLHE Tag Team tournament, which he played alongside Sexton.
They both pledged 50% of their winnings to a Vegas-based charity, though they did not cash. Holzhauer did not cash in his other WSOP event, either.
PartyPoker Requested More
When PartyPoker partnered with Holzhauer in the summer, the online poker site also invited him to play in the $10K PartyPoker MILLIONS Main event in the Bahamas.
As it turned out, Holzhauer did accept the invitation.
His trip to Baha Mar in the Bahamas started with a special quiz night at the Caribbean Poker Party this past Monday. Sexton was there and promoted the event as a quiz game with "Jeopardy James."
The highlight of the trip, however, was Holzhauer's entry to the PartyPoker LIVE Main Event, the one that required a $10,300 buy-in but guaranteed at least $10 million in the prize pool. He thanked PartyPoker LIVE and Sexton for the opportunity.
A man of many talents. Well, quizzing anyway! 🤭 @Jeopardy @James_Holzhauer
doing Elvis proud at the Caribbean Poker Party last night. @Mike_partypoker
#karaoke #jeopardy pic.twitter.com/FC2p1rcaXf

— partypokerLIVE (@partypokerlive) November 19, 2019
While Holzhauer didn't make it far in the Main Event, he and wife Melissa seemed to have a great time.
Jeopardy! Champion
Holzhauer's trip to the Bahamas came just days after the episodes of his latest appearance on Jeopardy! aired on television.
Last week, he played on the Jeopardy! Tournament of Champions and advanced to the final round that pitted him against Boettcher, the woman who stopped his historic run earlier this year. He held a lead over Boettcher leading to the final day on November 15, but she ran well on the final day.
The final round came down to a question that they both correctly answered, but their betting amount mattered. Boettcher ended her run with $65K, but Holzhauer won with $76,923. Those totals weren't their winnings, though, as Boettcher won $100K for second place and Holzhauer took home $250K.
Holzhauer took his Jeopardy! winnings total up to more than $2.7 million.
In addition, he and the two bigger Jeopardy! winners of all time agreed to meet at a "Greatest of All Time" Jeopardy! televised tournament. Holzhauer will compete against Ken Jennings and Brad Rutter. And the final show will be broadcast in January on ABC in a prime-time TV slot.
The tournament will consist of two games, and the competitor with the most combined winnings from the two games will win the match. The player who wins three matches will win $1 million.
Related Articles