Global Glance: French-Spanish Poker Goes Live
By
January 20th, 2018 | Last updated on July 29th, 2018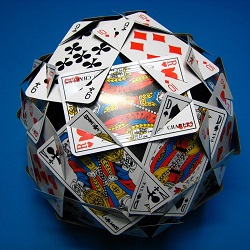 India, Switzerland, Poland, Norway, France, and Italy in the news this week
The weekly Global Glance takes a look at the online poker scene around the world. What happens with online poker beyond America's borders can and often does impact the state of online poker in the United States.
This week, we follow up on two stories from the last edition, one pertaining to shared online poker liquidity in Europe and the other to youth groups rising up against Switzerland's online gambling laws. Meanwhile, India considers its gambling law options, and Norway faces backlash against its blocking of online gambling transactions.
French/Spanish Shared Online Poker Begins
This all happened much more quickly than anticipated. After years of discussions between Italy, France, Spain, and Portugal, the four European nations finally signed an online poker shared liquidity agreement last summer. This paved the way for the countries to connect their player pools to share online poker cash games and tournaments. The hope was for shared liquidity to actually launch in mid-2018.
The start of 2018 looked promising for the eventual launch, but Monday brought a resolution from Spain that moved it forward faster. Spain's Deputy General Director for Gambling Regulation Juan Espinosa García wrote that resolution that was published in the country's official newspaper. It announced the conditions of shared online poker and the intent to go live.
The following day, France and Spain launched their first foray into the new liquid poker market. Since PokerStars is the common thread among all four countries and has the most experience with connecting and separating player pools in various parts of the world, it made sense that PokerStars was the first site to launch with shared liquidity. On Tuesday, January 16, Spanish and French players on PokerStars were connected to the same cash game tables.
Congrats @PokerStars for being the 1st licensed online poker room sharing liquidity in France & Spain. I'm sure there was a lot of working behind the scene. Great step for the industry.

— Alexandre Dreyfus (@alex_dreyfus) January 16, 2018
Italy and Portugal are expected to join soon, pending an announcement from PokerStars.
Success for Swiss Youth
The young people organized in grassroots fashion in Switzerland in recent months to contest the new online gambling laws. Organizations connected to four Swiss political parties – Free Democratic Party, Green Party, Green Liberal Party, and Swiss People's Party – set out to gather the 50,000 signatures required to officially oppose the law.
This week, it was announced that they accomplished that task. They, along with the Swiss Digital Society, gathered and submitted more than 50,000 signatures, meeting the January 18 deadline. Legislators will now consider changes to the new Money Gaming Act in order to reduce the severity of stipulations that require internet service providers to block access to offshore poker websites and keep foreign-based online gambling operators out of the Swiss market altogether.
Schweiz: 50.000 Unterschriften für Abstimmung gegen Netzsperren gesammelt: Das Netzsperrengesetz soll sich gegen Glücksspiel richten. CC-BY-NC-ND 2.0 JavmorcasIn der Schweiz wird es eine… https://t.co/Yv21UWbSn7 #Linkschleuder #CCCSchweiz #DigitaleGesellschaftSchweiz

— No Name (@net_seo) January 18, 2018
Polish Gambling Laws Not Working
In December 2016, Polish lawmakers put a new law into effect to discourage offshore internet gambling operators from soliciting Polish players. It applied to sportsbetting and all of the online gambling world. Many sites left the market instead of fighting for a license, but some unlicensed sites have chosen to continue allowing players from Poland to log on and make wagers.
A legal group in Poland revealed this week that more than 60% of the country's online gambling market is still giving its money to unlicensed operators. While the newly-implemented tax has raised a substantial amount of money for the country's coffers, a good deal of the money is still going to offshore sites. In response, the legal organization advised the Polish government to update the blacklist of banned gambling domains (already listing more than 1,200 sites) more frequently.
Did you miss: Polish gambling market dominated by unlicensed operators https://t.co/smRj5Svlk0

— Gambling Insider Mag (@G_Insider) January 18, 2018
Belgium to Crack Down on Gambling Ads
The government of Belgium has decided to increase the restrictions it initiated last year on the promotion of gambling in advertising. The most recent bill passed in early 2018 seeks to specifically limit ads from all online gambling businesses on broadcast media before 8pm or during any live sporting events.
The new regulations were sent to the European Commission for approval, upon which the law will be made official.
#InTheSpotlight – Belgium to regulate advertising on iGaming #Belgium #Regulation #iGaminghttps://t.co/O5rtZB9MAG

— Focus Gaming News (@FocusGamingNews) January 16, 2018
Norway Gambling Blocks Contested
The European Gaming and Betting Association (EGBA) is urging an investigation of Norway's policy of blocking online gambling operators that are licensed in the European Union but not in Norway. The group maintains that the Norwegian Payment Blocking Regulation breaches the privacy rights of Norwegians, as private data must be accessed in order to know which accounts to block.
It will be up to the Norwegian Data Protection Authority to investigate whether prohibiting transactions from unlicensed operators is in compliance with the laws of the broader EU.
Online privacy: European online gambling operators file data protection complaint against unlawful payment blocking scheme in Norway. More about it here ⏩⏩https://t.co/D8SsEVpcdJ #dataprotection #privacy #laws #EU #Norway pic.twitter.com/jVw9iJeI6R

— EGBA (@EUgambling) January 19, 2018
India Considers Online Gaming Restrictions
The nation of India has not been traditionally friendly to online gambling, though some individual states have legalized games like online poker due to the skill factor involved. India as a whole, via its Law Commission, is now considering legalizing online gaming for economic and tourism reasons but with serious restrictions in order to combat problem gambling and money laundering.
If Congress authorizes online gaming companies to obtain licenses, players on those sites will be limited to three bets per year by each citizen. The limits will be determined by their income and property values. More details about the proposal are set to be released next month.
India to set further controls on online gaming #India #Regulation #OnlineGaminghttps://t.co/Hr8c0a6lJZ

— Focus Gaming News (@FocusGamingNews) January 16, 2018
Related Articles