Former NJ Governor Urges Michigan to Follow His Lead
By
May 24th, 2019 | Last updated on May 24th, 2019
Home
»
Poker News
»
Former NJ Governor Urges Michigan to Follow His Lead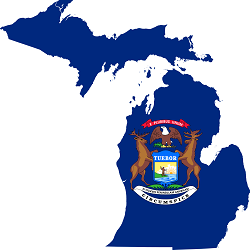 By all accounts, Michigan online gambling legalization should have been done months ago. Not only was it on the precipice at the end of 2018 – just before the then-governor vetoed it – online gambling was set up to succeed in 2019. Bill sponsors had met with the new governor, and everyone seemed to be on board with legal online poker and casino games.
Whoa, Nelly.
The 2019 path to legal online gaming in Michigan has been rougher than many anticipated.
Governor Gretchen Whitmer has concerns and wants changes to current proposals. She has been viewing government estimates of the potential harm that could come upon established gambling revenue sources. The bills' sponsors are working on fixes for her concerns.
And all of it prompted former New Jersey Governor Chris Christie to weigh in. He took issue with concerns about online gaming and sports betting raised by Michigan lawmakers, and he put his state's successes on the table for all to see. "Follow New Jersey's lead," he said.
No Support from Whitmer
Earlier this year, it became clear that Whitmer was concerned about the online gaming bills proposed by Michigan State Representative Brandt Iden and State Senator Curtis Hertel.
Those concerns were then backed up in a House Ways and Means Committee hearing on May 2, when the Michigan Department of Treasury submitted an analysis of the bills that put numbers on the table. Estimates provided by the Treasury asserted that online gaming will distract from online lottery sales via a large revenue impact. Other parts of the analysis showed potential damage to land-based gambling facilities and a risk to MSF payments from tribal casinos.
Every attempt to garner a solid stance from Whitmer regarding this issue has resulted in the same answer: Whitmer will oppose the online gambling measures in their current form. She has yet to provide a statement to that end, but her views have been clear.
Is online gambling facing another roadblock in Michigan? https://t.co/abDZXuoney

— OnlinePokerReport (@OPRupdate) May 7, 2019
Iden Remains Optimistic
After coming so close to success last year, Iden is not giving up the fight for legal online poker and casino games in Michigan.
Iden recently spoke to Online Poker Report and confirmed his dedication and willingness to work with Whitmer and other applicable parties to find a remedy.
"The positive out of this is that the governor's office is engaging on the issue," Iden told OPR. "The governor has a team of folks working on it, and I think we can come to a landing spot."
As for the concerns brought out in the last Ways and Means Committee meeting, Iden rebuffed the arguments from the Treasury by pointing to New Jersey and the positive impact that online gaming has had on land-based casinos. In the same way that the lottery uses online ticket sales to encourage more people to visit lottery retailers in person, online gaming will have the same effect. He also noted that online lottery players and traditional gamblers are too different to be compared in the way the Treasury did in its analysis.
Even so, Iden admitted that the current tax rates in the 2019 Lawful Internet Gaming Act, as originally written, may require adjustment. The 8% is too low to satisfy Whitmer.
"I think there is a high likelihood we'll have to address the tax rate," he said. "I'll have meetings with stakeholders and the Treasury to try to come to an understanding of some sort of increased tax rate for this."
Iden also continued to express certainty that the bill will pass this year. "I'm confident we'll get this done despite the comments made at the hearing. One way or another, we're going to get it done."
Take Notes from New Jersey
Former New Jersey Governor Chris Christie penned an op-ed for the Detroit News about the situation. While he primarily focused on pending sports betting legislation in Michigan, he referred to the entire online gaming marketplace in his state that has shown how well it can all be done. He specifically addressed concerns about mobile betting and cannibalization.
Great piece in today's @detroitnews from @GovChristie urging Michigan to pass mobile sports betting legislation. "We fostered a competitive marketplace in order to create the best products and drive competition for customers." https://t.co/7Q3xXXruTq

— Matt Sowash (@generationof1) May 23, 2019
"When I was the governor of New Jersey in the aftermath of the Great Recession, we had a depressed tourism market in our gaming hub – Atlantic City – that had been left for dead," Christie wrote. "In addition to taking over a dysfunctional municipal government, I knew the problem could be improved with a new option: sports betting."
Christie then explained why New Jersey is the model to follow: "New Jersey is the only state with full mobile access for sports fans and a robust competitive marketplace for gaming operators."
He detailed how customers can bet from their mobile devices from anywhere in the state, and how that convenience has led to higher participation in the market. As of the current day, he estimated that 80% of the online betting in his market is done via mobile betting. He also noted that his state's lottery was not affected at all by offering online gaming and sports betting.
"Michigan, I'm telling you: follow New Jersey's lead."
Related Articles