Concerns Emerge About Michigan Internet Gaming Bill
By
May 6th, 2019 | Last updated on May 15th, 2019
Home
»
Poker News
»
Concerns Emerge About Michigan Internet Gaming Bill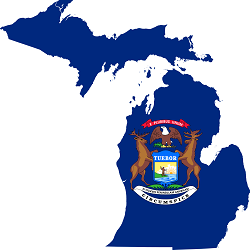 Few things about the US online poker and overall internet gambling market have been as simple as they seemed or should have been.
Hurdles abound in state legislatures over issues that surprise some and frustrate others, as those in the industry have responded to those concerns many times over with statistics and facts. Nevertheless, lawmakers unfamiliar with the online poker and gaming world continue to impede legislation out of fears of the "unknown" and already-disproven assumptions.
Hello, Michigan.
After internet gaming legislation passed both houses of the Michigan legislature in 2018 and was only stopped by a last-minute and somewhat-uninformed veto by the then-governor, bill passage in 2019 seemed to be a certainty. But caution has been the word as bill sponsors worry that the new governor may also veto a bill to legalize online poker and casino games.
Last week's committee hearing all but confirmed that those concerns are justified.
Two Bills, One Goal
Michigan State Representative Brandt Iden had put so much work into his previous internet gaming bills that he wanted to make sure his 2019 efforts were not met with any surprise resistance. So, he partnered with State Senator Curtis Hertel to write legislation that would be ready-made for a quick ride through both houses and on to the governor.
The bills – HB.4311 and SB.186 – are both called the 2019 Lawful Internet Gaming Act, and both were introduced in early March.
Iden took the reins and pulled HB.4311 into the House Regulatory Reforms Committee for a hearing, where it passed by a 13-to-1 vote. That moved it to the House Ways and Means Committee, one chaired by Iden himself.
And there the bill sat without attention for weeks, though both lawmakers expressed confidence that the bill would move forward without delay. Hertel had a long-running and positive relationship with Governor Gretchen Whitmer, and he reported no concerns from her with regard to internet gaming.
Committee Hearing Surprises
Word of a May 2 hearing in the House Ways and Means Committee was a good sign that the bill was going to be discussed favorably and pass, which would have sent it to the House floor for a vote.
PURE MIGHIGAN: Tomorrow another House committee will hear testimony on bills to license and regulate online poker and other forms of iGaming. We expect a favorable meeting and votes in this committee and the full-House should happen in May! https://t.co/JIIOTBAgfK

— Poker Alliance (@ppapoker) May 1, 2019
And then the hearing actually happened.
The Michigan Department of Treasury had concerns and submitted an analysis of the bills pertaining to online gaming, including HB.4311, to illustrate those issues.
State Treasury official: Legalization of online gaming would cost Michigan's public schools $28M annually in revenue. https://t.co/5KkrXe5wyc

— The Detroit News (@detroitnews) May 3, 2019
One of the major concerns is the tax rate of online gaming and sports betting, both of which will be taxed at lower rates per the current bills than the lottery, tribal casinos, and commercial land-based casinos. (The lottery is not specifically taxed but was put in the chart with its School Aid Fund number.)
From fiscal estimates of revenue with all new gaming considered, the Michigan Treasury deduced the following:
–There will be substitution between lottery and online gaming; even small substitutions could have a large revenue impact.

–Land-based gambling facilities will see a small decrease in activity.

–New gaming could risk MSF payments from some tribal casinos.
Further, the Michigan Treasury asserted that online gaming will negatively affect the School Aid Fund in every proposed scenario. It provided this example:
–Player loses $1K in online lottery –> 70% goes to SAF –> SAF receives 100% = $700.00

–Player loses $1K at casino slots –> 19% on AGR is $190 –> SAF receives 42.6% = $80.94

–Players loses $1K at online casino –> 8% on AGR is $80 –> SAF receives 5% = $4
As for revenue, the Michigan Treasury detailed several possible scenarios after the introduction of online gaming and sports betting in the state, comparing existing revenue to proposed revenue.
Mid-level estimate:

–Lottery decreases 3%

–Detroit casinos decrease 1%

–One large tribe stops MSF payment

Optimistic estimate:

–Lottery decreases 2%

–Detroit casinos decrease 1%

–One small tribe stops MSF payment

Slightly-pessimistic estimate:

–Lottery decreases 4%

–Detroit casinos decrease 2%

–Two tribes stop MSF payments
The Michigan Treasury documents also point out that the tax rates for Michigan were largely based on New Jersey's market, but there are key differences. For instance, the population around the key gaming hubs of Atlantic City versus Detroit vary by more than two-thirds, with fewer residents and significantly fewer non-resident tourists near Detroit. The residents and tourists alike also show lower average income in Michigan by 25%.
Back to the Drawing Board
Iden responded at the committee meeting, per the Detroit News, by saying that some of the information presented by the Treasury was fear-mongering, and other data is based largely on assumptions and does not consider the expanded outlook. "I think there's a lot of speculation that they have," he said.
Michigan online casino bill sponsor says there still is "fear mongering" going on in state with regard to gaming.

— Brian Pempus (@brianpempus) May 2, 2019
Detroit casino representatives pushed back on the idea that taxes are too low, saying they will need to do more preparation and maintenance of an internet market, but it will ultimately bring more people into the land-based casinos. It has also been shown in states like New Jersey that the online and brick-and-mortar casinos are complimentary and boost both sides of the business.
Even so, and despite the confidence asserted by Iden and Hertel in past months, it seems that changes to the current bills will be required before the legislation goes further. The opposition is stronger than anticipated, and the governor's ultimate approval of online gaming and sports betting may depend on the changes.
Related Articles