Doyle Brunson to Retire from Poker
By
June 12th, 2018 | Last updated on October 19th, 2018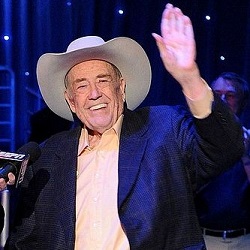 Poker legend determined to retire this time
A person announcing retirement at the age of 84 is generally not face with responses of sadness and disappointment. But when that person is a legend and a trailblazer, fans often have difficulties trying to process the news.
Such is the case of Doyle Brunson, who played his last World Series of Poker tournament this week. He announced on social media that the event would be hist last, and he expanded on that statement in a subsequent interview to reveal he is retiring from all forms of poker later this year.
Going to the Rio to play in 2-7 lowball tournament. Probably the last one I'll ever play.

— Doyle Brunson (@TexDolly) June 11, 2018
The Last Tournament
Brunson's tweet that the NL 2-7 Lowball Championship would be his last tournament was met with responses from far and wide wishing him luck. People also shared memories of their times meeting Brunson or playing at a table with him in the past.
As an amateur poker player I was honored to sit at Doyle's table at the 2010 WPT World Championship at the Bellagio. I mounted it in my 2011 WSOP photo. You are a great gentleman and signed my $100 so someone could read it. The best to you and your family. pic.twitter.com/8M1FvDFFSR

— Brownie (@WPTBROWNIE) June 12, 2018
As he entered at the last minute – the start of Day 2 of the tournament – he got comfortable and played well. The tournament is one of the smaller ones of the WSOP summer series, with the $10K buy-in drawing only 95 entries. The prize pool was set at $893K, which would pay out the top 15 players. Brunson was the chip leader as the money bubble burst.
When play stopped for the night with 11 players, Mike Wattel led the pack with Brunson in fifth place on the leaderboard. His son, Todd, was also headed to Day 3.
Day 2 of the $10,000 NL 2-7 Lowball Championship ends with 11 players, including @TexDolly and @ToddBrunson. Mike Wattel starts with the chip lead when play resumes Tuesday at 2pm pic.twitter.com/fYQlfL6XgH

— WSOP (@WSOP) June 12, 2018
Caring for Louise
In past years, Brunson has played fewer tournaments due to the long hours required to do well. And he mentioned in past interviews that he stopped those long tournaments and even all-night cash games due to his wife's deteriorating health.
He confirmed in his interview with CardPlayer on Monday that the situation had become more serious, noting that his wife of 57 years, Louise, is in poor health, and he feels guilty leaving the house to play.
Currently, he plays cash games when they run during the days but likes to be home by 9pm or 10pm, as his wife doesn't go to sleep until he returns home. "I feel like I should be there with her, so I think I plan on retiring after this summer and spending all my time with her," Brunson revealed.
According to the interview, his wife told him to play this tournament, no matter how late it ran into the night on Monday. And he may play the $50K Players Championship, though he has not yet decided. As for the 2-7 Championship, his favorite game, "It's just kind of a goodbye to the World Series of Poker."
Recap: Doyle Brunson through to Day 3 $10K NL 2-7 Lowball: "Today is just an opportunity." https://t.co/wlrVqHByTk @TexDolly #wsop pic.twitter.com/zqzLTGWgMV

— PokerNews Live (@PokerNews_Live) June 12, 2018
Previous Retirements Notwithstanding
During the past several editions of the WSOP, Brunson has indicated his decreasing level of motivation to play in most of the tournaments, especially the very long Main Event. In 2011, he played seven events, only four in 2012. Some of those years brought his own health scares, but it has mainly been the downturn of his wife's health that kept from wanting to commit to long tournaments. Though he typically ended up playing one or two WSOP events each summer, he seems to be committing to more of a full-blown retirement this year.
Retirement talk in poker is often fleeting as the passion for the game draws the players back, as has happened with Brunson. "You can't find many things in which a guy that is 84 can still compete against guys in their 30s. It has meant a lot to me," he admitted. "My competitive nature drove me to keep contending, and poker was the vehicle that allowed me to do that. I'm just thankful for it."
Always the Godfather
Sometimes known as Texas Dolly or Tex Dolly, Brunson is always known as the Godfather of poker. His long history with the game, his presence at the first WSOP events at Binion's in Las Vegas, and his stories of the rogue poker games in Texas during his early years continue to capture the attention and garner the respect of players of all ages.
Cash games have always been Brunson's bread and butter, but his fondness for tournaments brought him to WSOP events – as well as World Poker Tour and numerous other series – through the years. And live tournaments have delivered more than $6.1 million to his personal coffers in that time.
After announcing his poker retirement yesterday, there can only be one Player in the Spotlight: Doyle "@TexDolly" Brunson
? 86 Tournament Results (81 ??, 4 ??, 1 ?? )
?Total Live Earnings: $6,132,774
1/3 pic.twitter.com/CwFjbRJFYF

— The Hendon Mob (@TheHendonMob) June 12, 2018
Brunson holds one WPT title but 10 WSOP bracelets, tying him with Johnny Chan and Phil Ivey; only Phil Hellmuth is ahead of the trio with 14 bracelets. But Brunson's accomplishments go beyond tournament trophies, as he authored the preeminent poker book "Super System" and its follow-up "Super System 2." He owned Doyle's Room, an online poker site that became popular during the poker boom. And he was inducted into the Poker Hall of Fame in 1988.
His status in poker is obvious when looking at the responses to Brunson's retirement tweet or watching him cruise down the hallway of the Rio on his scooter to the WSOP tournament rooms. Fans stop him every few feet for photos and autographs, and pro players approach to welcome him to the tournament and see how he has been. Brunson takes it all in stride, continuing to make time for interviews with media outlets, words with fans, and conversations with friends.
Brunson will be missed at events like the WSOP. But don't expect him to disappear altogether. He may still show up for the occasional tournament or awards ceremony, or even an impromptu cash game at the Bellagio. And for the foreseeable future, he will remain active on Twitter as well.
There is still plenty of time to thank Texas Dolly for his contributions to the game.
"Everyone in poker owes Doyle a huge 'Thank you' for all that he's done for the game."@PhilIvey reflects on @TexDolly's retirement and career. https://t.co/yKdlqMWpuy

— Poker Central (@PokerCentral) June 12, 2018
Related Articles