Delaware Wraps Another Down Year for Online Poker
By
January 18th, 2018 | Last updated on October 16th, 2020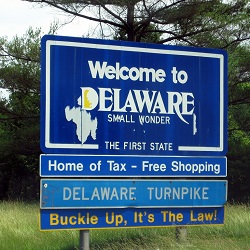 Where are Delaware online poker players?
Delaware is a small online poker market, especially in comparison to New Jersey. While there are no numbers available for Nevada, it is a safe assumption that Nevada pulls more revenue than Delaware by way of population and gambling reputation alone.
The final numbers for Delaware's online gambling market in 2017 includes revenue from tables games, video lottery, and internet poker. With the breakdown of the numbers for the year – and all past years since the industry's inception in 2013 – it is clear that while all of its online gaming has been on a downswing, poker is the segment that has suffered the most.
New Jersey's poker market has been decreasing steadily for some time as well, as evidenced by its final 2017 numbers. Despite more players becoming aware of regulated poker over the internet in parts of the United States, it has not translated into higher revenue or any type of growth in the market yet.
Delaware Quarterly and Yearly Numbers
As reported by the Delaware Lottery, the three racetracks that provide online poker services for Delaware residents and visitors delivered their final numbers for 2017. As usual, Delaware Park continued to dominate with a significant majority of the revenue, with Dover Downs in a distant second place and Harrington Raceway on the short end.
For the year 2017, let's look at the quarterly poker numbers:
Q1 rake and fees: $62,557
Q2 rake and fees: $58,001
Q3 rake and fees: $58,654
Q4 rake and fees: $51,874
From the first to fourth quarter, the poker market dipped 17%, quite significant considering the revenue is fairly low in comparison to other types of online gambling in the state. The drops are even more stark when looking at the previous year's numbers:
Q1 2016 rake and fees: $91,967 (32% higher year-on-year)
Q2 2016 rake and fees: $111,400 (48% higher year-on-year)
Q3 2016 rake and fees: $97,555 (40% higher year-on-year)
Q4 2016 rake and fees: $75,014 (30% higher year-on-year)
And taking a look at the annual revenue, the drop looks even more significant:
2014 total rake and fees: $595,580
2015 total rake and fees: $392,401 (down 34% year-on-year)
2016 total rake and fees: $375,936 (down 4% year-on-year)
2017 total rake and fees: $231,086 (down 39% year-on-year)
Overall, poker has dipped 61% from its first year to its fourth. What makes this even more significant is that Delaware and Nevada share liquidity. This explains why the decrease from 2015 to 2016 was so inconsequential. However, the drop from the launch in Delaware to its current state is drastic.
Look for a 2018 Upswing
In late 2017, New Jersey signed an agreement with Nevada and Delaware to share online poker liquidity. There have been few updates since then, but it is widely anticipated that the three states will officially launch the shared poker network sometime in 2018.
The only site prepared to launch on said network is WSOP/888, the only site operating in all three states. There are online operators that could make moves to launch in Nevada, however, and this could improve the network if it happens.
Another perk for the regulated internet poker industry in the United States is the entry of Pennsylvania into the mix. With its decision to regulate online gambling late in 2017, it is likely that poker operators will be able to begin the licensing application process within the coming months. This puts poker on track to launch in mid-2018. While Pennsylvania has yet to discuss the possibility of joining the interstate network for poker, it is quite possible that preliminary discussions are underway. Obviously, the priority is to launch the poker and casino games sites first, so Pennsylvania may not join the network until late 2018 or 2019, but its almost-inevitable foray into the partnership will boost poker revenue in all four states.
To answer a question many have: Yes, PA is expected to pool online poker players with New Jersey, Nevada, and Delaware.

— US Poker (@uspoker) October 31, 2017
In addition, states like New York and Michigan have edged closer to legalizing and regulating poker in past years and will take another shot at it in 2018. If lawmakers follow Pennsylvania's lead, the growth of the industry could be set on a solid path forward.
Without more liquidity and the growth of the overall industry, Delaware is likely to continue falling into even more obscurity.
Related Articles