Delaware Celebrates Five Years of Online Poker
By
November 6th, 2018 | Last updated on October 16th, 2020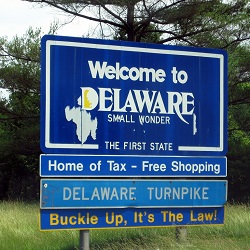 The idea that Delaware is actually celebrating the five-year anniversary of launching its online poker sites might be a bit of an exaggeration. Even so, those who have been watching the new United States market can take a moment to recognize the achievement.
Delaware may be a small state and its online poker revenue inconsequential, especially as it relates to its other online gaming revenue, but it has played an important role in the new industry. States like Nevada and New Jersey were no surprises as entries into regulated territory, but Delaware showed that other states had an interest in online gaming and believed in its future.
Five years later, the revenue garnered from online poker and other internet gaming activity has become a staple in Delaware's gambling industry. Even more, the state has demonstrated the ability to launch and regulate such an industry effectively and securely, even partnering with other states to increase potential and look toward long-term growth. All of it is something to celebrate.
What am I doing? Oh nothing just playing online legal poker in Delaware. #delawarepark #poker #realmoney pic.twitter.com/HDRWCdimJx

— phillip simon (@philly1273) November 9, 2013
Fifth Birthday
The three online poker sites launched in Delaware on November 8, 2013, five years ago this week. The actual launch wasn't difficult to coordinate, as all three sites operate on the same platform, though being one of the first states to do it – and the only one with a lottery serving as its regulator – wasn't an easy step to take.
Dover Downs, Delaware Park, and Harrington Raceway each offer online poker and gaming sites, but they are linked using the same 888-powered gaming software. In addition to poker, the sites also offer table games like blackjack, slot games, and video lottery options.
As of today, you can play legal, regulated online poker in #Delaware! Congrats DE!

— All IN Magazine (@allinmag) November 1, 2013
When it all began in late 2013, the numbers released by the Delaware Lottery were exciting, as no one knew what to expect, and any participation in the new industry gave hope for the future.
November 2013:

–Poker = $67,928.42

–Total online gaming = $111,387.71

December 2013:

–Poker = $106,922.76

–Total online gaming = $140,009.22

January 2014:

–Poker = $88,588.29

–Total online gaming = $145,667.62
Ups and Downs
Those initial numbers in the first three months of Delaware's new market were encouraging, but reality began to set in when the excitement wore off. Monthly results dipped rather significantly over the next year, as the first year-on-year statistics were a bit discouraging.
November 2014:

–Poker = $31,610.21  

–Total online gaming = $130,268.65

December 2014:

–Poker = $28,589.22

–Total online gaming = $169,600.36

January 2015:

–Poker = $27,695.45

–Total online gaming = $132,074.84
There was hope that some interstate shared liquidity agreements would improve the numbers. On March 24, 2015, Delaware and Nevada combined their poker player pools via their 888/WSOP partnership. Revenue increased for the first few months, but they quickly dipped again.
Another opportunity arose in 2018 when New Jersey joined the multi-state online poker partnership. The tri-state action launched May 1, 2018, and the subsequent boost in numbers was minimal but steady, as the revenue stayed fairly consistent through the end of the third quarter.
Get in on a $1 million-plus GTD today! Interstate poker is here, so we're celebrating with a terrific tournament series. Visit your favorite poker site to play!@DoverDowns https://t.co/Q38JdObNkp @PlayHarrington https://t.co/M7R70u5a7p @delawarepark https://t.co/cPWLkKHm6h pic.twitter.com/7KrTkkOsSz

— The Delaware Lottery (@DELottery) May 11, 2018
Even so, the overall numbers have suffered since the launch of online poker. As online table games and slots increased in popularity, poker has not found the same success. This trend, however, matches what has happened in New Jersey.
The Upside
Revenue is revenue. Despite the relatively small size of Delaware's gambling industry in general, it is a form of entertainment that has floated right into the digital age, ahead of most other states and without many of the others' complications.
To date, poker – and internet gaming in general – has delivered profits far beyond what the state's three racinos could do on their own.
2013 (two months only) = $174,851 poker

($251,397 total internet gaming)

2014 = $595,580 poker

($2,091,317 total internet gaming)

2015 = $392,401 poker

($1,798,840 total internet gaming)

2016 = $375,936 poker

($2,906,885 total internet gaming)

2017 = $231,086 poker

($2,391,941 total internet gaming)

2018 (first nine months) = $191,837 poker

($1,904,115 total internet gaming)
It would be negligent to avoid mentioning the decline of poker over the past five years. The excitement of the first few months tapered off, and the sites have struggled to grow and attract new poker players. Further growth will depend significantly on interstate agreements to share online poker liquidity.
iGaming now available on Android and iOS 📱💰 via @Doverpost https://t.co/T5ABmBKaJo

— The Delaware Lottery (@DELottery) November 4, 2018
Related Articles