Courts Will Decide Fate of Texas Poker Clubs
By
July 11th, 2018 | Last updated on July 29th, 2018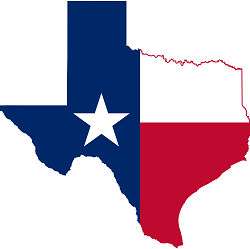 Poker rooms operating in Texas have no plans to shut down. They believe in their right to operate enough to take it to the courts if they must.
The loopholes in the law, in addition to the antiquated laws surrounding poker in Texas, may be challenged in just that way, as club owners have strong legal counsel in their corners. But that isn't the only reason the poker rooms continue to exist. Another is that Texas Attorney General Ken Paxton decided last week not to issue an opinion on the topic.
By Paxton leaving it to the courts, he is allowing the ultimate court decision to set the precedent since lawmakers have chosen not to close the loopholes or pass laws that would clarify current wording.
AG Refuses to Play
The issue was put to Paxton by Texas State Representative Geanie Morrison, who sent a request to the Attorney General's office. "Are poker gambling enterprises that charge membership or other fees or receive other compensation from gamblers playing poker – but do not receive a 'rake' – permitted under Texas law?" she wrote, according to KHOU.
The chairperson of Paxton's opinion committee, Virginia Hoelscher, responded, "When a legal matter is being litigated, the courts are generally the appropriate forum for resolving the issue."
She added, "It is the policy of this office to refrain from issuing an attorney general opinion on a question that we know to be the subject of pending litigation. This policy, which has been in effect for more than sixty years, is based upon the fact that attorney general opinions, unlike those issued by courts of law, are advisory in nature."
Houston City Councilman Greg Travis was upset by the AG's refusal to rule. He has been a vocal critic of the poker rooms, one of which (Post Oak Poker Club) is in his district, and believes the clubs are illegal. He hoped that Paxton would rule on the issue. "It's either legal or it's illegal, regardless of what lawsuits there are," he told KHOU. He noted that Paxton's statement was "very strange," adding, "There must be more to the story, and I'm going to find out."
The Post Oak Poker Club in Houston, the first licensed poker club in the state, is excited to announce the first major poker tournament tour stop ever in Texas.

STORY & SCHEDULE: https://t.co/ibe06uhekS pic.twitter.com/kc8mys9ZCH

— Card Player (@CardPlayerMedia) May 16, 2018
An Unusual Lawsuit
The litigation cited is a lawsuit involving poker rooms in the cities of Austin and San Antonio. Texas Card House owner Austin Card Room filed the suit in late June against SA Card House owner FSS Venture alleging unfair competition. Texas Card House has reportedly lost membership due to the SA Card House offering cheaper rates.
Why would one poker room sue another in an already-murky legal environment? Austin Card Room wants the court to clarify that law, the one under which both card rooms currently operate.
It may seem that the court battle could result in both poker rooms being shut down, depending upon the judge's ruling and any subsequent actions. The call to request a ruling from Attorney General Paxton could have been that result, but Paxton declined to get involved.
In fact, the lawsuit could have a negative impact on the 30+ poker rooms in the state. KHOU estimated there are at least 19 poker rooms in Houston alone. All of them operate under the interpretation of the law that they are hosting private games and no rake is collected. Instead, the room operators profit by charging membership fees and benefiting from the sale of food and drinks. However, law enforcement officials can have varying interpretations of the law and shut down the clubs for operating illegally, which has happened in some cases.
Ultimately, lawmakers could take the matter into their own hands and pass a new law regarding poker. However, the plethora of clubs in the state and the masses of Texas residents who travel to neighboring states to play poker clearly indicate that there is a desire for some type of legal gambling in Texas, poker rooms at the very least.
Existing rooms take legal risks, and the poker players who frequent them take safety risks, as law enforcement isn't always on their side or available to protect the clubs from robberies and other crimes.
All would benefit from some clarity of the current laws, but the desire for that clarification could result in the shuttering of all Texas poker establishments. It remains to be seen.
Related Articles