Congress Offers Draft Legislation to Oversee Sports Betting
By
December 11th, 2018 | Last updated on December 11th, 2018
Home
»
Poker News
»
Congress Offers Draft Legislation to Oversee Sports Betting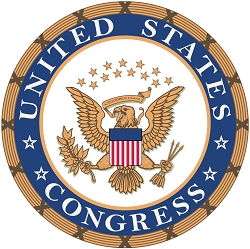 In May 2018, the United States Supreme Court handed down a landmark decision that ruled the Professional and Amateur Sports Protection Act (PASPA) of 1992 unconstitutional. The result was that individual states across America were given the right to legislate sports betting per their lawmakers' and constituents' wishes.
Almost immediately, members of Congress weighed in with their opinions that federal oversight of sports betting should be considered. Senate Minority Leader Chuck Schumer said it was "incumbent on the federal government to take a leadership role and provide the necessary guidance to prevent uncertainty and confusion for the leagues, state governments, consumers and fans alike." Senator Orrin Hatch delivered a lengthy statement detailing his "grave concerns about gambling in general and sports betting in particular." He believed that federal standards "will protect the integrity of the games" and "customers and the sports wagering market."
Meanwhile, states seemed to be handling sports betting legislation on their own, as more than a handful of states passed laws and launched sports betting within their borders.
Nevada had been doing it without federal oversight since 1949. Other states – Delaware, New Jersey, Mississippi, West Virginia, Mississippi, Pennsylvania, and Rhode Island – either launched their sports betting industries or put the regulatory framework in place to do so in the near future. Numerous other states had bills under consideration to follow that lead.
One year ago today the Supreme Court heard oral arguments in Christie v. NCAA, the landmark case that provided states the opportunity to create legal sports betting markets in their own jurisdictions. Check out how far #sportsbetting has come in a year: https://t.co/qkOxGaMklH pic.twitter.com/iTrDd8XnCd

— American Gaming Assn (@AmerGamingAssn) December 4, 2018
Nevertheless, Congress wants control. And they are ready to put forth a bill to give it them.
Draft Legislation Hatched
From the office of Hatch himself, a lengthy piece of draft legislation emerged. ESPN obtained a copy of the 37-page document, and Legal Sports Report posted its own copy.
The gist of the legislation is that states would be required to obtain approval from the United States attorney general's office before launching sports betting. The federal government will have the final say as to whether or not a state can offer sports betting to people within its borders, though state lawmakers still dictate other forms of gambling, such as land-based casinos, racetracks, lotteries, daily fantasy sports (DFS), and online gambling.
In addition, sportsbook operators in the US would be required to use official data provided by the sports leagues to grade wagers. All wagers placed would then be collected, anonymized, and recorded in the National Sports Wagering Clearinghouse, a database to track the types of bets, dates and times, and the outcome of the bets. All of this would be done to monitor betting patterns for signs of corruption and money laundering, but it is unclear what limits would be put on the use of that data.
Further, the Department of Justice would be authorized to target unlicensed sports betting operators, as well as to establish regulations for sports betting advertising and problem gambling. Amidst the changes, the Wire Act and Sports Bribery Act would be amended to accommodate the new powers of the federal government over sports betting.
Legal Sports Report analyzed the draft further to realize that the federal government will have veto power over state laws, which will be required to meet minimum standards established by Congress. And though betting will be allowed on college sports, wagering on amateur sporting events will be banned.
Support and Opposition
Based on the testimony from the House Judiciary Subcommittee on Crime, Terrorism, Homeland Security and Investigations hearing in September alone, it is easy to decipher which groups of lobbyists support Hatch's bill and which ones oppose it.
Rep. Sensenbrenner ends #sportsbetting hearing noting that the "worst possible outcome" would be for Congress to do nothing. I mean, you tried that for 25 years so, why not just keep on doing nothing.

— michelleminton (@michelleminton) September 27, 2018
Supporters will likely include professional sports leagues like the National Football League (NFL) and National Basketball Association (NBA) because the data used for setting odds must come from the leagues, something for which they could charge a fee. Leagues are also lobbying Congress to assess an integrity or loyalty fee on betting, which would give the leagues a percentage of sports wagers or profits to be paid by casinos and/or sports betting operators.
Groups like the National Council on Problem Gambling support federal oversight of sports betting, as they believe the federal government will implement more stringent protections for consumers than would some states, and a single framework is easier to monitor than different individual ones around the country.
Opponents include most casinos, racetracks, and other betting sources in the US, the vast majority of which oppose paying integrity fees and federal taxes on top of the state and local taxes inherent in sports betting laws. They also oppose another layer of oversight, one that may conflict with state gambling laws and create red tape.
Watch my interview with @TWiGFeed, where I discuss the latest on #sportsbetting: https://t.co/3vT4k6etd4

— Sara Slane (@SaraSlaneAGA) October 30, 2018
The American Gaming Association, which speaks for many in the American casino industry, vehemently opposes the Hatch bill and any efforts to regulate sports betting at the federal level. As AGA Senior Vice President of Public Affairs noted at the September hearing, "Just as Congress has refrained from regulating lotteries, slot machines, table games and other gambling products, it should leave sports betting oversight to the states and tribes that are closest to the market."
Specifically in response to Hatch's proposal, AGA Vice President of Government Relations Chris Cylke said, "Since the Supreme Court's ruling in May, the American Gaming Association has consistently maintained that federal legislation regarding sports betting is not necessary. That underlying position remains unchanged."
Dangers to Online Gaming
The online gaming industry has just begun to establish itself in the US market, with New Jersey, Delaware, and Nevada leading the way with regulations that have created effective state-run markets. Pennsylvania will be joining that group in 2019, and others like Michigan and Illinois may do the same.
Congress has been under pressure by lawmakers and lobbyists representing Sheldon Adelson and his Coalition to Stop Online Gambling to pass a version of the Restoration of America's Wire Act (RAWA) bill that was proposed numerous times. This Hatch bill could present an opportunity to insert language that would ban or limit some types of online casino games or online poker.
Online gaming advocates are watching the Hatch bill and others that may emerge for any hints of RAWA-type language that could strip states' rights with regard to online gaming.
Congressman Jim Sensenbrenner (@JimPressOffice) has sent a letter to the DOJ asking for guidance on potential federal oversight of sports betting. pic.twitter.com/glTJpsJU1c

— David Payne Purdum (@DavidPurdum) November 15, 2018
Related Articles