Celebrate International Women's Day in Poker
By
March 8th, 2018 | Last updated on July 29th, 2018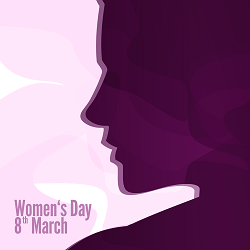 Celebrating all women in poker!
On International Women's Day, it's appropriate to take a few minutes to recognize the women in poker. Their contributions are many, their impact significant, and their presence necessary.
While women still comprise only a relatively small portion of the poker community as a whole, it's important to thank them for their courage and confidence. Without their individual decisions to step into situations that may have been awkward, precarious, uncomfortable, or uncertain, there wouldn't be the impressive range of women populating the poker tables – both online and live, and in both cash games and tournaments.
Women in other areas of the poker business are also blazing trails, from their seats in the commentator booths to the spotlight in front of the cameras, from their words on the computer pages to their presence on the Twitch streams.
Whether speaking up to claim their space in poker with a comment to a fellow player, creating awareness on social media, or working with poker rooms and online operators to make the game more welcoming to women, many have done and continue to do the work. And the game is better for it.
Follow, Like, and RT for a chance to win $100 to play poker on ACR, PokerStars, GGPoker, PartyPoker, or 888 (your choice) when we reach 3000 followers!
Join us for onesie night Saturdays on Twitch at https://t.co/p6uIawemjA and check out our !giveaways and !homegames. ????️ pic.twitter.com/862XQclTiv

— Vanessa Kade (@VanessaKade) March 7, 2018
In two weeks @krissyb24poker receives the @gpi Best Female Player of the Year award. But what keeps her motivated, what are her strengths and weaknesses, and how was the transition from online to live poker?https://t.co/NFsLxfpfRw

— PokerWomenNews (@pokerwomennews) February 8, 2018
"I took a stand against abuse" and "I have no tolerance for assholes in poker". Quote @FirstLadyPoker. This podcast is great! Go listen! https://t.co/TDONA3nlwF

— PokerWomenNews (@pokerwomennews) January 26, 2018
There are the women who sat at the poker tables long before there was any "movement" to actively encourage women to play – Linda Johnson, Jan Fisher, Cyndy Violette, Barbara Enright, Jennifer Harman, and JJ Liu – all of whom still play important roles in the game.
There are the women who set records – Victoria Coren-Mitchell, Liv Boeree, Vanessa Selbst, and Annette Obrestad – and raised the bar for the entire industry.
There are the women who are making waves and taking trophies today – Kristen Bicknell, Maria Lampropulos, Maria Ho, Danielle Andersen, Loni Harwood. Of course, there are women in poker who are also leading the way in other games, like Jen Shahade in chess.
No matter where in the world poker is played, women are there, stepping in and sitting down and – whether they know it or not – making it that much easier for more women to do the same. And kudos to the poker operators who have made efforts through the years to reach out to women, put them in sponsorship and representational roles, and sincerely tried to improve gender diversity within their companies and in the game itself.
Unibet is one of those companies that has offered unique initiatives but also set goals within its offices to improve diversity.
888poker has created an incredibly diverse team of sponsored pros, with several women at the forefront of their promotions and player outreach efforts.
And PokerStars has long led the way by sponsoring some of the best women to have played the game.
Celebrating women in poker on International Women's Day: https://t.co/pCwUZebLdF #IWD2018 @PokerStars pic.twitter.com/9OzuTN3dgo

— PokerStarsBlog (@PokerStarsBlog) March 8, 2018
There is more work to do. And in a still-male-dominated game like poker, there are even more obstacles ahead to overcome. But the women who have come before us and those paving the way today for a brighter future are making it easier. Thanks to each and every one of you!
Related Articles