Online Poker Turns 20 with Bright Future Ahead
By
January 9th, 2018 | Last updated on July 8th, 2018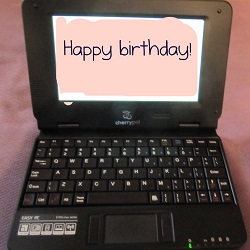 Online poker is still young with a bright future ahead
When a birthday falls on a holiday, the celebrations can get jumbled. We admit that we got caught up in celebrating 2018 and forgot all about online poker's birthday. We feel terrible about that.
Happy Belated Birthday, Online Poker!
On January 1, online poker turned 20 years old. It may not be legal for drinking in the United States, but it can have a cigarette and sign up for military service. Congratulations!
Twenty Years Ago
It all happened thanks to Randy Blumer, a Texas Hold'em poker fan with a degree in engineering that he used to build ships in the Canadian Navy. Poker was his passion, however, and he developed a website in 1997 called Planet Poker. He launched it for play-money action but set it up for real-money poker before it was introduced to the public on January 1, 1998.
Blumer took out advertisements in the premiere card game publication of the day called CardPlayer Magazine, and it brought a few customers to the $3/$6 cash game tables online. As more players joined, the number of tables increased, and the site grew to accommodate more payment processing options and player needs. Poker experts like Mike Caro and Roy Cooke began to work with Blumer to improve the site and its options.
Competition Begins
Anyone with experience in gambling or the new computer technology knew that Blumer was on to something. Paradise Poker then launched in 1999 as Planet Poker's first competitor. The number of players on the sites grew exponentially from the hundreds to the thousands, and new software was needed to handle the traffic, which AceKicker developed so Planet could more adequately compete with Paradise. Those two sites did remain the dominant leaders in the industry, however, for several years.
Eventually, PartyPoker became the new site on the block and captured the attention of players around the world after its 2001 launch. It soared to the top of the popularity and traffic charts until PokerStars entered the fray. PartyPoker did continue to compete with PokerStars and Full Tilt Poker, but the latter two became the top sites during the poker boom that began in 2003 and grew the industry by leaps and bounds through 2008.
Industry Changers
Many new players who took to the online poker tables during the boom knew little about Planet Poker, as it was no longer a primary competitor in the industry. It was still offering real-money online poker through 2006, but after seeing PartyPoker leave the United States market in response to the Unlawful Internet Gambling Enforcement Act, Planet Poker did the same. And by March 2007, Planet Poker stopped offering real-money games altogether, changing its platform to a subscription-based free-play site.
Black Friday changed online poker on a global level, despite it technically only affecting American players. Many online poker sites folded permanently after April 15, 2011 when the US government seized PokerStars, Full Tilt Poker, UltimateBet, and Absolute Poker domains.
Planet Poker simply could not sustain its business model and finally stopped all online poker action on January 26, 2017. The site is still available but only for poker game rules.
History Too Easily Forgotten
There may be only 20 years of online poker history in the books, but it is important to remember where the game began to gain the proper perspective as to its current status.
From the time Planet Poker launched its first cash game table to now, online poker developed and grew, blossomed and boomed, and became the most popular online game in the world for several years. Ultimately, some carelessness and greed got in the way, and governments began to fear the game that they weren't able to understand or control.
But the games live on. Online poker continues to thrive in various markets and regrow in others. European countries are preparing to join their individual online poker markets to share player pools, as are states in America. More states in America and more countries around the world are regulating their markets, and they will likely join with others in the same way. It may take years, but online poker could see another boom. It will look different than it did in 2003 or 2006, but there is too much passion for the game to let it die.
So, thanks, Planet Poker. Happy birthday to you and online poker. We wish you many more.
Related Articles