888poker Reveals New Poker Software and Mobile App
By
November 9th, 2020 | Last updated on November 9th, 2020
Home
»
Poker News
»
888poker Reveals New Poker Software and Mobile App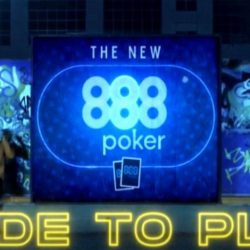 The long-awaited and much-anticipated update to 888poker arrived at the end of October. Little more than a week ago, the online poker operator revealed its "Made to Play" platform to players around the world.
With everything from multi-tabling and portrait for the mobile app to a new lobby and stake range features, many players seem pleased with the updates and new options.
Meanwhile, 888 Holdings reported substantial online poker growth worldwide for the first half of 2020. It could prove to be a good year for 888poker.
Created with Player Input
888poker officially announced its "Made to Play" upgrade on October 29. The rollout began to pull all players to the new software platform that 888poker described as "cutting-edge," "state-of-the-art," and "intuitive and entertaining."
Originally, 888poker planned to significantly upgrade its poker client in 2018, the first time doing so since before Black Friday. The operator did slowly roll out its "Poker 8" platform. It didn't actually happen until 2019, but it did deliver some new graphics, design, functionality, avatars, table designs, and multi-tabling capabilities. It also boasted of new reentry management functions and hand history records.
There were some player complaints after 888poker rolled out Poker 8, though. Most substantially, the upgrade erased player notes. In some cases, notes on other players dated back several years and disappeared with the software update.
According to 888poker, management had been accumulating feedback from players for two years prior to this October release of the latest software upgrade.
Details of Made to Play
The new features in Made to Play include rewards for players. 888poker noted that there will be "Gift Drops" to deliver prizes randomly to players at the tables and the "Winner Spinner," a wheel that players can spin twice every day to win prizes.
888 Head of B2C Guy Cohen commented that the new software "emphasizes that our player's enjoyment is our number one priority." He added, "Poker is a pastime, a passion and a community for our players; we have built a platform that puts them at the heart."
Most Changes for Mobile
The pressers from 888poker focused mostly on the mobile app, considering more than 60% of the site's players access the site in this manner.
Have you checked out our new #MadeToPlay #poker app? 💯🔥🙌

Let us know your thoughts! 👍😍😜

More info here! https://t.co/hLVinfp0br pic.twitter.com/v1kTlIjEJu

— 888poker (@888poker) November 2, 2020
The Made to Play app offers a lobby now available in portrait mode, making it easier for players to play one-handed on their mobile devices. Players will be able to swipe between tables "effortlessly" and play up to four tables at once.
Further, the portrait mode now lines up with 888casino and 888sports products, so switching to games other than poker should be seamless.
Pokerfuse offered more information regarding mobile changes for 888poker. The lobby is reformatted for easy scrolling and showing all of the games available. Players can also establish filter settings, such as preferred variations and a pre-defined stake range, to focus on their poker preferences.
Multi-tabling players can more easily switch between up to four tables and preview their hole cards while receiving an alert when they need to take action. Mobile users can also enable "throwables" as well.
Chat boxes have become controversial – even toxic – in some gaming environments, so the new 888poker mobile app now only offers an emoji chat with no text.
The new mobile app is now available in every market that allows players to access 888poker.
Not Everyone is Happy
Of course, it is impossible to make all poker players happy. There have been some notable complaints, though, that seem to have gathered steam.
First, players now have portrait mode on their mobile devices, including tablets, but they are discovering that landscape is now gone.
Second and more concerning is the deletion of the ability to play with friends, to set up private virtual games. Some players have been competing in play-with-friends games for months – years in some cases – and were extremely disappointed for 888poker to confirm that the feature is gone.
Booo! Sorry to say it's not in this version. I've been told it'll come back but just not yet. Sorry about that!

— Kara Scott (@KaraOTR) November 3, 2020
888 Hoping for Continued Growth
As with most other online poker sites around the world, 888poker also saw an upswing in player traffic from March forward. The coronavirus pandemic shut down most live gambling options around the world, so players took their business online.
When 888 Holdings released its financials for the first half of 2020, it showed overall revenue growth of 37% year-on-year, with B2C up 38% and B2B up 21%.
Of all the verticals in the B2C category, poker has been one of the lowest revenue producers in recent years, but H1 2020 showed online poker up 56% year-on-year to $36.1 million. It even beat the online casino sector and its 48% increase, though its revenue of $260 million still thumped poker.
First-time depositors also increased in the first half of the year by 103%, again outdoing the casino sector and its 72% jump. And of 888's total B2C first-time depositors in H1, 24% came from the poker vertical.
That H1 regulatory report from 888 noted that the new poker product should boost consumer satisfaction in the second half of 2020. The company is also dedicating more attention to responsible gambling programs. It will soon roll out a new "Control Centre" in 2020 "that will offer customers an improved interface to help them understand better their gambling behavior," Itai Pazner said.
So 50% growth is basically what we've seen elsewhere; at least 2 months of Q2 should have been around double YoY if 888 benefited as much as competitors during the coronavirus lockdowns.

However, it you peruse the presser and presentation, that is certainly not the focus.

— Nick Jones (@pokerprojones) October 6, 2020
Related Articles