5 Reasons for Massachusetts to Revisit Online Poker
By
May 18th, 2018 | Last updated on October 19th, 2018
Home
»
Poker News
»
5 Reasons for Massachusetts to Revisit Online Poker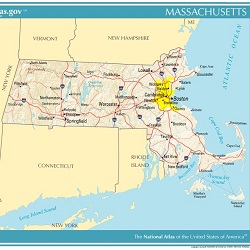 Could Massachusetts legalize it all?
Massachusetts has been mentioned very infrequently in 2018 with regard to online poker legislation. In fact, since State Senator Eileen Donoghue introduced a new bill in January 2018, the industry has been mum on Massachusetts.
However, the US Supreme Court decision pertaining to sports betting could be the impetus to change the direction and pace for all types of online wagering in Massachusetts. In fact, there are several reasons that the state could ramp up its efforts.
Reason 1:  Comprehensive Bill Pending
Donoghue introduced SD.2480 on January 17 as "an act to regulate online gaming, daily fantasy sports, and online sports betting." Soon after, it was referred to the Joint Committee on Economic Development and Emerging Technologies for consideration, where it has remained for several months. The only recent movement was to extend the reporting date to May 31.
Admittedly, there is little time to do much with this legislation unless lawmakers move quickly.
It could. Donoghue was one of the members of the special Massachusetts commission that gathered in 2016 and produced a report in 2017 regarding the topics contained in her bill. While the final recommendation to the legislature was to regulate daily fantasy sports soon and put other types of online gambling on hold for a later date, something prompted her to introduce a comprehensive bill this year that included sports betting and online poker and casino games. DFS was, in fact, legalized in 2016, but it was a temporary framework due to expire in the summer of 2017; Donoghue's bill will make DFS legal permanently.
There are few people more "in the know" than Donoghue as to what lawmakers would consider with regard to this topic, and her close work with Massachusetts Gaming Commission Chairman Stephen Crosby would indicate the commission's support for the bill as well.
Reason 2:  Commission Recommendation Pending
Speaking of that commission, its 2017 recommendation was that lawmakers legalize fantasy sports contests, but they have yet to do it.
There is no reason to wait any longer. The commission completed a year's worth of intensive and thorough study of the industry, its potential benefits and impact, and considered all sides of the online wagering business. The respected members saw a future for online poker and casino games, sports betting, and DFS in Massachusetts.
Reason 3:  Sports Betting Ruling Opens Doors
The Supreme Court decision on May 14 in favor of New Jersey allows every state to legalize sports betting if they choose. And according to the Boston Globe, all three Massachusetts casinos are interested in offering sports wagering and intend to speak to lawmakers about proposals.
I expect Massachusetts to legalize sports betting this year. It was one of the first states to provide legal clarity to #DFS, and state gaming commission has already provided a roadmap to legislators with its white paper earlier this year. https://t.co/Bzx9Q1G7jF

— Daniel Wallach (@WALLACHLEGAL) May 18, 2018
Even with that lobbying, lawmakers may want more information before moving forward, and Donoghue's aforementioned bill is set up to do exactly that. Her bill calls for a special commission to be assembled to review all aspects of online sports betting, including economic development, consumer protection, taxation, legal and regulatory structures, burdens and benefits to the commonwealth, and any other factors deemed relevant. While this pertains to offering sports wagering on the internet in addition to at the land-based casino operations, the study could easily be a comprehensive one to incorporate all types of sports betting.
With that said, if casinos support online sports betting and they are able to convince lawmakers to authorize it, it would make sense to include online poker and casino games in that law as well. If casinos are going to spend money on the technology and partner with online gaming platforms for sports betting, they can do other online games at the same time and save time, money, and effort.
Reason 4:  Influence of DraftKings
DraftKings is one of the two leading DFS providers in the world and began as a Boston-based startup. Just six years later, the company remains headquartered in Massachusetts and employs hundreds of people in the state. And its growth plan shows that it could easily employ more than 700 people by the summer of 2019.
As more states legalize DFS, DraftKings exerts more influence over lawmakers as an important part of the state's economy.
DraftKings to pursue gambling licenses after SCOTUS decision https://t.co/rjpHwuxN7r via @BosBizJournal

— Topgoal Media TV (@Topgoal) May 15, 2018
This makes it quite likely that DFS will be permanently legalized in Massachusetts at some point, and some lawmakers like Donoghue feel it would make sense to put other types of online gambling with it.
Reason 5:  Casinos Anxious to Compete
The brick-and-mortar casino business in Massachusetts is relatively new. Only due to the Expanded Gaming Act of 2011 did the state even open to three commercial casinos, and only recently did the Mashpee Wampanoag Tribe complete its compact with the state to move forward with its casino/resort.
The tribal project is the First Light Resort & Casino in Taunton, which is preparing to open, and the commercial MGM Springfield property is scheduled to open in August 2018. The Encore Boston Harbor casino is under construction and hoping for a 2019 grand opening. Currently, Penn National runs the Plainridge Park Casino establishment, which opened in 2015 as a slots parlor.
Casinos in surrounding states, especially new projects in New York, are preparing to lure tourists for gambling, and Massachusetts plans to compete in a big way with its new properties. The casinos will want to exert as much influence over gambling customers as possible, and enticements like online gambling will help. As evidenced by New Jersey's successful online gaming venture, internet games complement the land-based operations and enlarge the pool of potential customers.
As lawmakers and others have a vested interest in seeing Massachusetts casinos succeed, it would be a wise decision to give those properties the most modern and proven tools necessary with which to carry out that mission.
Twenty-Table Poker Room Could Open Up Earlier Than Expected In Massachusetts https://t.co/UXKYRegNMg pic.twitter.com/awfA8fxrAt

— Card Player (@CardPlayerMedia) February 22, 2017
Related Articles