Poker Hand Rankings: What Hands Win
One of the key basic concepts a poker player must know, is the poker hand rankings. A poker hand consists of five cards and the goal of most poker games online is to make the best five card hand. Thoroughly understanding the value of the different combinations of cards and knowing what combinations beat what is vital. The ranks are different depending on which game is being played, however, there are general poker hand rankings that we will look at in the chart below:
Ranking Poker Hands
The following is a standardized poker hand ranking chart for poker. There are 10 possible poker hands: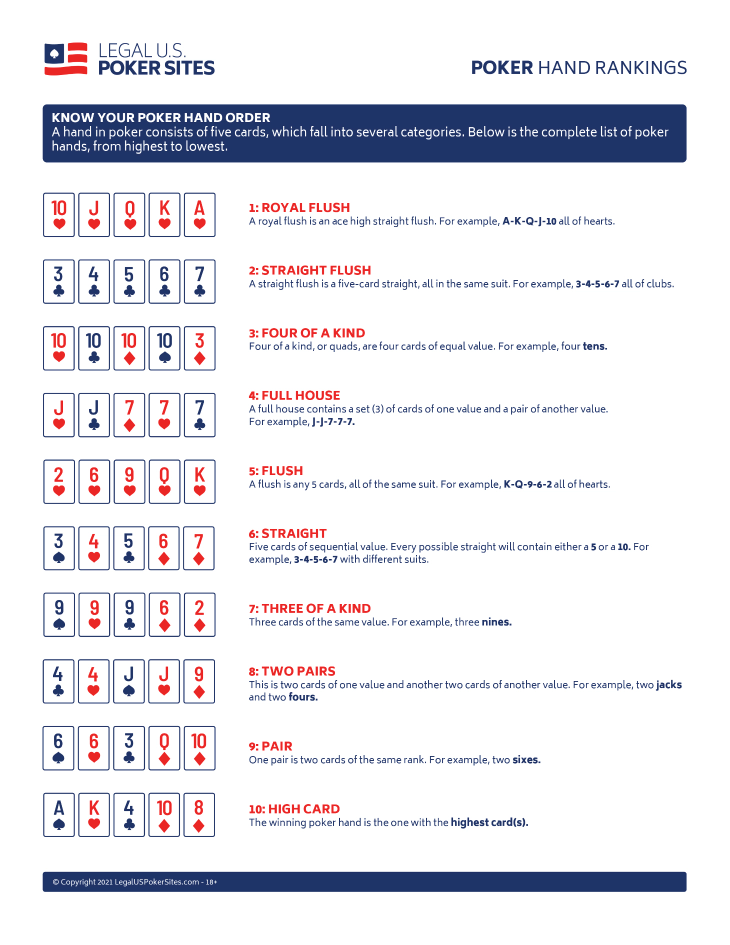 Poker variations, such as 7 card stud and Omaha hi-lo, have different poker hand rankings, so double-check and make sure you know the winning (and losing) hands of these games.
Poker Hand Kickers
There are certain occasions where two players find themselves holding the same best card combination. In this situation, declaring a winner comes down to the other cards the players are holding that are not contributing to the best hand combination. These extra cards are known as kickers, and the player with the highest kicker wins the hand.
Let's look at an example:
Player A has: King of Spades + 10 of Clubs
Player B has: King of Diamonds + Queen of Hearts
The Flop, Turn, and River: King of Hearts + 4 of Spades + 4 of Clubs + 6 of Diamonds + Jack of Hearts
In this case both players have a pair of kings and a pair of fours, but the differentiating factor here is that Player B has a Queen kicker and Player A has a 10 kicker. Therefore, Player B wins with the higher kicker.
Understanding the importance of kickers is a vital aspect of a good players strategy.
The Best Starting Poker Hands
In order to achieve the best poker hand combination, it's important to know what starting hands provide you the best opportunity to do so. Betting preflop with the correct hands will drastically help your chances at winning more pots.
Let's look at the top 10 best starting poker hands for Texas Hold'em:
Pocket Aces
Pocket Kings
Pocket Queens
Pocket Jacks
Ace-King Suited
Pocket Tens
Ace-King Offsuit
Ace-Queen Suited
Pocket Nines
Ace-Jack Suited
Absolute vs Relative Value
Every hand in poker contains two different values, an absolute value and a relative value, and it is crucial for players to understand the distinction between the two. Absolute value is the value of the hand on its own. Our list of the top 10 best starting hands above is ranked based on their absolute value. Relative value is the value of a player's hand with respect to the flop, turn, and river. For example:
Player A: Ace of Clubs + Ace of Diamonds
The Flop, Turn, and River: 10 of Hearts + 9 of Hearts + 8 of Spades + 6 of Hearts + Jack of Clubs
In this scenario pocket aces have a very high absolute value, but a significantly lower relative value based on the community cards showing. The opponent could have a flush, straight, or even straight flush, all of which beat pocket aces. This is why not getting too caught up in the absolute value of hands are important. Community cards can drastically change the relative value of your hand, and should be accounted for during your play.
Supplies You Need to Play
There are supplies you'll need in order to execute this if you're playing with family and friends. You'll need betting chips, a deck of cards and a dealer. However, if you've decided to play in online poker rooms, you'll just need a device that connects to the internet or cellular data.
A Tip to Remember
It's important to keep something top of mind when playing poker: the higher the poker hand rankings, the less likely it is that that hand will be filled out. That's not to say it's not going to happen, but when playing, especially for real money, it's crucial to remember this, in order to manage your own expectations and increase your chance of winning on a hand you're more likely to fill.
The Best Strategy
Understanding the poker hand rankings of the game being played can help your chances of winning, especially when playing real money online poker. This is the number one overall strategy – knowing hands helps players understand whether to check, bet or fold. It can really shape your game and your win.
FAQs
Suits are the symbol on each card: clubs, diamonds, spades and hearts.
The ranking order from highest to lowest is spades, hearts, diamonds and clubs. However, in most poker games, like Texas Hold'em, the suits are all ranked equally.
 What happens when the highest hand is tied?
If the highest hands are tied, the player with the highest card will win.
The best hand is a royal flush, however, in 7-card stud, the highest hand is a five of a kind, which can only be possible when one card is wild.
The worst hand one can have in poker is a high card. The worst hand holding the highest lowest high card hand, however, is 2, 3, 4, 5, 7.