Zynga Adds New Fast-Play Game to WPT Tournaments
By
April 3rd, 2019 | Last updated on April 3rd, 2019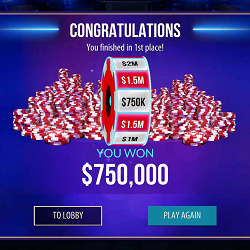 More than one year ago, in February 2018, the World Poker Tour announced a multi-year partnership with Zynga for the social gaming developer to introduce a series of games using the WPT brand. The in-game tournaments were to have the WPT theme, offer free-play poker, and introduce more players to the poker tournament experience.
The first step in that relationship came seven months later when Zynga Poker launched what would become its World Poker Tour Tournament Center. The action included the new tournament mode in Zynga Poker, five-handed tables for faster play, and more and higher stakes for the ability to win more virtual chips in tournaments.
As of the end of March 2019, the second major step in the deal came to fruition with the launch of Spin and Win tournaments. The free-poker option offers players the chance to do what many real-money online poker players have been doing for some time, that is playing short-handed fast poker in tournament mode, complete with expanded prizes.
Looking for a faster game? Want the highest buy-in and largest payout possible ?? Spin & Win is for you! Play our new Spin & Win game mode in the @WPT Tournament Center and tell us and @LynnGilmartin what you think! FREE CHIPS: https://t.co/KWKWVpn0OV #ZyngaPoker #ZyngaXWPT pic.twitter.com/EGqaxhRqdW

— Zynga Poker (@zyngapoker) March 29, 2019
Spin and Win
The announcement came on March 28. Zynga Poker revealed its new Spin and Win mode in the World Poker Tour Tournament Center of its free-play online and mobile game.
Zynga President of Publishing explained the reason for the new games: "Our players have asked for faster-paced tournaments with bigger rewards, and we believe Zynga Poker's new Spin and Win tournament mode truly puts our players in the hottest seats at the table. Combining this quicker, more aggressive tournament style with the famous World Poker Tournament brand gives players the most compelling virtual experience in the sport of poker."
Players who choose this mode of play will find three-handed tournaments that only last approximately five to eight minutes each. When the three players buy in with virtual chips, they spin a wheel to determine the payout for the eventual winner, which starts at two times the amount of the buy-in but can be up to 10 times the amount.
Spin and Win action requires the competitors to experiment with a more aggressive style and quickly garner the chip lead to win. This strategy is effective in other tournament situations as well, and players will find that the aggression helps them in live poker scenarios should they make that transition.
Our fastest game ♥️♠⬥♣ experience is now live! 3-player tables are here in the new Spin & Win game mode on Zynga Poker! Tell us what you think. ? #ZyngaPoker #ZyngaXWPT

?FREE CHIPS?: https://t.co/26Ypi4rBJr pic.twitter.com/oqmVK3osOv

— Zynga Poker (@zyngapoker) April 2, 2019
The free downloadable Zynga Poker app is available in the App Store and Google Play, and it is also available on Facebook without a download required.
Zynga Aims to Reclaim Social Poker Status
At one time, Zynga Poker was the most popular free-play online poker option, but it has since lost some of its market share to competitors.
But Zynga CEO Frank Gibeau told Venture Beat in February that he sees great potential for the growth of Zynga Poker in 2019, despite some issues in 2018. "It had a really good first half of 2018. Then, about midsummer, it got some hits from a Facebook platform shift, as well as some challenges inside the game economy. We've been working through that."
Gibeau continued, "It's performing at its peak. It's just not growing as much as we want it to." He attributed much of the latest numbers from the 10-year history of Zynga Poker to standard shifts and economic changes. "We need to make some adjustments to some of the tournament structures," he added. "It'll return to growth in 2019. It remains a forever franchise for us. We hope to be in business with it for another 10 years."
For the entirety of 2018, Zynga took in $316 million in revenue, but that number was down 5.4% from the previous year and comprises only a 6.1% social gaming market share. According to Eilers & Krejcik Gaming, Playtika is the far-and-away market leader with 28.3% of it.
Related Articles