WSOP Online in US Sets Its Main Event Final Table
By
December 15th, 2020 | Last updated on December 15th, 2020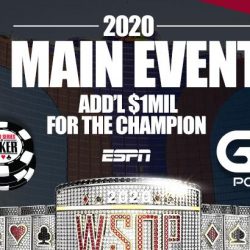 Another piece of the World Series of Poker Main Event puzzle is in place.
Last week, the international players competed for their spots at the WSOP Main Event final table on GGPoker. That tournament brought in 674 players and a prize pool of $6,470,400. The top 80 players finished in the money, but only nine made it to the final table. That is playing out live at King's Casino this week in the Czech Republic.
Players in the United States needed to be located in Nevada or New Jersey to compete in the US WSOP Main Event online. They did sign up to play in big numbers, actually eclipsing the international tally.
Now, the final table is set for December 28. The action is scheduled, pandemic permitting, for December 28 at the Rio in Las Vegas.
US Main Event Delivers a Record
Players bought into the US version of the WSOP Main Event for the same price as those on GGPoker — $10K with no reentries. There was only one starting day for US players, though. It kicked off on Sunday, December 13 on WSOP.com.
As usual, PokerNews was on top of the action with its live updates.
When the tournament got underway, players put in their $10K buy-ins by the hundreds…and thousands. After registration closed, the numbers exceeded those from the international version and set a record for the new state-regulated online poker market in the US.
–Total players: 705

–Total prize pool: $6,768,000

–Total players paid: 107

–Minimum payout: $14,890

–Winner payout: $1,553,256
Adrian "ParTee" Buckley's exit on the bubble in Level 21 set the payouts into motion. Some of the people collecting something for their troubles were Nick "nickyp1010" Palma, Matt "Nitr0" Affleck, Daniel "DNegs" Negreanu, Lauren "sycamore22" Roberts, and Michael "miguelfiesta" Lech.
Play ended with 71 players remaining and Upeshka "gomezhamburg" De Silva holding the chip leads. A player called "vforvictoria" was second, followed by Samthedog76 and Taylor "zeroto100" Von Kriegenbergh.
Giddy uphttps://t.co/RAPURLfbvm

— Upeshka De Silva (@PadawanPesh) December 14, 2020
Nine Players Survive Day 2
On Monday, December 14, those 71 players returned to the virtual tables, though some like Barry "puigmyfriend" Hutter and Ryan "Protential" Laplante didn't last long. Others who cashed in subsequent levels included Nick "cashusklay" Schulman, Galen "turkmalloy" Hall, Shankar "Burgersssss" Pillai, Darren "darrenelias" Elias, Jim "BOCARATONE" Callopy, former Main Event champion Ryan "BiTC0iN" Reiss, Freddy "nevera" Deeb, Scott "ThatsPraxis" Seiver, Mohsin "bubbletea3" Charania, Joeseph "biueberry" Cheong, and Jason "haderade" Somerville.
From the top of the chip counts at the start of the day, Vikanty "vforvictoria" Shegal busted in 25th place, and Taylor "ZeroTo100" Von Kriegenbergh followed in 23rd place.
Maria "femmeonfelt" Ho took $35,194 for 22nd place. And as the final table approached, Dan "pepperprince" Zack took home $77,832 for 11th place and Anthony "nowb3athat" Spinella grabbed the same amount for 10th place.
With that, play ended with the final nine in place:
Joseph "kolebear" Hebert (13,052,534 chips)

Shawn "shades927" Stroke (5,252,000)

Ryan "Hagzzz021" Hagerty (5,071,572)

Ye "YUAN365" Yuan (4,829,459)

Michael "geNet1x_" Cannon (4,408,847)

Gerson "jets613" Distenfeld (3,475,481)

Ron "Samthedog76" Jenkins (2,476,746)

Upeshka "gomezhamburg" De Silva (2,151,969)

Harrison "Harrisond33" Dobin (1,581,392)
The only previous WSOP bracelet winner in the group. De Silva won one last year at the Rio, one in 2017, and his first in 2015. This year, he was a prominent player in the WSOP Online 2020 at WSOP.com, cashing in 10 events, one of which was a final table finish. He also left America to play in the WSOP Online 2020 at GGPoker in September, where he cashed in another two events.
Hebert cashed in two WSOP.com bracelet events this summer and cashed in numerous WSOP and WSOP Circuit events through the years. Stroke, Cannon, Distenfeld, and Yuan also each cashed in two WSOP.com online events this summer.
Dobin cashed in eight WSOP.com events this summer, including a final table finish in Event 18. Hagerty cashed in seven online WSOP events this summer. Jenkins' poker successes have been mostly in live tournaments.
Now…They Wait
The plan is that the nine finalists show up at the Rio in Las Vegas to play the final table live on December 28. Due to Covid-19 dangers, players may skip it and simply take the ninth-place prize money. Those who do choose to participate will compete for these final table payouts:
1st place:  $1,553,256

2nd place:  $1,002,340

3rd place:  $529,258

4th place:  $387,130

5th place:  $286,963

6th place:  $215,222

7th place:  $163,786

8th place:  $125,885

9th place:  $98,813
We have reached the final table of the https://t.co/k6cF9BfdmO Main Event. Congrats to all players! The tournament is no longer available to view in the client. The Final 9 players will be contacted by a WSOP representative in the next 24 hours. pic.twitter.com/rckermTbma

— WSOP (@WSOP) December 15, 2020
Related Articles