WSOP Main Event Final Table Day 1 – Dyer Takes Monster Lead as Labat, Metalidi and Lynskey Fall
By
July 13th, 2018 | Last updated on July 29th, 2018
Home
»
Poker News
»
WSOP Main Event Final Table Day 1 – Dyer Takes Monster Lead as Labat, Metalidi and Lynskey Fall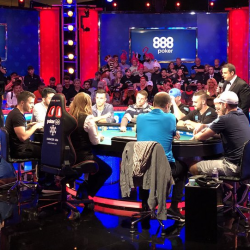 The final table of the 2018 WSOP Main Event kicked off on Thursday with Nicolas Manion and Michael Dyer both starting with over 100 million each. An insane final hand on Wednesday put Manion into the chip lead and left Antoine Labat the short stack.
The two big stories of the final table are John Cynn and Joe Cada. Cynn finished 11th in the Main Event in 2016 and is looking to win it all this time around. Joe Cada is the 2009 Main Event champion and looking to become just the fifth player in WSOP history to win two or more Main Event titles.
Below are the final table chip counts at the start of the final table.
Nicolas Manion – 112,775,000
Michael Dyer – 109,175,000
Tony Miles – 42,750,000
John Cynn – 37,075,000
Alex Lynskey – 25,925,000
Joe Cada – 23,675,000
Aram Zobian – – 18,875,000
Artem Metalidi – 15,475,000
Antoine Labat – 8,050,000
Labat May Never Play Pocket Kings Again After 9th Place Finish
As the poker world already knows, Antoine Labat lost most of his chips in the final hand on Wednesday when both he and Yeuqi Zhu ran pocket kings into the pocket aces of Nicolas Manion. This made him the short stack heading into the Main Event final table.
Down to just 6.45 million, he looked down to pocket kings and there was only one move to make – min-raise. Yes, he just min-raised. Action folded to Artem Metalidi who looked down to pocket queens and with just 10 million in his stack, he shoved. Labat made the easy call and to the flop they went.
Incredibly, the flop fell As-Qd-5s and Labat was again behind with pocket kings. The turn 9s and river Ad missed Labat and he was the first player eliminated from the final table.
Antoine Labat raised, Artem Metaldi reraised and called Labat's shove with QQ versus Labat's KK. A queen on the flop was enough to send the Frenchman to the rail in 9th place for $1,000,000.

(Photo credit @MannyDaxwell from @PokerPhotoArciv ) pic.twitter.com/cPMG3AvEJE

— WSOP (@WSOP) July 13, 2018
Antoine Labat went from a middle stack with ten players last night to finishing ninth. While a $1 million prize for ninth will certainly help sooth the sting of his losses, we wouldn't be surprised if he doesn't become gun shy when playing pocket kings in the future.
Set of Fives No Good As Metalidi Busts in Eighth
Artem Metalidi started the final table as the second shortest stack but was unable to get anything going. Finally, he looked down to pocket fives and shoved. Aram Zobian shoved from the small blind with Kd-Qd and it was off to the races.
The flop fell 6d-5h-2d to give Metalidi a set but Zobian picked up a flush draw. The turn Kc gave Zobian a pair of kings but he needed diamonds. The river fell the 4d to give Zobian a flush and eliminate Matalidi in eighth place.
Metalidi was only the second player in history from Ukraine to make the Main Event final. Anton Makiievskyi was the first to do so back in 2011. Unfortunately, Metalidi finished in the same spot as Makiievskyi. For his deep run, Metalidi took home $1.25 million.
Artem Metalidi moved all-in with pocket 5's, Aram Zobian called with KdQd. The flop came 6d 5h 2d, the Kc on the turn was followed by the 4d on the river, giving Zobian a flush as Metalidi exited in 8th for $1,250,000

(photo credit @JoeGironPhoto of @PokerPhotoArciv) pic.twitter.com/3m4UC3VXPs

— WSOP (@WSOP) July 13, 2018
Alex Lynskey Goes 0 for Final Table – Finishes Seventh
Alex Lynskey started the final table fifth in chips but ran incredibly cold. Poker can be tough, but when you're both card dead and unable to steal pots, it's impossible to win. Lynskey slid down to the short stack with seven left.
Finally, he woke up with pocket sixes and was all-in pre-flop. John Cynn made the call with Ks-Qs and Lynskey's rail started calling for a six. The flop fell 10c-9c-3c to give Cynn a gutshot. The turn 10d missed both but the river fell the Jc to give Cynn a straight and send Lynskey home in seventh.
Lynskey was the first Aussie to make the WSOP final table since Joe Hachem won it all in 2005. Hachem would be proud of Lynskey's performance, but Lynskey is certainly heartbroken that he couldn't make it past Day 1 of the final table. He earned $1.5 million for his seventh-place run.
Alex Lynskey moves all-in with pocket 6's, John Cynn calls with KsQs, The board runs out Tc 9c 3s Td Jc, sending Lynskey to collect $1,500,000 for 7th place.

Play continues until the end of the level or another elimination.

(photo credit @MannyDaxwell of @PokerPhotoArciv) pic.twitter.com/ho8T550eTS

— WSOP (@WSOP) July 13, 2018
Dyer Dominates Day 1 of the Final Table – Cada Still in Contention
Michael Dyer came into the unofficial final table with a monster chip lead and only the super cooler that ended Day 7 wrestled that lead away. During Day 1 of final table action, Dyer again dominated and proceeded to lap the field yet again.
At one point, Dyer had a 100 million chip lead over the rest of the field before giving some back before the end of the first day of final table play. He still has more than double his second closest opponent and is in great shape to make the final three. As he told ESPN prior to the final table, "Poker is a lot easier when you have a dynamic separation from the other stacks."
Joe Cada had an up and down Day 1 of the final table but managed to pick up some chips at the end of the day to finish in fifth chip position. He will return with 29 big blinds on Friday. 
Action will resume on Friday and play down until the final three players. Below are the chip counts heading into Day 2 of the 2018 WSOP Main Event final table. 
| | | |
| --- | --- | --- |
| 1 | Michael Dyer | 156,500,000 |
| 2 | Nicolas Manion | 72,250,000 |
| 3 | John Cynn | 61,550,000 |
| 4 | Tony Miles | 57,500,000 |
| 5 | Joe Cada | 29,275,000 |
| 6 | Aram Zobian | 16,700,000 |
Related Articles