WSOP 2020 Online Begins in US Alongside OC Series
By
July 1st, 2020 | Last updated on July 1st, 2020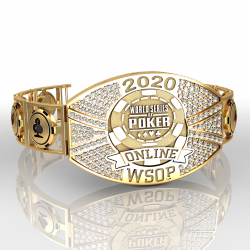 Just three weeks ago, the World Series of Poker announced that it would put its 2020 WSOP events online. The series would be split between the US market and a more global audience. The action would begin on July 1 on WSOP.com, available only to players in New Jersey and Nevada, with one event running each day through July 31. The rest of the events would be on GGPoker, a site open to Canada, Mexico, and many other countries in the world. That 54-event series will begin July 19 and run through September 6.
The schedule looks very different than the 101-event lineup proposed for the traditional summer series at the Rio in Las Vegas, but the current online poker environment has its limitations. Coronavirus also presents many stumbling blocks, which is why the 2020 WSOP is online in the first place.
Today, it all begins.
The WSOP.com portion of the series gets underway today, July 1, with a $500 buy-in No Limit Hold'em Kickoff tournament.
Our biggest month ever starts today on https://t.co/Nnepu1Mgzb. There's a WSOP Gold Bracelet event EVERY day as well as our signature Online Championships with over $6 million in guarantees for the whole month of July.
NV: https://t.co/3lIJiUvC3N NJ: https://t.co/vU1WX5mbEY pic.twitter.com/tk8rVlcsKj

— WSOP.com (@WSOPcom) July 1, 2020
But wait, there's more!
WSOP.com Online Championships
Right alongside the WSOP 2020 Online events on WSOP.com will be the site's signature series. The Online Championships (catchy title, no?) is a series that will run concurrently with the bracelet series. The OC will not offer WSOP rings or bracelets but does offer prize pool guarantees and a champion's belt to the Main Event winner.
This series begins today and will offer several tournaments per day – 140 in total through the end of July. And the cumulative guarantee is $6 million.
While the WSOP.com bracelet series does not have a Main Event in America, the OC does. It will be Event 113, a $525 buy-in NLHE tournament with reentry and a $400K guarantee on July 26.
Players will find a couple of Player Appreciation tournaments in the mix with prizes added and several events with prize pool guarantees exceeding $100K.
The full schedule is on the WSOP website.
Yes, There is a Leaderboard
As will be offered on GGPoker for that portion of the official WSOP series, there will be a leaderboard competition on WSOP.com as well.
The leaderboard promotion for the WSOP 2020 Online in the US has its own page and is now official. It will pay out the top 50 players in the series of 31 tournaments, with the top 50 finishers winning pieces of $100K in prize money.
Prizes will be paid out as follows:
1st place:  $18K

2nd place:  $12K

3rd place:  $9K

4th place:  $7K

5th place:  $5K

6th place:  $4K

7th place:  $3K

8th – 9th places:  $2K each

10th – 12th places:  $1,500 each

13th – 17th places:  $1K each

18th – 25th places:  $950 each

26th – 34th places:  $900 each

35th – 50th places:  $800 each
WSOP 2020 Online Schedule Reminder
We did post the full WSOP.com portion of the schedule and will repost it here for convenience.
July 1:  $500 NLHE Kickoff (2 reentries)

July 2:  $1K NLHE 8-Handed Deepstack (2 reentries)

July 3:  $400 NLHE (2 reentries)

July 4:  $500 NLHE Super Turbo (2 reentries)

July 5:  $1K NLHE Freezeout

July 6:  $600 PLO-8 6-Handed (3 reentries)

July 7:  $800 NLHE Knockout Deepstack (2 reentries)

July 8:  $500 NLHE Freezeout

July 9:  $1K NLHE 6-Max (2 reentries)

July 10:  $600 NLHE Monster Stack (2 reentries)

July 11:  $500 NLHE Turbo Deepstack 6-Handed (2 reentries)

July 12:  $500 NLHE Big 500 (3 reentries)

July 13:  $1,500 NLHE High Roller Freezeout

July 14:  $3,200 NLHE High Roller (2 reentries)

July 15:  $1K PLO 8-Max High Roller (3 reentries)

July 16:  $500 NLHE Turbo (2 reentries)

July 17:  $777 NLHE (2 reentries)

July 18:  $1K NLHE 8-Handed Turbo Deepstack (2 reentries)

July 19:  $400 NLHE (3 reentries)

July 20:  $500 PLO 6-Handed (3 reentries)

July 21:  $777 NLHE 6-Handed (2 reentries)

July 22:  $500 NLHE Turbo Deepstack (2 reentries)

July 23:  $500 NLHE Knockout

July 24:  $400 NLHE 8-Handed (2 reentries)

July 25:  $500 NLHE Summer Saver (2 reentries)

July 26:  $500 NLHE Grand Finale (3 reentries)

July 27:  $400 NLHE Freezeout

July 28:  $1K Omaha-8 6-Max (2 reentries)

July 29:  $600 NLHE Turbo Deepstack 6-Handed (2 reentries)

July 30:  $500 NLHE Seniors (2 reentries, players must be 50 or older)

July 31:  $1K NLHE Championship (2 reentries)
"It's why we play tournament poker" pic.twitter.com/utOHsDpivg

— WSOP (@WSOP) June 26, 2020
Related Articles