WPT Partners with Blockchain Sportsbook FansUnite
By
October 12th, 2018 | Last updated on October 1st, 2020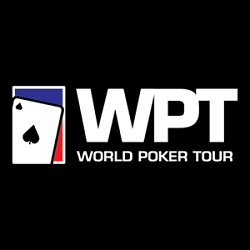 The World Poker Tour is known for its partnerships that have forged new ground in the world of poker. While most poker businesses have relied solely on internet poker sites, land-based casinos, and other gambling-related companies for advertising, the WPT has gone beyond those traditional entities, bringing new names into contact with the poker community.
Companies like Hublot and Monster have been associated with the WPT for years and have prominent placement on the television shows, as winning players often receive prizes from those companies. But sponsorships with companies like Fiat and Royal Caribbean International are more groundbreaking, introducing new players to the game, so to speak.
The latest deal for WPT was announced this week as a global partnership with FansUnite Entertainment, a blockchain sportsbook.
.@WPT Enters Into Global #Blockchain Integration Partnership With @fansunite#poker #Decentralization #betterforbettorshttps://t.co/Sv2tMscRoc pic.twitter.com/1SyxDXTpz6

— Victory Square Technologies (@VicSquareTech) October 11, 2018
Deal Details
The purpose of the deal with FansUnite is to "integrate the innovative, award-winning blockchain sportsbook across the WPT's global platform."
That sounds like a significant task, and it is. It will start with FansUnite appearing on the Canadian Super channel via QYOU's "Heads Up Daily" series, and it will extend to various cross-promotional social media campaigns throughout Europe and Asia. In addition, the WPT will benefit from FansUnite's partnership with Leicester City Football Club in the English Premier League.
WPT CEO Adam Pliska noted, "The sports betting and blockchain industries continue to provide applications to the gaming world, and the World Poker Tour is proud to name FansUnite as an official partner." He added that WPT fans and players will begin to see more about FansUnite through television, digital media, and at live events.
Being able to tap into the global reach of the WPT gives us a platform to introduce our protocol and sportsbook to potential partners looking for a blockchain-based solution for their business, thousands of players/bettors looking for better odds, and millions of home viewers.

— FansUnite (@fansunite) October 10, 2018
What Is It, Exactly?
The world of technology becomes more complicated quickly these days, so it's important to try to explain a bit of what FansUnite is and does.
First and foremost, FansUnite is a platform on which websites can offer sports betting via betting exchanges, daily fantasy contests, or other offerings that require the use of sports data. Benefits of FansUnite include special tokens to incentivize customers and a transparent marketplace that provides ultra-accurate odds for bettors.  And all of it is done within a blockchain-based infrastructure.
Blockchain is a list of records and data build on virtual blocks and linked by cryptography, with each block containing a timestamp of the previous one. According to Wikipedia, which uses as basic an explanation as one can find, a blockchain is resistant to data modification, recording transactions permanently and possibly connected on a peer-to-peer network. It is setup to provide as secure a platform as possible.
FansUnite is proud to announce that we have joined the Enterprise Ethereum Alliance (EEA). 🚀 https://t.co/M2PJucbD2r

— FansUnite (@fansunite) October 4, 2018
What's in It for Poker Fans?
That remains to be seen. At this point, it seems that FansUnite is going to be a sponsorship agreement for all intents and purposes. However, the use of the word partnership indicates that there could be more to it.
It is common knowledge that many poker players are also fans of sports betting and daily fantasy sports contests. Walking into any live poker room will demonstrate that many players are also watching sports on the room's televisions. And checking the social media feeds of most poker players will show an affinity for sports and betting.
This could be the WPT's way of expanding slowly beyond the realm of poker and into the booming world of sports betting and DFS. With the impending launch of sports betting markets in a plethora of American states in the coming year and an ever-growing global market, it would be no great shock to see the WPT test the waters.
Related Articles