WPT Champion Pleads Guilty to Embezzling Millions
By
December 2nd, 2019 | Last updated on December 2nd, 2019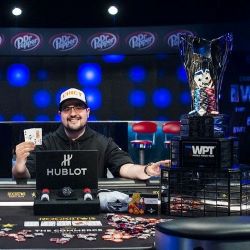 The story was incredible but failed to gain much traction in the media. It was July 2019, and the World Series of Poker was wrapping up in Las Vegas. The WSOP Main Event field was thinning toward the final table, and poker fans were focused on the possibilities.
Meanwhile, though, a federal grand jury indicted Dennis Blieden for embezzling $22 million from his former employer. He used the money for poker tournament buy-ins and some other forms of gambling. That was big news in itself, but there was more.
Blieden was a World Poker Tour champion. In early 2018, he won the WPT L.A. Poker Classic Main Event for $1 million.
Dennis Blieden (@D_Bloc) wins WPT @LAPC Championship and $1 million from @CommerceCasino! pic.twitter.com/xz8Loe5cZg

— World Poker Tour (@WPT) March 2, 2018
About two weeks ago, Blieden pleaded guilty to the charges and now faces up to 22 years in prison.
Who is Dennis Blieden?
Late on February 28, 2018, WPT reporters were finishing their work on the second-last day of the WPT L.A. Poker Classic Main Event at Commerce Casino in Southern California. They had gathered information about the six final table players, and they were summarizing it all for readers on the WPT live updates blog.
One of the players was Dennis Blieden. The 28-year-old was second in chips of the six players.
According to the write-up, Blieden hailed from Cincinnati, Ohio. He worked as the Vice President of Finance for StyleHaul, a digital media and marketing company based in Los Angeles that focused on fashion, beauty, and lifestyle. The company represented YouTube and Instagram influencers.
His tournament results to that point showed a min-cash in a WSOP tournament in 2016 and a 13th place finish in a $5K WSOP NLHE event in 2017. His live tournament earnings to that point totaled less than $22K. The first WPT event that Blieden ever played was the LAPC, and he made the final table without even appearing "the slightest bit intimidated" at playing at such a high caliber.
Blieden then battled poker pro Toby Lewis at the short but powerful final table. The two made it to heads-up play with Blieden holding a significant lead, and he won it in just two hands.
The perfect turn card turns Dennis @D_Bloc Blieden into the newest @WPT millionaire!
Wins #WPTLAPC for $1,000,000! 🏆💰
▶️: https://t.co/4E2f3MYHuj pic.twitter.com/ntKjUK3li6

— PokerGO (@PokerGO) March 2, 2018
Blieden won $1 million in cash, including a $15K entry to the WPT Tournament of Champions, a WPT Champion's trophy, a Commerce Casino Remington trophy, a Hublot Big Bang Steel watch, and a JetSmarter membership worth $5K.
It was the classic story of a recreational poker player who took a chance at the WPT and made his poker dream come true.
Not Even Half the Story
That story may have been great for poker audiences, but there was much more happening behind the scenes.
On July 11, 2019, more of Blieden's story was revealed. The US Attorney's Office of the Department of Justice for the Central District of California arrested Blieden on charges of embezzling $22 million from StyleHaul. A federal grand jury indicted him on 11 counts of wire fraud, one count of aggravated identity theft, and two counts of forfeiture.
At that time, Blieden was 29 years old and living in Las Vegas, which was where he was arrested on July 10, 2019. He was to be arraigned and tried in Los Angeles, where he lived when he worked for StyleHaul.
The indictment revealed that Blieden had been the company's VP of Accounting and Finance from October 2015 to March 2019. He controlled the company's bank accounts.
Not only did Blieden wire money to his own personal bank accounts, he also found other ways to steal company funds. He created a fictitious lease for a StyleHaul executive in Mexico and transferred money to fictitious clients.
The indictment alleged that the stolen money was used for "buy-ins at professional poker tournaments, crypto-currency investing, and other personal expenses."
Further, Blieden used stolen money to write $1,204,000 in personal checks to poker players. He also used cash to enter poker tournaments with $52K and $103K buy-ins. He also used more than $1.13 million to pay off credit cards and more than $8.4 million to put into crypto-currency accounts.
The charges amounted to a statutory maximum sentence of more than 200 years in federal prison if convicted on all charges.
Pleading Guilty to Two Counts
On November 22, the US Attorney's Office issued another press release about the case.
Blieden pleaded guilty to two of the counts from the original indictment: one count of wire fraud and one count of aggravated identity theft.
The plea agreement found Blieden admitting to making fraudulent entries in StyleHaul's accounting records and falsely wiring money to himself instead of clients. He also showed payments to himself as "equity" draws that the company owed him. And he created false wire transfer letters authorizing some of the money transfers to "clients" and admitted to the false rental agreement for the Mexico condo that resulted in the transfer of $230K.
With the two guilty pleas, Blieden faces a maximum sentence of only 22 years in federal prison, a dramatic reduction from the original scenario.
Blieden will be sentenced at a hearing on March 20 by US District Judge Andre Birotte Jr.
StyleHaul Goes Busto
The Department of Justice paperwork reveals that Blieden lost his job at StyleHaul in mid-February 2019.
One month later, StyleHaul announced that most of its US staff had been or would be laid off, and the remaining operations would move to Europe under the guidance of its parent company. Within days, however, those plans were abandoned. StyleHaul immediately closed and ceased all operations.
The company did not provide details to the media at the time about its sudden shutdown.
The timeline of the events, including Blieden's release from the company just months before his federal indictment, seems suspicious.
Related Articles