WPN Awards $9.4M in Latest Venom Online Tournament
By
February 8th, 2021 | Last updated on February 8th, 2021
Home
»
Poker News
»
WPN Awards $9.4M in Latest Venom Online Tournament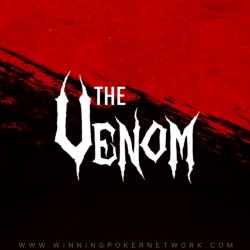 Americas Cardroom promoted it for months. All sites on the Winning Poker Network hosted the tournament, one that has become synonymous with breaking records and accumulating massive prize pools. And the Venom struck again.
This Venom tournament didn't set a new record, but that's not to downplay its success. It was very much a success.
The event boasted of an $8M guarantee on the prize pool. The number of players and entries flew past that number, though, and surpassed $9.4M. And when it was all said and done, a Brazilian player collected more than $1.1M for the win.
🏆 We have a new Venom champion: long live the king PORKNOMAR 🐷! You now have 1,113,330 reasons to smile, as the new addition to the #PokerMillionaire's club. 🕷️#VenomTournament #TheVenom #ACR #PokerFun #PokerTournament #8MillionVenom #Venom2021 #poker pic.twitter.com/uuyisXQ3vJ

— Americas Cardroom (@ACR_POKER) February 4, 2021
Venom History
It all started in 2019. The decision-makers at the Winning Poker Network (WPN) wanted to create a massive tournament, the largest in recent years for US-facing poker sites. They called it the Venom.
From the first one in the summer of 2019 to the one that just concluded during the first week of February, the Venom has continuously surpassed expectations.
–Venom 1 (July 2019):  $5M GTD < $6,382,500 prize pool

–Venom 2 (December 2019):  $6M GTD < $6,740,000 prize pool

–Venom 3 (July/August 2020):  $7M GTD < $9,680,000 prize pool

–Venom 4 (January/February 2021):  $8M < $9,435,000 prize pool
There was also one different Venom in 2020, one with the popular progressive knockout format:
–Venom PKO (October 2020):  $5M GTD < $6,777,500 prize pool
Let's see how the latest Venom went down.
Venom 2021
This most recent Venom started on January 22 and cost $2,650 to enter, though many players found their entries at a discount through satellites and qualifiers. The tournament offered four starting flights through January 31. All of the survivors gathered again on February 1. As for the starting flights, they led to stellar final numbers:
–Day 1A (Friday, January 22): 503 entries
–Day 1B (Sunday, January 24): 928 entries
–Day 1C (Friday, January 29): 742 entries
–Day 1D (Sunday, January 31): 1,601 entries
–Total entries: 3,774
–Total prize pool: $9,435,000
–Total final table payouts: $3,456,040.50
–Total paid players: 591
All players who made it through their starting flights with chips returned on February 1 to play further. There were 596 players at the start, and five of them quickly busted to put the rest of the field into the money for at least $3,774.
Only 65 players returned for Day 3 on Tuesday, February 2. They played down to eight players, all of whom set to return on February 3 to play for the win.
We have a final table! And this is how we got here!

See you tomorrow at 5pm ET for the live stream at https://t.co/vkrKB66U05#Venom #VenomTournament pic.twitter.com/uKv088IYLi

— Americas Cardroom (@ACR_POKER) February 3, 2021
Wire to Wire Win
The players entered the final table with these chip counts:
-1. PORKNOMAR = 285,618,886 chips

-2. SmashedAvocado = 223,189,508 chips

-3. ninjaman100 = 192,835,747 chips

-4. geNet1x = 184,542,224 chips

-5. Ha19000 = 101,577,668 chips

-6. Pl3aseMuck = 65,847,082 chips

-7. GORDONITO = 42,034,680

-8. GreekerFreaker = 35,548,964 chips
Play started somewhat cautiously, but GreekerFreaker lost ground and finally went all-in with his six big blinds. PORKNOMAR called and prevailed, reducing the field to seven. Pl3aseMuck soon risked their last 11 big blinds, but SmashedAvocado sent that player out in seventh place.
GORDONITO was down to four big blinds before pushing all-in and doubling up. GORDONITO climbed up to more than 20 bigs and then decided to push it with K-9 suited preflop. PORKNOMAR called with pocket queens. The flop delivered two more to the flush, but the river failed, and GORDONITO busted in sixth place.
Five-handed play went on for awhile until ninjaman100 got it in with more than 30 BBs with A-Q against the pocket kings of PORNOMAR. But a king solidified the win on the turn and ousted ninjaman100 in fifth place. Ha19000 lost a big pot to PORNOMAR, relegating the former to eight big blinds, which shrunk to six before moving all-in with A-J. SmashedAvocado called with A-10 and found a 10 on the river to bust Ha19000 in fourth.
GeNet1x was down to fewer than nine BBs when pushing with K-J suited, but PORNOMAR had pocket aces. Those aces held, and geNet1x busted in third place.
PORKNOMAR took the lead into the all-Brazilian heads-up portion of the game and only increased it round over round. SmashedAvocado hung in for more than an hour of play but finally moved all-in with 28.42 big blinds holding A-J. But PORNOMAR called with pocket jacks. The board delivered 6-6-3-3-5, and PORNOMAR won the Venom.
The final payouts were:
-1st place:  PORKONOMAR (Brazil) $1,113,330

-2nd place:  SmashAvocado (Brazil) $849,150

-3rd place:  getNet1x (USA) $612,331.50

-4th place:  Ha19000 (Russia) $382,117.50

-5th place:  ninjaman100 (Lebanon) $217,005

-6th place:  GORDONITO (Brazil) $121,711.50

-7th place:  Pl3aseMuck (Canada) $89,632.50

-8th place:  GreekerFreaker (UK) $70,762.50
Related Articles