Two Months Remain to Submit AP-UB Claims
By
July 7th, 2017 | Last updated on July 18th, 2018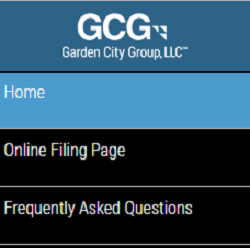 GCG handling claims for UB-AP players
The announcement was made in April that the Garden City Group would be facilitating the remission process for victims of Absolute Poker, which was later extended to include UltimateBet as well. Online poker players who became victims of the poker sites on Black Friday finally had a way to claim their account balances.
Two months now remain for players to submit their claims to Garden City Group, as the official deadline for petitions is September 7, 2017.
Got the email regarding AP/UB remissions, submitted my claim last night. Can someone confirm it wasn't a dream…?

— Nicolas 'Nick' Yunis (@nickyunis) April 13, 2017
Flashback to Black Friday
Online poker players will never forget the happenings of April 15, 2011, and the days and weeks that followed. Anyone with online poker accounts feared that their money, which was seized by the United States government, was gone forever. And it soon became clear that PokerStars was gone from the US, Full Tilt Poker was a complete mess, and UltimateBet and Absolute Poker disappeared.
For those who remember more clearly, AP and UB did not leave the online poker landscape immediately, however. The sites ran for days, and some players were able to access their accounts and the tables. But when the site did finally shut its virtual doors, there was no information available about what would happen. While PokerStars immediately reached out to its player base, UB and AP was as silent as Full Tilt but with even less information about what was happening behind the scenes.
Players on UB and AP suffered through the very scandalous "superuser" scandal years before and witnessed questionable and sometimes downright sketchy behavior on the part of company executives. When the site shut down as a result of Black Friday, few believed there would be any recourse by which to retrieve their funds.
And they were correct. For five years, there was nary a peep about the status of UB and AP victim reimbursement from the US Department of Justice. PokerStars stepped in to take over the Full Tilt accounts as part of its settlement with the US government, and those players were paid back through a years-long remission process overseen by Garden City Group. UB and AP players resigned themselves to never seeing their money.
Six Years Later
As the six-year anniversary of Black Friday approached, Garden City Group was back on the scene with good news. The firm sent emails to approximately 1.2 million people who may have been victimized by AP and UB. Some confusion initially marred the announcement as many believed Absolute Poker players were the only ones eligible for reimbursement of funds, but GCG did eventually clarify that UltimateBet players were included.
Super happy to learn today that one of the people in our film received their original cheating refund (~40k) from UB/AP remission process

— Scott Bell (@ElevenGrover) April 13, 2017
Per a directive from the Department of Justice's Money Laundering and Asset Recovery Section and United States Attorney for the Southern District of New York, claims were being accepted for remissions in the same way that the group had handled Full Tilt claims in the years prior. The official website provided all necessary details about the submission process.
Players who had pending balances in their online poker accounts will be verified per the DOJ's list of accounts obtained from the seizure of the websites. Those balances will be paid in full. Non-US citizens are also allowed to petition for their funds, as well as US citizens living abroad. Those categorized as affiliates, however, will be paid a portion of their balances, but rakeback is not excluded from refundable monies. Anyone classified as an officer or director of the associated companies will not be considered for any type of reimbursements.
The petition process is online and quite simple, though any dispute of the balance amounts will result in the necessity to supply some type of documentation to prove the case. That, too, can be done online by uploading the documents via GCG's comprehensive site.
Heed the Deadlines
The Full Tilt remission process took several years, as it was a unique situation unlike anything the US government or DOJ had dealt with in the past. With lessons learned, though, the AP and UB refund process should not take nearly as long.
The most important date to know is September 7, which is the deadline for all submissions and claims. Anyone wanting to contact GCG about previous balances correspond via the website by that date.
Once the deadline passes and the claims are compiled, the GCG will review them and recommend payments from the DOJ. When the Money Laundering and Asset Recovery division gives its final approval, payments will be sent to everyone's bank accounts electronically, no matter the amount of the claims.
Anyone with specific questions can contact GCG via the information on the FAQ page of the website.
Related Articles