Timur Margolin Stops Chris Ferguson in $2,500 NL – Nicholas Seiken Wins 2-7 Lowball Title
By
June 25th, 2018 | Last updated on July 29th, 2018
Home
»
Poker News
»
Timur Margolin Stops Chris Ferguson in $2,500 NL – Nicholas Seiken Wins 2-7 Lowball Title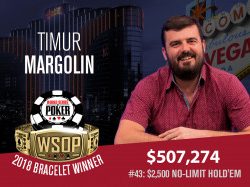 Timur Margolin Wins $2,500 NL Hold'em
The poker world was in anti-sweat mode on Sunday at the 2018 WSOP as Chris Ferguson made his second final of the series. This time around, he had the chip lead going into the final table of the $2,500 NL. Ultimately, the poker world got their way and Timur Margolin won the event.
Meanwhile, the $10k 2-7 Lowball Championship concluded with Farzad Bonyadi looking to win his fourth bracelet. Ultimately, lowball tournament rookie Nicholas Seiken won the event for his first career bracelet.
Timur Margolin Wins $2,500 NL Hold'em – Ferguson Finishes Fourth
Chris Ferguson came into the final table of Event #43, $2,500 NL Hold'em, on Sunday with the chip lead and looking to win his seventh career WSOP bracelet. He had quite the task ahead of him as the final table was stacked with top talent including Ismael Bojang, Dylan Line, and Ryan Laplante.
Please dear tiny 8 lb 6 oz baby Jesus, do not let Chris Ferguson win the 2500 pic.twitter.com/1bcVLBI5dY

— Jared Hamby (@TWKftw) June 24, 2018
Ferguson played well at this final table and was even the chip leader heading into four-handed play, to the dismay of many in the poker world. However, it was at this point Ferguson started hitting the wrong end of multiple big hands.
First, Ismael Bojang scored a massive double through Ferguson when his pocket queens were better than Ferguson's pocket tens. Ferguson was then the short stack and managed to find his own double through Bojan to move back into second in chips. Short stack Timur Margolin then managed his own double when his Q-10 spiked a pair against Ferguson's As-Jd.
Again the short stack, Ferguson picked his spot but failed to hit. On a flop of As-8d-7s, Ferguson was all-in with Ks-2s for a flush draw against Ah-Qh for Margolin. The turn 2c gave Ferguson more outs to win but the river 5c sent him to the rail in fourth, good for $161,371.
Heads-up play was between Timur Margolin and Ismael Bojang. Margolin started with a 3 to 1 chip lead but Bojang came roaring back to take nearly his own 2 to 1 lead. The chip lead flopped back and forth once more with Margolin taking a 2.5 to 1 lead into the final hand.
Bojan was all-in pre-flop with Ac-2c and Margolin called with Kc-Qs. The flop fell Ks-5s-4s to give him the lead but Bojang had outs to a wheel and overpair. The turn Qh gave Margolin two pair and the river 8d gave him the bracelet.
Timur Margolin took second in this event back in 2015 and he told PokerNews that he was "tired of second." He broke through finally this time around and won his first career WSOP bracelet and $507,274.
ICYMI, Israel's Timur Margolin takes down the 2018 WSOP's Event #43, $2,500 NLHE, for $507,274 and his first career gold bracelet. https://t.co/ROOUtWkelv pic.twitter.com/EYzfXBRLTj

— WSOP (@WSOP) June 25, 2018
Nicholas Seiken Wins $10k 2-7 Triple Draw Championship
Day 3 of the $10k 2-7 Triple Draw Championship started with 13 players looking to win the last lowball bracelet of 2018. Hanh Tran won the $1,500 Triple Draw earlier this series and was still in contention on the final day.
Tran made a helluva run in this event but was ultimately the final table bubble boy. His final hand saw him draw a nine against the 8-6 of Randy Ohel.
The final table of this event included bracelet winners Randy Ohel and Farzad Bonyadi. Bonyadi's mother won a bracelet in the Super Seniors and he was looking to join her as the first mother and son team to win bracelets in the same series. Other notables making the final table were Jason Gray and Matt Glantz.
Bonyadi's quest to win his fourth bracelet ended with a fourth-place finish. Bonyadi was all-in with a pat 10-9 but lost to the 8-6 of Kristijonas Andrulis. Ultimately it was Randy Ohel facing Nicholas Seiken for the bracelet. Seiken led Ohel by 1.1 million chips at the beginning of heads-up play.
Ohel slowly bled chips until he faced a 4 to 1 deficit going into the final hand. In the final hand, Ohel put the last of his chips in and stood pat with a J-9. Seiken then showed a 7-6-5-4-2 to win the hand and the bracelet.
Amazingly, this was Seiken's first-ever lowball tournament. He put on a phenomenal performance to take down the bracelet and $287,987 in prize money.
Won the @wsop 10k deuce pic.twitter.com/mesPBhdSqn

— Nick Seiken (@nickseiken1) June 24, 2018
Related Articles