Stars Group Completes Sky Betting & Gaming Scoop
By
July 12th, 2018 | Last updated on July 29th, 2018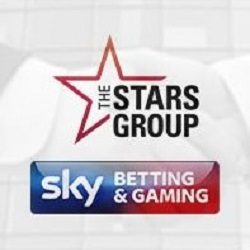 That was fast.
The Stars Group announced in the middle of April that it intended to acquire Sky Betting & Gaming in a $4.7 billion deal. Less than three months later, the deal is done, and the acquisition is complete.
According to The Stars Group CEO Rafi Ashkenazi in the July 10 press release, "This transaction creates the world's largest publicly-listed online gaming company and unites two iconic brand portfolios with strong technology platforms and teams. This significant scale also positions The Stars Group to both secure and expand upon its global footprint."
No Time Wasted
Since before The Stars Group even rebranded from Amaya, it has been keen on expanding its breadth. Failed talks with companies like 888 and William Hill seemed to frustrate the company, that remained highly dependent upon its poker brands for revenue. While its sports betting and online casino segments has grown, it wasn't fast enough for vision of Ashkenazi and others.
The Sky Betting & Gaming deal seemed to be right up the alley of The Stars Group, offering a well-rounded enterprise that included very prominent sports betting and bingo brands. Along with their long-standing casino and poker divisions, the fit was an ideal one.
Soon, the wheels were in motion to acquire the funds needed for the deal. The Stars Group's board of directors was quick to give its unanimous approval, leading to approval from appropriate regulators and stock exchanges.
In June, The Stars Group announced a public offering of millions of common shares that resulted in net proceeds of $622 million. The over-allotment period was then open for underwriters to purchase up to an additional 1,875,000 shares. An $750 million in unsecured senior notes was upped to $1 billion.
When all was said and done, The Stars Group showed up with 37.9 million newly-issued common shares and cash, the latter comprised of $100 million in revolving credit, $4,567 million in new first-lien term loans, and $1,000 million in unsecured senior notes.
And that was that. On July 10, The Stars Group announced that the acquisition was complete.
Sky completes sale of remaining Sky Bet stake to PokerStars owner for £635m https://t.co/p1QAchTSQf pic.twitter.com/Fxg2or0WjX

— City A.M. (@CityAM) July 10, 2018
What It Means for The Stars Group
Ashkenazi called it was a "pivotal moment" for the company's evolution. "SBG's mobile-focused sportsbook pairs well with our industry-leading poker offering to create two premier customer acquisition channels. We believe this combination along with our combined online casino offerings positions The Stars Group for continued growth in the evolving online gaming industry."
According to the press release, there were several key takeaways from the deal.
First, The Stars Group improved its revenue diversity with a more balanced take from poker, casino, and sports betting. Second, nearly 75% of its revenues would be from locally regulated or taxed markets. Third, cross-promotion was going to be easier across verticals. And finally, the overall technology available to The Stars Group was boosted by the sportsbook and online casino segments of Sky Betting & Gaming, as well as mobile app capabilities.
What It Means for Poker Players
On the surface, it seems that there will be many more crossover promotions. Poker players at PokerStars, Full Tilt, and Sky Poker will be finding more promotions for sports betting and online casino games. Sky players will likely be receiving welcome emails and advertising promos.
For the short term, Sky Poker will remain its own unique entity. There has been no information leaked regarding any combination of player pools with PokerStars and Full Tilt, though that is probably likely to happen within the next year. Sky Poker has a popular brand and will likely keep it, but liquidity will grow if they share player pools and promotions. Some players may be disappointed to eventually lose their comfortable virtual poker room, but they will benefit from the bigger promotions, tournaments with guarantees, and more game choices.
The bottom line for The Stars Group is growth, though it already offers the largest online poker site in the world by quite a significant margin. Joining with Sky Poker won't change that much, but a combined platform will put it even further ahead of competition like 888poker and PartyPoker, which have been attracting some customers from PokerStars.
Expect the PokerStars sports and casino offerings to become more prominent with all of the cross-promoting it will bring. But it is unlikely that poker customers will suffer any as a result.
Related Articles