Shaun Deeb Becomes First Multi-Bracelet Winner of 2018 WSOP – Takes POY Lead
By
July 14th, 2018 | Last updated on July 29th, 2018
Home
»
Poker News
»
Shaun Deeb Becomes First Multi-Bracelet Winner of 2018 WSOP – Takes POY Lead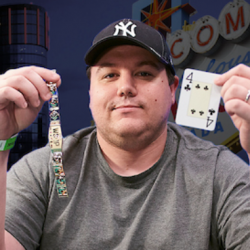 As the 2018 WSOP Main Event played down to the final three, Shaun Deeb was busy taking down the $10k Big Blind Antes Six-Max Championship to earn his fourth career WSOP bracelet and become only the second person this summer to win two bracelets.
In addition, Deeb retakes the lead in the 2018 WSOP Player of the Year Race. However, John Hennigan is deep in the $3k HORSE, so his lead is nowhere near safe.
Day 3 Starts With 17 Players
At the start of final day action on Friday, just 17 players remained with six WSOP bracelet winners still in the field. Anthony Zinno, Michael Addamo, Sam Greenwood, Ankush Mandavia, Shaun Deeb, and Paul Volpe all were looking to add to their bracelet tallies. Other notables still in the field included John Andress, Jan-Eric Schwippert, Mike Watson, and Romain Lewis.
WSOP Day 45: Main Event Day 9 finds Michael Dyer leading the final six and Joe Cada still alive; Paul Volpe has a shot at another bracelet in a $10K event. https://t.co/RMKxyLlMD9 pic.twitter.com/ZmXvCJrhcg

— UK PokerNews (@UK_PokerNews) July 13, 2018
By the time that the unofficial final table of seven was reached, the only bracelet winner remaining were Deeb and Volpe. Lewis and Andress also managed to make the final. Martin Zamani became the official final table bubble boy. He was knocked out when he ran A-Q into A-K of Bin Duan.
This set a final table with Paul Volpe as chip leader. Romain Lewis, Bin Duan, and Shaun Deeb were the middle stacks with just 1 million in chip separating. John Andress and Scott Margereson were the short stacks.
Volpe and Deeb Play for Their Fourth Bracelet
As the final table played out, the two bracelet winners rose to the top. When Romain Lewis was knocked out in third-place, this set up a showdown between Shaun Deeb and Paul Volpe. On paper, this looked to be a short heads-up match as Volpe started heads-up play with a 3:1 chip advantage. Deeb had other plans.
In less than 20 hands, Deeb pulled back to almost even with Volpe and this began a long heads-up match that saw Volpe pull out to another big lead just to have Deeb come storming back. Eventually, Deeb managed to pull into the chip lead and while Volpe tried to make it close, the legendary aggressiveness of Deeb allowed him to build nearly a 5:1 chip lead prior to a small Volpe double.
Deeb still had a 3:1 lead prior to the final hand. On a flop of 6s-4s-3d, Volpe was all-in with Ks-7c against the Kh-4c of Deeb. The turn and river both fell hearts and Paul Volpe fell short of his fourth career bracelet. He did earn $503,196 for an awesome finish.
Congrats shaun, we were up until the wee hours of the morning rooting for you. pic.twitter.com/H0pcahKzzi

— Shane Ogburn (@ThunderTTFup) July 14, 2018
Shaun Deeb earned his fourth career WSOP bracelet with this victory, along with $814,179. In addition, he became just the second player in 2018 to win two WSOP bracelets. Of his victories, Deeb told WSOP.com, "I don't know. This year has just been ridiculous. To win two tough events, you know … I said it after the PLO and I'm going to say it again. It still isn't going to sink in until I'm home, but this is exactly the summer I came out here to do."
Deeb Now Leads POY – But Hennigan Is Deep in $3k HORSE
With this win, Deeb is now firmly in the lead for 2018 WSOP Player of the Year. His win gave him 1,163 points and puts him in the lead with 4,274.64 points. Newly minted Poker Hall of Famer John Hennigan is second with 3,181.35.
2018 WSOP: Shaun Deeb wins 4th bracelet, back to first in POY: 2nd bling of the summer for Deeb https://t.co/PR22jqEJsV pic.twitter.com/LIFe7Lcjqi

— Club Poker (@ClubPoker_) July 14, 2018
While this may seem like a safe lead with just a couple of events left to play out at the 2018 WSOP, Hennigan is deep in one of those events. Hennigan is presently sixth in chips heading into the final day of the $3k HORSE.
Looking at the points breakdown at WSOP, Hennigan cannot overtake Deeb for the POY lead even if he wins the event. However, there is still one more flight of Event #75 – The Closer, that Hennigan could still jump into and earn points.
Odds are at this point that Deeb will take the POY lead into WSOP Europe, meaning he will get a free entry into the 2018 WSOP-E Main Event. But there is still ten bracelet events to play in Europe, so if Hennigan decides to make the trip, this race is far from over.
Related Articles