RedKings Online Poker Site to Close April 28
By
April 21st, 2019 | Last updated on April 21st, 2019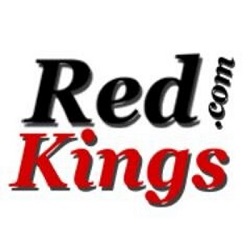 More than a dozen years in the online poker scene made RedKings a known brand. While it was never competition for sites like PokerStars or PartyPoker, it was an alternative to the larger sites and provided a safe and trusted place to play.
However, it has had its struggles to maintain a strong customer base and sustain itself, even on the Microgaming Poker Network (MPN), where it has been for about two years. Europeans kept the site going for many years after the US market was off limits, but it was not a sustainable model.
The message was delivered to players on RedKings on April 4, providing official notice that RedKings was shutting down its online poker and sports betting segments on April 28.
Some will be sad to see the poker site go. Even those unfamiliar with the site will take note that RedKings was a product of the poker boom and a victim of the post-Black Friday poker world.
Referring to Betsafe
The notice was posted on RedKings on April 4 as follows:
"After nearly 13 years of shuffling cards at the tables, we regret to inform you that we are closing two of our products on RedKings (poker and betting).

"The casino will continue as normal and your account will stay active so you will be able to access your funds to play or withdraw at any time using your same log-in details.

"You can also continue to play poker and finish your existing bonuses with RedKings until the 28th April, but new bonuses will no longer be issued, and the monthly Chase and Point per Day promotions have now been stopped for April.

"So that you may continue playing your poker at MPN, we have arranged with our friends at Betsafe to take over our popular RedKings promotions. We will send you the details next week.

"With regard to betting, please ensure all bets are settled by the 24th April.

"We thank you for playing poker and betting at RedKings, and we wish you good luck in the future."
The site's platform provider, SkillOnNet, did confirm the shutdown and the continuation of only the RedKings online casino. In addition, players for poker and sports betting are being referred to Betsafe, another site on MPN.
After nearly 13 years of being in the business, RedKings has decided to cease its poker and sports betting operations, with players allowed to close open positions till end of this month.

See more: https://t.co/2nZdyKpOr1#RedKings #Poker #SportsBetting https://t.co/2nZdyKpOr1

— Gutshot Magazine (@GutshotMagazine) April 10, 2019
From Good Times to Hard Times
RedKings was formed in 2006 by RK Operations, which remains the owner of the site. It was originally an online poker site but added online casino games and sports betting in the years that followed.
For most of its history, RedKings operated on the Ongame Network, which was eventually purchased by Bwin. Other sites on that network included Paradise Poker, Paf, RedBet Poker, Golden Palace, and Full Deck Poker. Some of the larger sites – Betfair, Betsson, Gala, Gutshot Poker, and Unibet – left to join other networks or venture out on their own.
When Ongame finally ended its operations in 2016, RedKings moved to MPN, which remains in operation and offers poker sites like Betsson, Paf, 32Red, Guts, Grosvenor, NordicBet, and One Time Poker.
The MPN network is launching a completely new poker client today, available on several skins: RedKings, RedStar, Guts, Betsafe, Nordicbet, and Betsson. Preview: https://t.co/KTK9N6L1ud

— Poker Scout (@PokerScout1) July 26, 2018
Betsafe is also on MPN, and that is the site that will be offering promotions for RedKings players who are transferring account balances this month.
Related Articles